All information is accurate as of time of publication.
What is SuperGroupies?
SuperGroupies is a fashion brand that transforms the fantastical costumes of anime into easy-to-wear casual clothing. Rather than using actual illustrations of characters on their apparel, SuperGroupies' designs take subtle inspiration from their anime sources in order to create clothing that can be worn in everyday life.
Unfortunately, SuperGroupies does not ship outside Japan or accept non-Japanese payment methods. But that doesn't mean you have to give up on your dream otaku wardrobe! Read on to see how easy it is to buy and pre-order from SuperGroupies with FROM JAPAN.
How to buy from SuperGroupies
As SuperGroupies do not ship outside of Japan, you're going to need some help from a proxy shipping service like FROM JAPAN. But fear not – FROM JAPAN makes it easy to buy Japanese-exclusive items, even for first-time users of a shopping proxy service.
Step 1. Go to SuperGroupies' official homepage.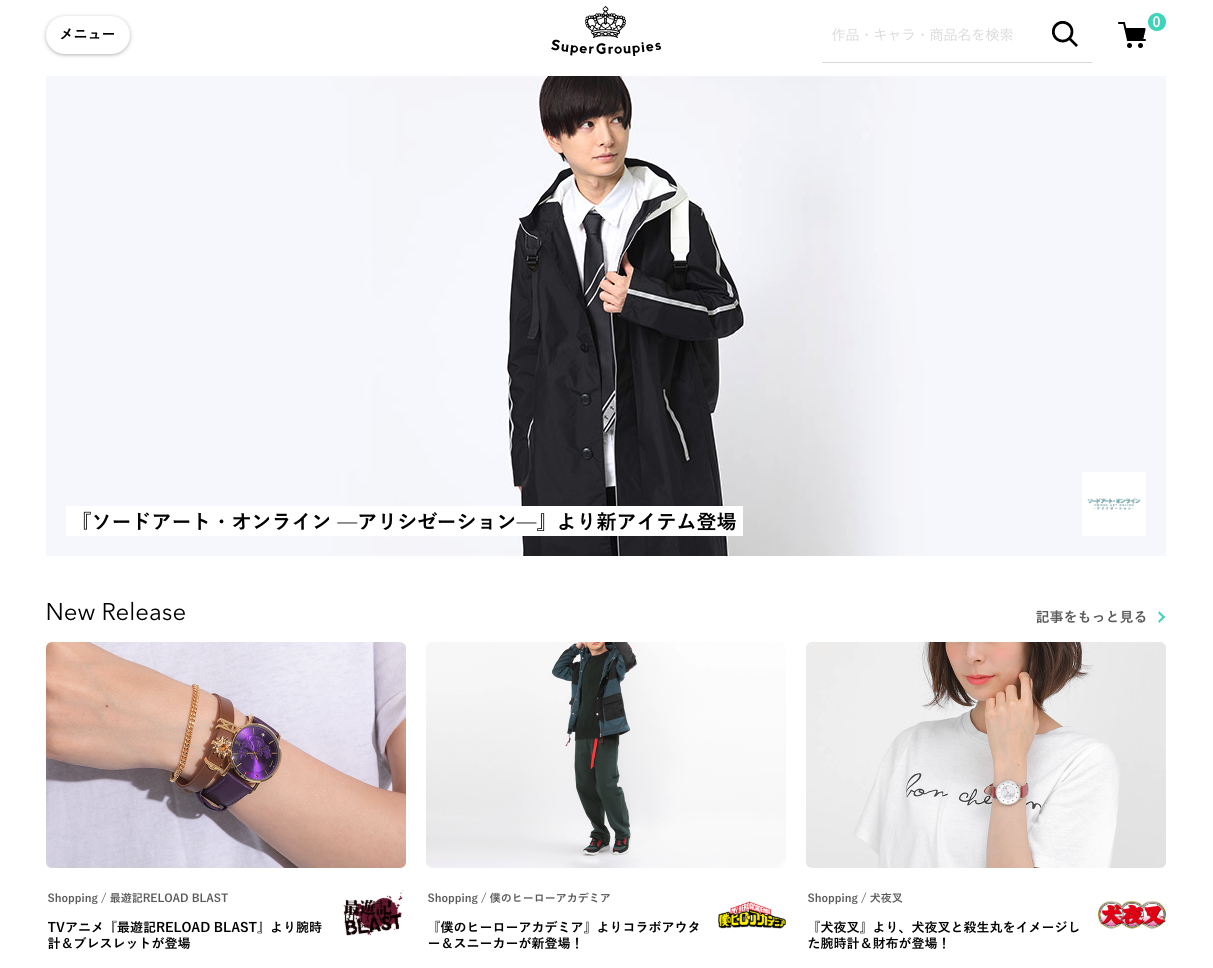 Once you've made your way over to the SuperGroupies home page, you'll be greeted by the brand's latest collections. There is an option to view the SuperGroupies page in English, but please be aware that this is an automated machine translations. If there is anything you are unsure about, please contact our multilingual Customer Service team.
Step 2. Get searching!
There are several ways you can start searching on SuperGroupies. One way is to click through under the "New Release" section to see all of the newest collections.

By clicking on heading 記事をもっと見る (See More) you can see a wider selection of the latest collaborations.
Another way to search on the SuperGroupies website is to search via title.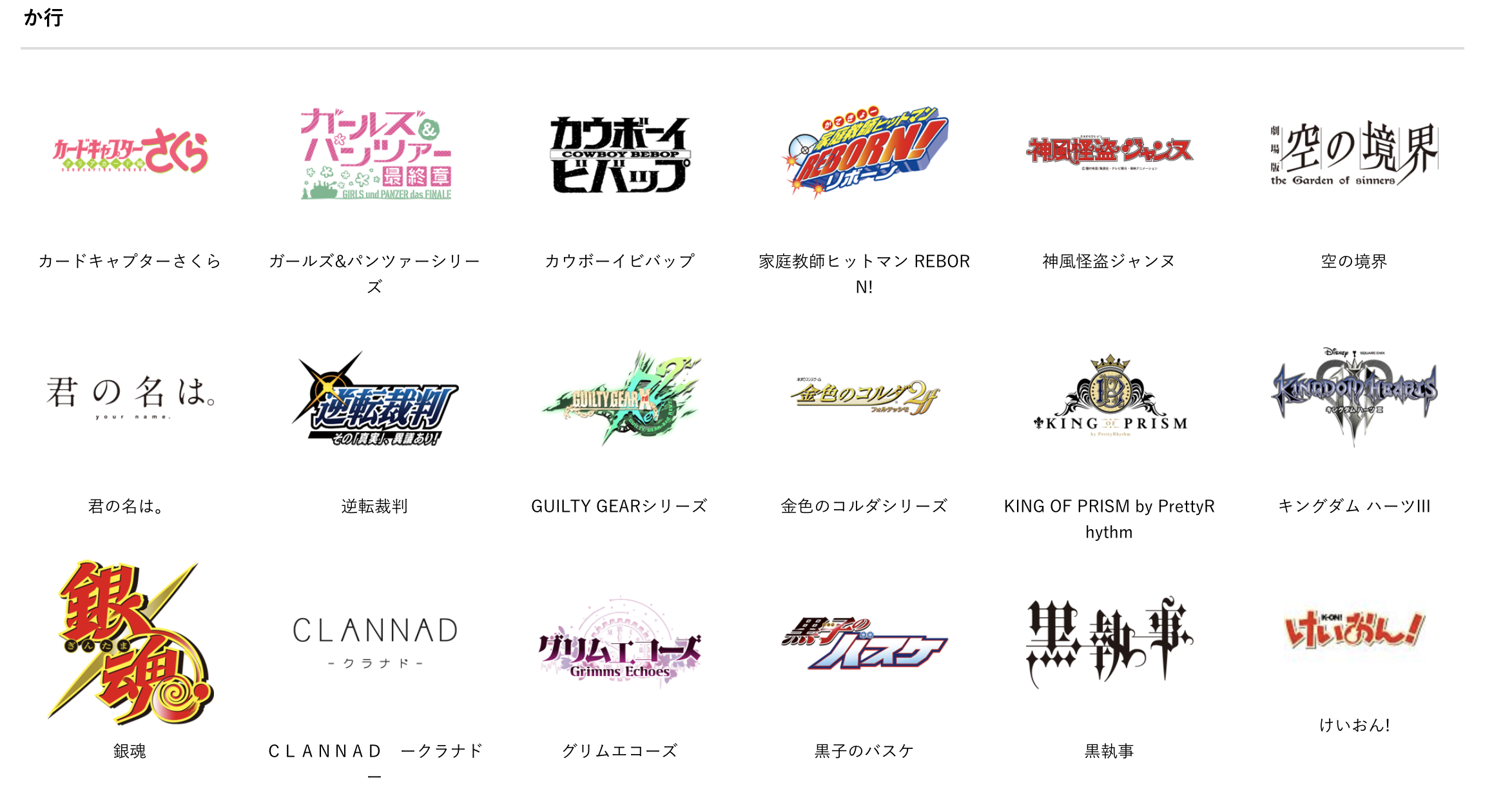 SuperGroupies has worked with a plethora of popular anime and game titles, with the above being only a small selection of the available collaborations. You are sure to find fashionable collections based on your favorite otaku properties with over 100 series to choose from!
Step 3. Check the details of the item.
Before making your order with FROM JAPAN, please check all the important details of the item before you commit to buying. Prices on SuperGroupies do not include the 8% tax consumption tax rate (*as of July 2019), so keep that in mind when you make your purchase.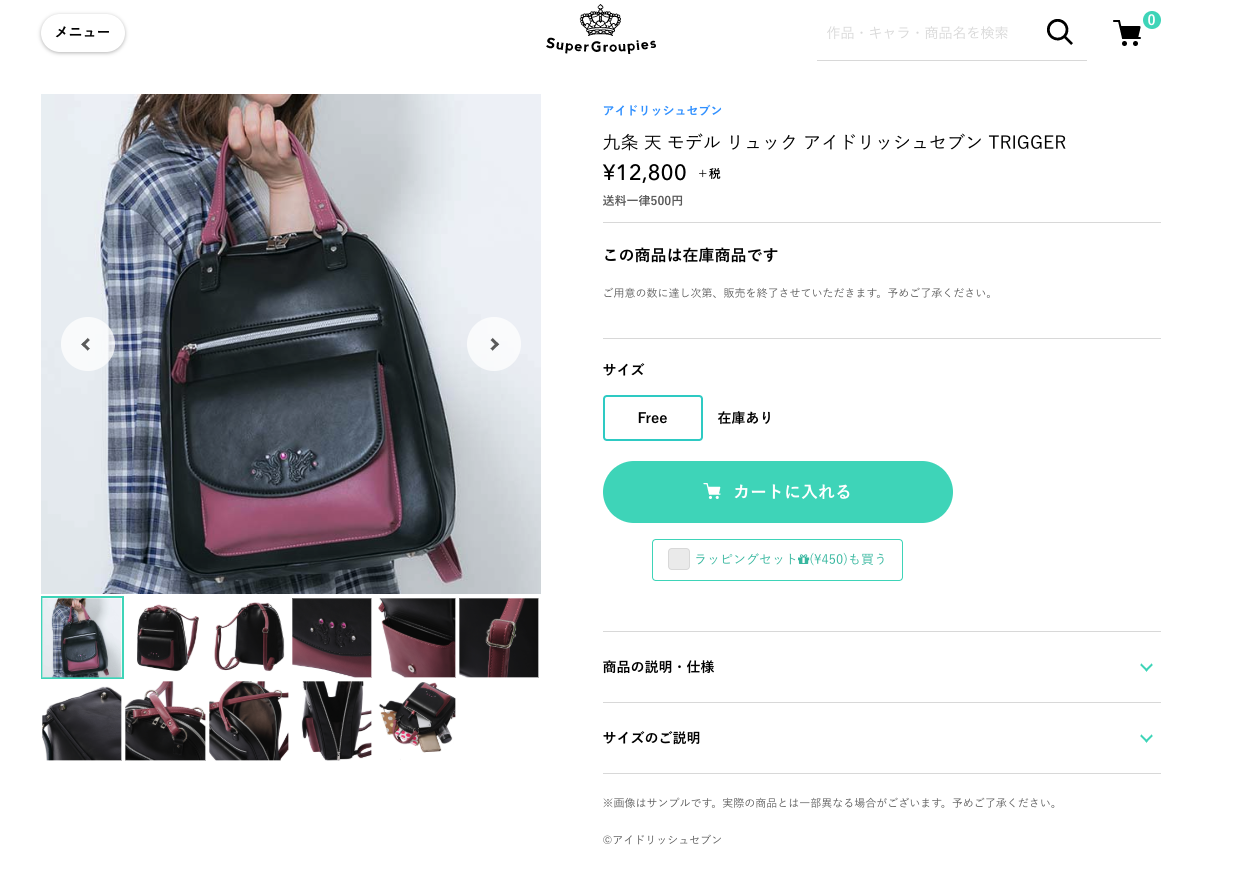 One of the most important things to check when looking at the product page is whether or not the item is for pre-order. We know that this Idolish7 backpack is currently in stock and not a pre-order item from the phrase: この商品は在庫商品です. This roughly translates as "This item is in stock", however if you have chosen to view the auto-generated English version of the SuperGroupies site, this message will read as "This item is a stock item". We've circled it below so you know exactly what to look for when shopping:

However, if the item is only available for pre-order, the product page will look something like this: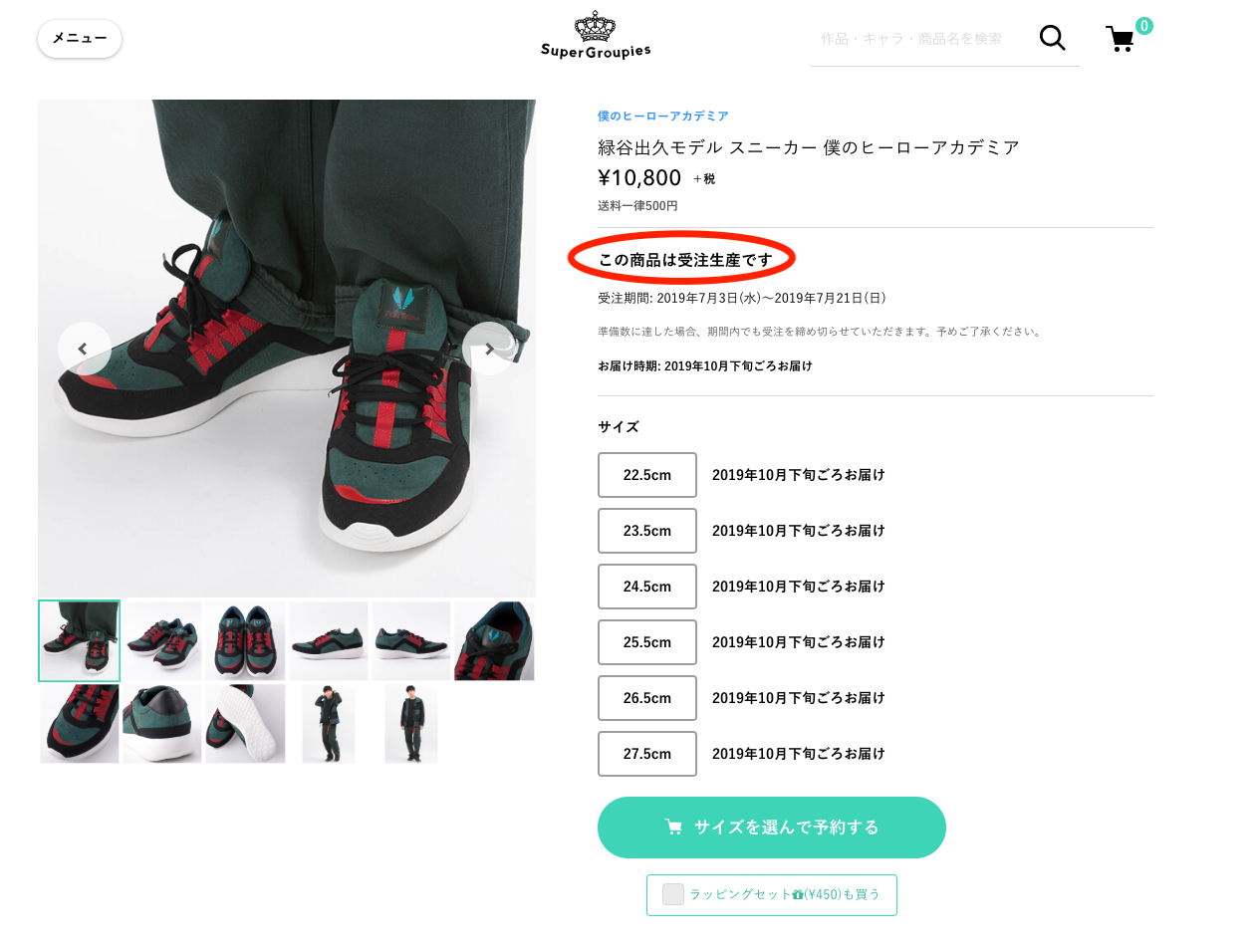 The circled phrase この商品は受注生産 located under the price translates to "this is a made-to-order item", indicating that it is not readily in stock and therefore a pre-order item. The Japanese word for pre-order is 予約, which you can see on the green button. On the English version of the site, the green button will read "Select a size and make a reservation."
Pages for pre-order items also list the scheduled release day, which you can see circled in red below: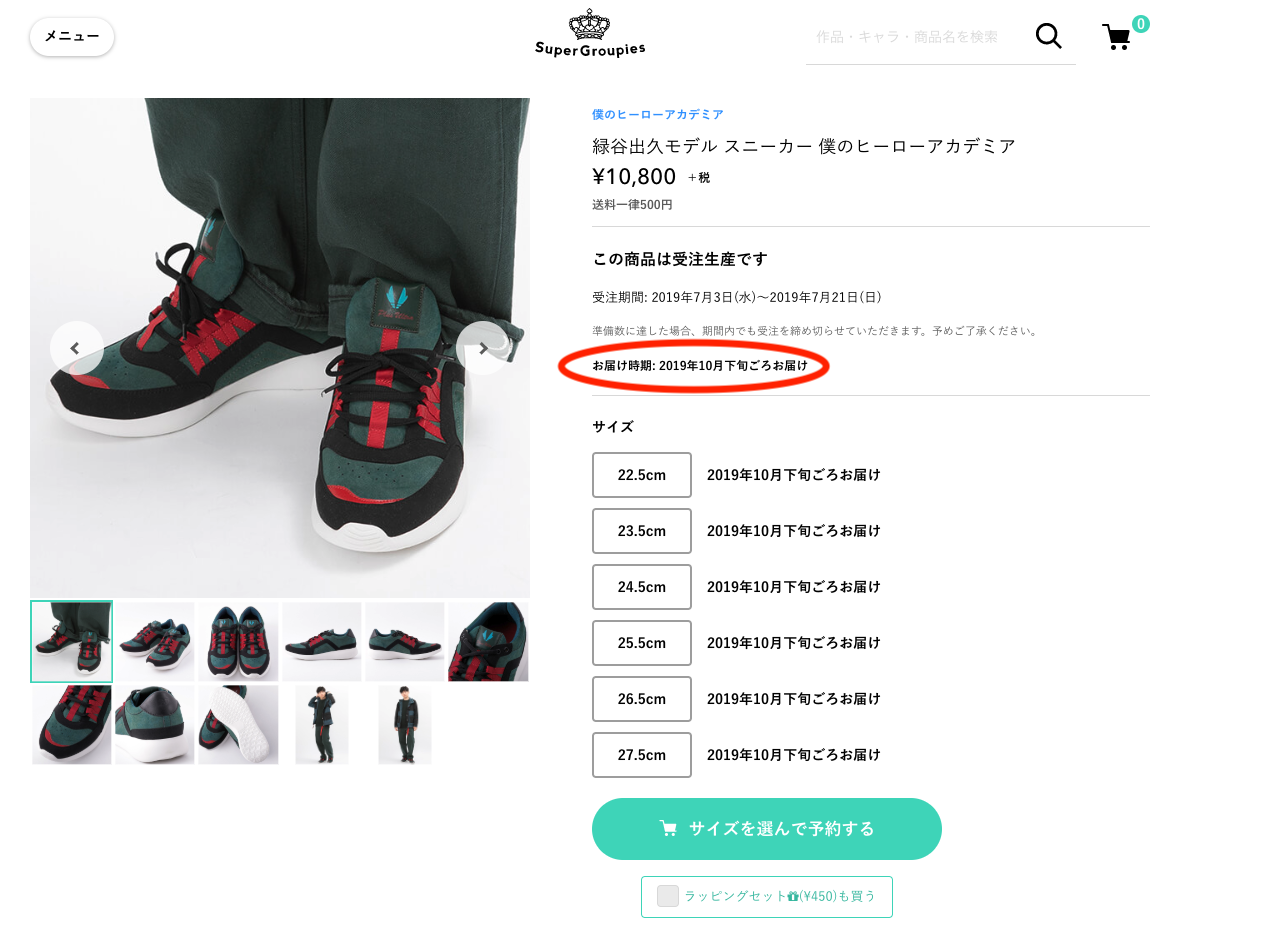 In this example we can see that the sneakers are scheduled to be delivered in late October 2019 (2019年10月下旬ごろお届け). This schedule date of delivery is also written next to each available size of the shoe, so you can't miss it! The auto-generated English page will also have this information listed, but if there is anything you are unsure of please do not hesitate to contact our Customer Service team with any questions or queries.
We also can't stress enough how important it is to check the sizing of the item before you make your purchase. Japanese clothing usually runs smaller than many other countries' standard sizing, so it is imperative that you thoroughly check the sizing before you proceed with any purchase. Each item will have more details about sizing under the heading サイズのご説明 heading on the item's page. You can also check SuperGroupies sizing guide here.
If you have any questions about a particular item, please contact our Customer Service team.
Step 4. Create an account with FROM JAPAN and copy and paste the URL of the item page into FROM JAPAN's search bar.
Once you've double (and triple!) checked the details of your items, it's time to make the order. All you need to do is copy and paste the URL of your desired item's page in FROM JAPAN'S search bar like the example below:

Step 5. Hit search and complete the order form.
After hitting search, our site will take you to our price quote request form where you can fill in the details of your order. Take a look below for an example of a completed form: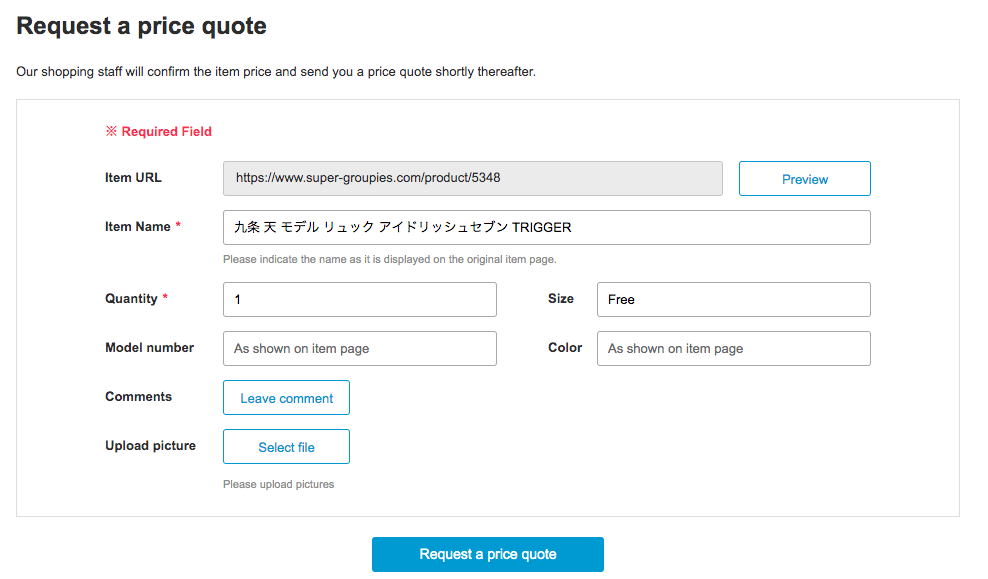 You will need to write the item name as it appears on the site in Japanese and provide the desired quantity of the item. You can also leave us a comment for any extra information you would like us to know. Make sure to fill in everything about your preferred size, color, and design, as we will need this information to proceed with the order. Don't forget to double check all the details before sending it to us!
Once we've processed your price quote request, our Shopping Team will send an invoice for the cost of the item. If you are planning to buy multiple items from SuperGroupies, then you will need to request a separate price quote request for each unique item.
After all your invoices have arrived for your items and Charge 1 has been paid, your items will be shipped to our distribution center. Once all your items have arrived at our warehouse, you can choose which items you would like shipped together and select your shipping method. At this point you will be sent to the Charge 2 payment page. Charge 2 includes international and domestic shipping fees, as well as the fee for our Product Protection Plan. For domestic shipping, SuperGroupies charges a flat rate of 500 yen.
And then all you have to do is just have to wait for your fresh new otaku swag to arrive at your door! We also recommend for you to check out our usage guide for more details about our process and fee structures. If you have any further questions on how to use our service, our Customer Service team will be happy to help. Happy shopping on SuperGroupies!