All Hallows' Eve is quickly creeping up, but don't let that scare you off! With these 2016 Halloween-inspired anime figures released in Japan, you can add a unique otaku flair to the most spirited time of the year. Get your trick or treat bag ready, because these creepy, cute, and cool collector's pieces are too sweet to pass up!
Play Arts Kai – Kingdom Hearts II: Sora Halloween Town Ver. (January)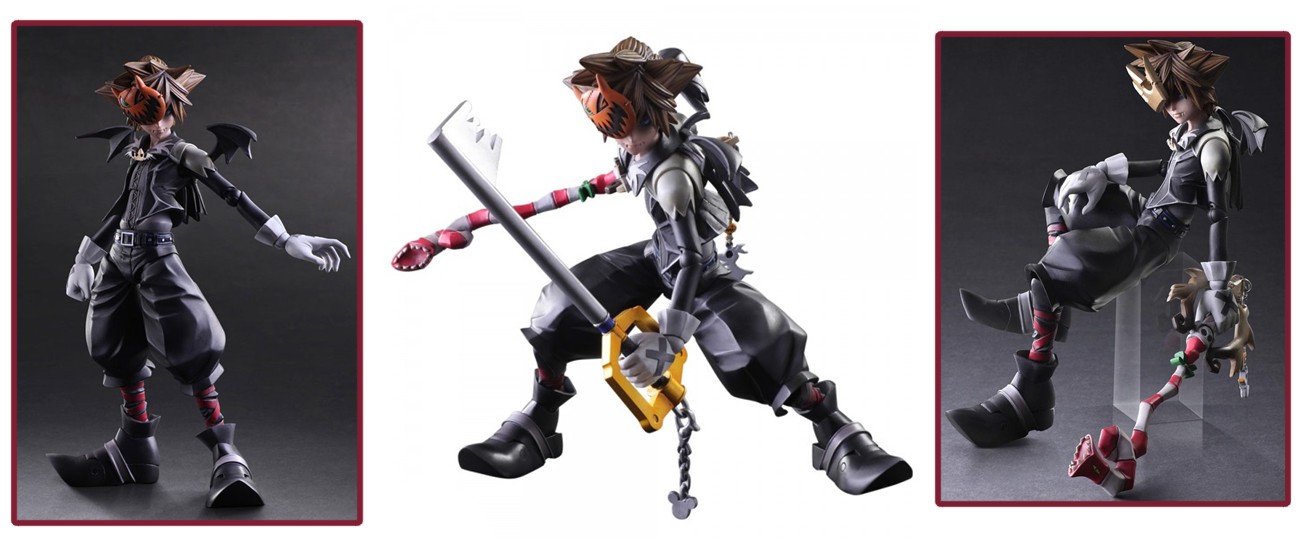 Dual wielding the Kingdom Key and Decisive Pumpkin Keyblades, Halloween Town Sora's Play Arts Kai debut is a larger, more articulated, and more detailed collector's piece than the original Play Arts model. Inspired by the Nightmare Before Christmas world from the video game, Sora's every button, buckle, and zipper (because what's a Kingdom Hearts game without those?) is replicated in painstaking detail, all the way down to the dangling keychains on his Keyblades. Sora even comes with six different masks, ranging from various Heartless monsters to Kingdom Hearts' iconic heart and crown symbols, so you can dress him for a spooky masquerade of your choice.
Statue Legend – Tokyo Ghoul: Ken Kaneki Half-Kakuja Ver. (August)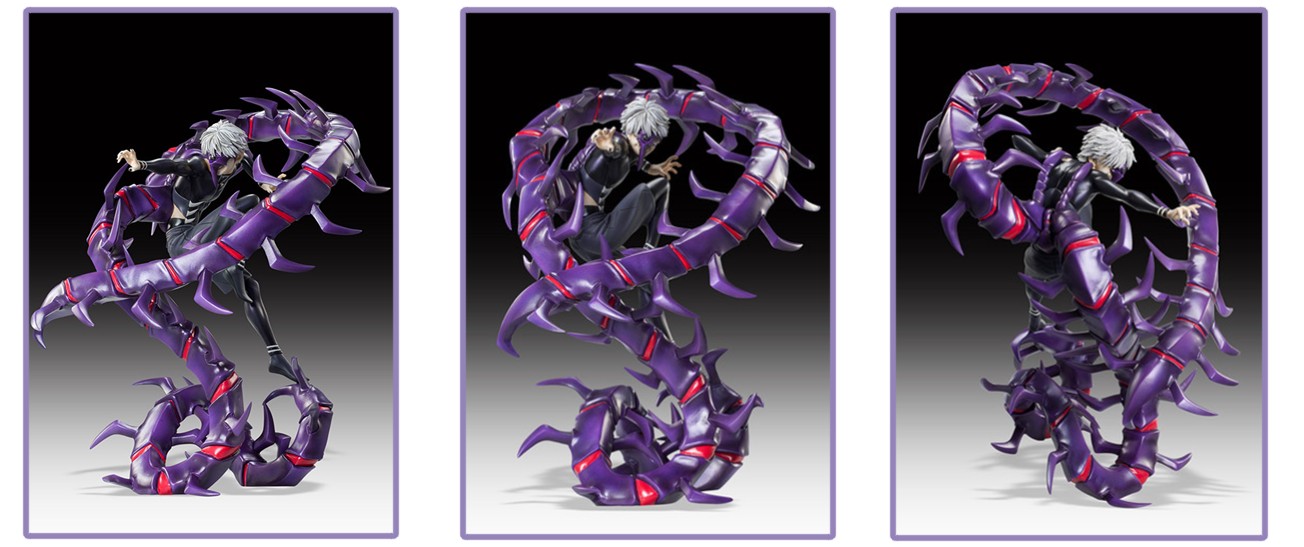 Watching (or re-watching) the supernatural Tokyo Ghoul anime might be an ideal way to kick off your Halloween festivities. This sculpture of Kaneki wrapped in the coils of his twin-tailed Kakuja form is sure to make any fan's skin crawl (in a good way). Not only is this Tokyo Ghoul's most ambitious figure yet, but it's also symbolic of a ghoul who has cannibalized its own kind. The Kakuja form twists Kaneki's gentle, coffee-sipping nature into that of an undead, venomous predator, and if that's not the perfect Halloween scare, we don't know what is!
Alpha Omega – Love Live!: Eli Ayase Halloween Ver. (September)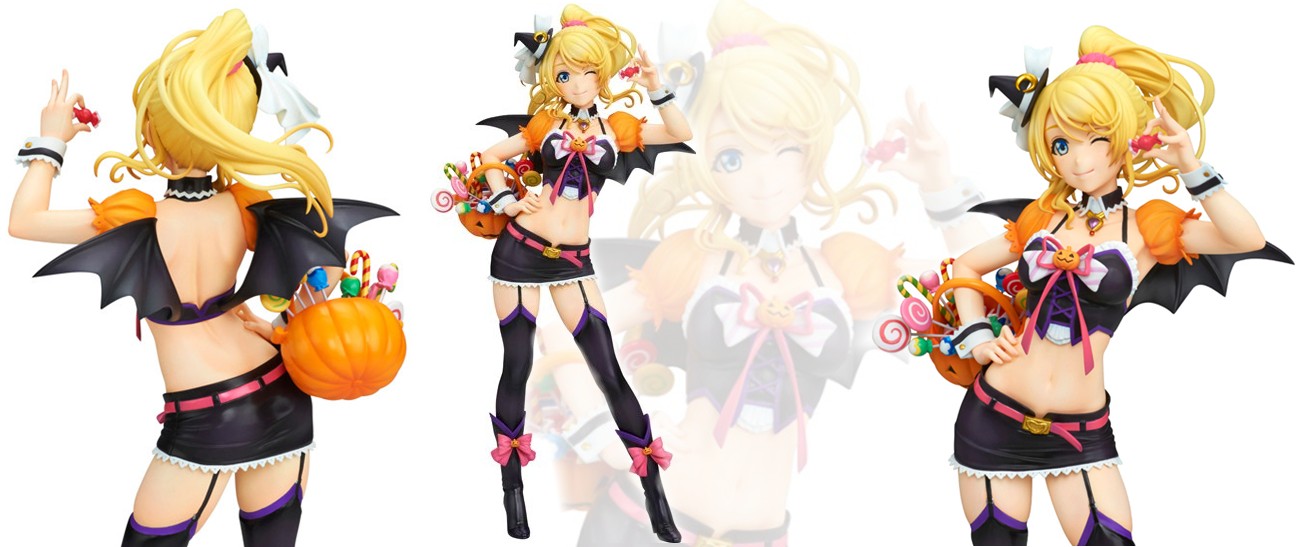 Eli's "sweet" nature (and love of chocolate) makes her the perfect Halloween mascot for Love Live! idol group, μ's. Stylishly decked out in pumpkins, bat wings, and a tiny witch's hat, Eli seems to wink happily after a successful trick-or-treat haul. Display her alongside your jack-o'-lantern or candy dish to add an otaku touch to the spookiest holiday of the year. Don't forget to play the Love Live! Halloween hit "Dancing Stars on Me!" while you enjoy the festivities!
Alter – Love Live! School Idol Festival: Maki Nishikino (September)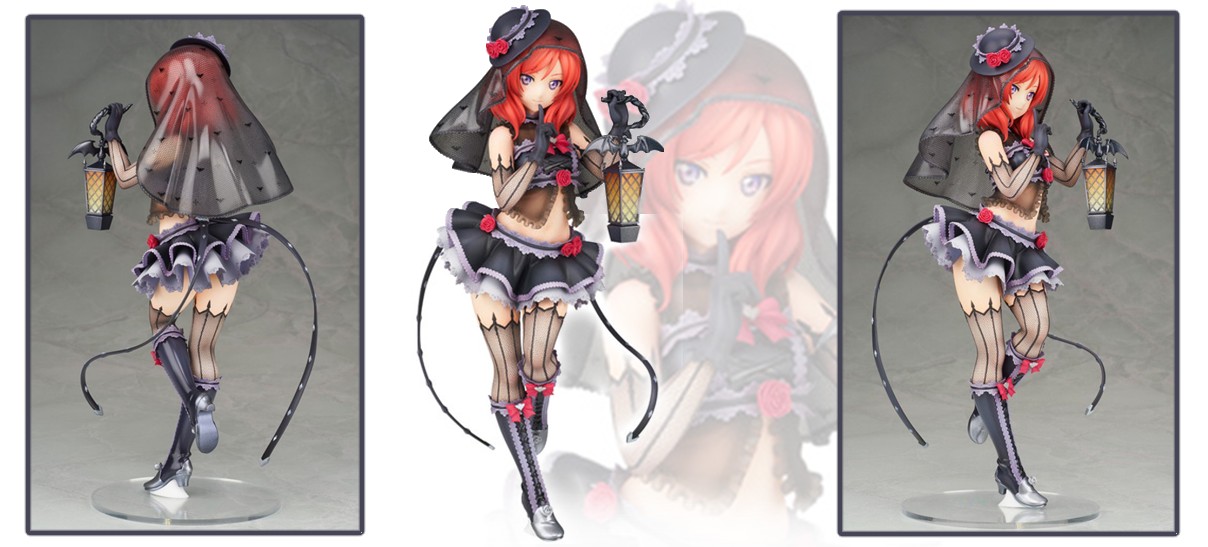 Fan-favorite and coveted waifu, Maki Nishikino, is sure to draw in even more admirers with her mysterious aura and gothic getup, based on her Ghost Story outfit in the Love Live! School Idol Festival! rhythm game. Despite being sculpted from PVC, every ruffle, rose, and ribbon appears soft to the touch, and Maki's transparent bridal veil and fishnet stockings are delicately detailed in homage to her dreaming heart and creativity. Maki's spooky charm is no trick, so pose her alongside Eli for the ultimate Halloween treat this September!
Wonderful Hobby Selection – Fate/Stay Night: Saber Alter: huke 1/7 Scale Figure (September)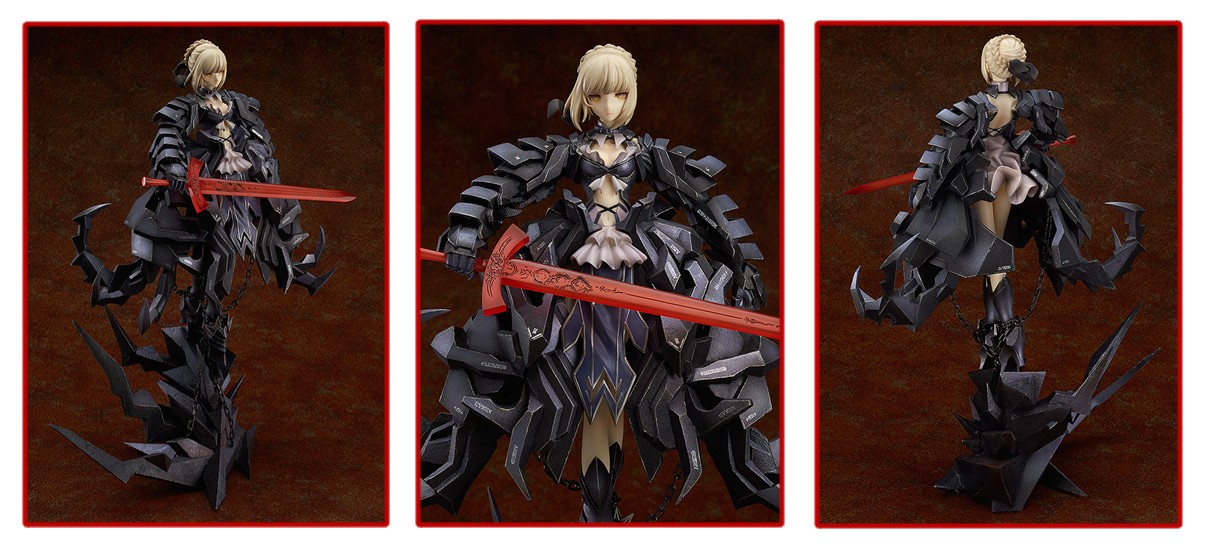 This collaboration between the Good Smile Company and illustrator huke is a figure masterpiece that replicates every dangerous spike and grim detail of huke's original artwork. Considered by fans and collectors to be the most intricate Fate/Stay Night sculpture ever created, Saber's pale skin and golden eyes emphasize her black armor and abysmal state of deep despair. Wielding her blood-tinted Excalibur and draped in chains, Saber Alter comes in a towering 1/7-scale, and is accompanied by a bonus print of the original artwork by huke. The mere thought of the pure-hearted knight being corrupted by anguish is enough to send a shudder down any fan's spine, making Saber Alter an eerie reminder of the Holy Grail's evil power. Put her on pre-order in anticipation of the first Heaven's Feel OVA debuting in 2017!
Portrait of Pirates P.O.P. CB-EX – One Piece: Perona (Gothic) (September)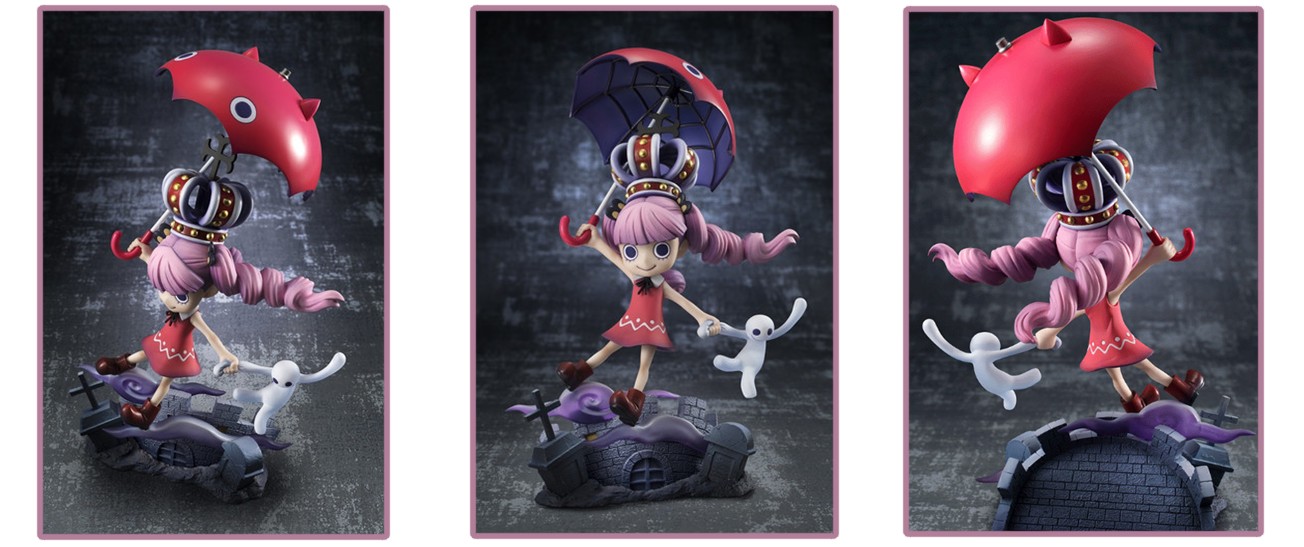 The irresistible Perona turns back time in this younger, even more adorable figure of the Ghost Princess. Her doll-like appearance and button eyes give her a creepy-yet-cute innocence as she floats over a foggy cemetery with the help of her devilish umbrella. Taking her ghost doll along for the ride, and wearing a crown almost as big as she is, this version of Perona radiates a childish naivety that's sure to charm collectors. Let her spirit you away just in time for Halloween!
Nendoroid Co-de – Hatsune Miku: Sweet Pumpkin (October)

This little Miku is a bite-size treat that's too sweet not to bag! As part of Nendoroid's new Co-de series of figures, Miku's head, upper garment, lower garment and shoes are all removable and can be swapped between other characters in the Co-de series, meaning you can dress up Sakura (Cardcaptor Sakura), Mikan (Pripara), and more in Miku's adorable Halloween apparel! As colorful as a piece of candy corn, Miku's delectable dress is decorated in festive sprinkles and ribbons. As only the second Halloween-themed Miku ever created, this figure is a must-have for Vocaloid fans, and will fit nicely onto even the most cramped shelves.
Max Factory – Idolm@ster Cinderella Girls: Ranko Kanzaki Rosenburg Engel 1/7 Scale Figure (November)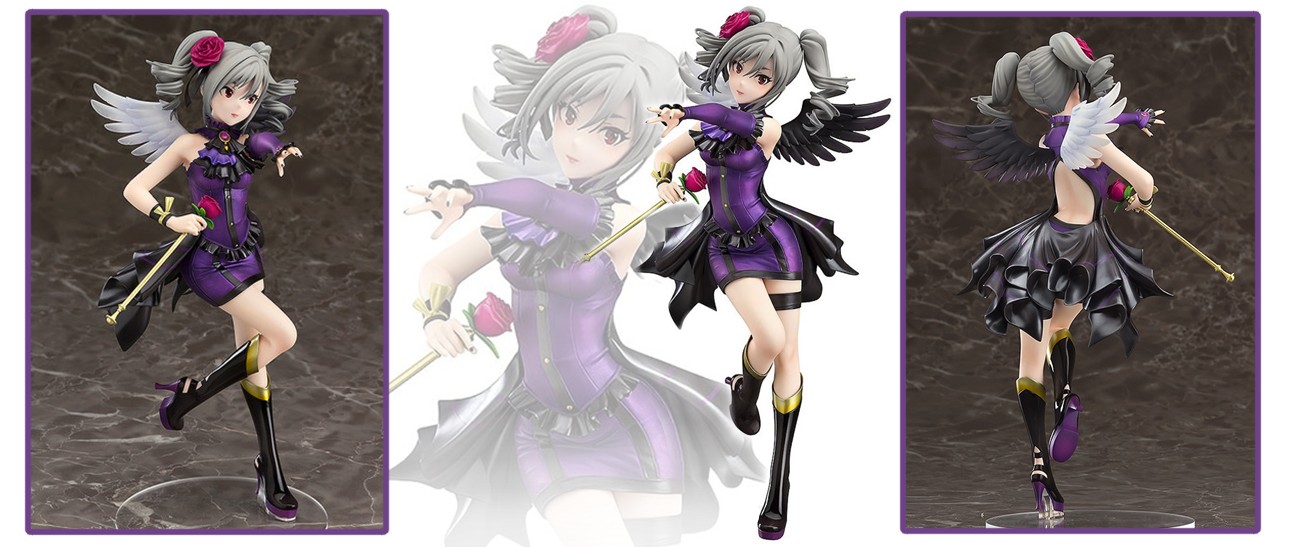 Ranko may not actually be a Halloween-inspired figure, but with her gothic frills, bat-winged skirt, and angel/devil dynamic, we think that she's in the perfect spirit for some October antics. Wearing her "Rosenburg Engel" outfit, Ranko's mystical appearance reflects her unique worldview. Special pearl paints capture the sheen and texture of her original dress, and her wings use a subtle translucence near their tips to give an illusion of feathery softness. Ranko will look fantastic alongside your other anime idol figures and is a breathtaking piece from any angle.
Where to Buy Halloween Figures from Japan

2016 may be the best year yet for high-quality Halloween anime figures, but you can also "resurrect" some incredible figures from the past! From Ryuk to the Undertaker, Japan has released many devilishly charming, exclusive figures throughout the years, perfect for inspiriting your Halloween season. Don't let the thought of importing these "frightful" figures straight from Japan scare you off! With a proxy and shipping service like FROM JAPAN, you can easily "trick-or-treat" for your favorite characters, and have them delivered to your door without even a ghost of a hassle!