G-Shock watches, which offer high resistance to vibration and gravitational shock, are geared toward people with intense, highly active lifestyles, like sports, hiking, and military use. Since the G-Shock began in 1983, it has been an in-demand watch. Less than 10 years after its first model was launched, Casio has sold over 19 million units worldwide. Last year G-Shock celebrated its 30th anniversary, and one of the reasons for its longevity is that the brand regularly issues limited edition timepieces and collector's watches.
Among these limited edition watches are collaborations ranging from apparel brands, famous athletes and pop stars, and pop culture characters such as Gundam and One Piece. As for the latter, G-Shock began offering limited edition collaboration with the One Piece as early as 2011. Due to the their high demand, One Piece collectors are now conditioned to look out for the next G-Shock collaboration to add to their growing collection of One Piece merchandise.
The One Piece x G-Shock Mugiwara Pirates Limited Watches
The first One Piece x G-Shock limited editions came out in 2011, and were based on the G-Shock DW-5600 and DW-6900CB models. Among the high-quality G-Shock features include 200-meter depth water resistance, 1/199 second stopwatch with timer and calendar, and quartz movement with scratch-resistance mineral glass.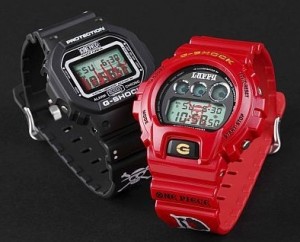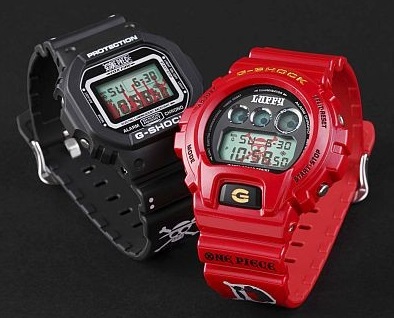 The DW-6900FS One Piece x G-Shock Monkey D Luffy Limited Watch
The G-Shock DW-6900FS model has been hailed as the best G-Shock case ever designed so it is an honor that this was the model chosen for the One Piece Monkey D. Luffy limited edition watch. Limited to 3,000 units issued in March 2013, Bandai Namco Games (the company in charge of releasing the watches) set the selling price at around 18,500 yen which is equivalent to about US$219. The company accepted pre-orders through their online store and was sold out soon after.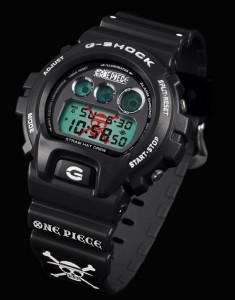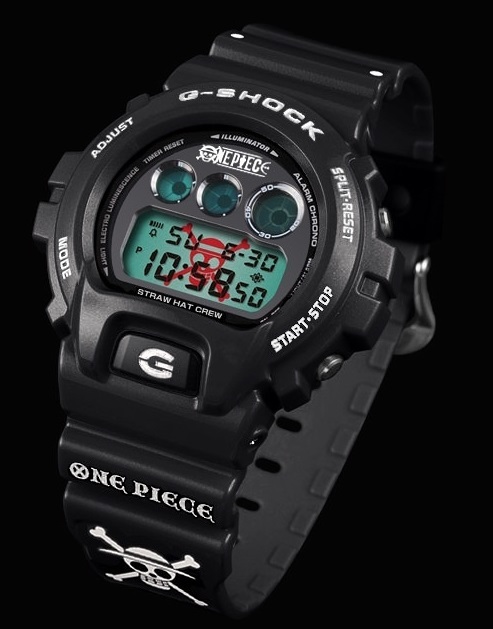 This edition includes solid black banding, a LED screen featuring the skull and crossbones artwork, a back plate with the image of Shank and Luffy, and a display case that looks like a treasure chest. It also features the standard 200-meter depth water resistance, quartz movement, scratch-proof glass, multiple alarms, and light functions.
The DW-6900FS One Piece x G-Shock Premium Edition
This third One Piece x G-Shock collaboration came out in December 2013 in Japan and was only sold through the online store Lala Bit Market, which is run by Bandai Namco Games. It has all the same specifications as the Monkey D. Luffy Limited Watch, except it includes a more sleek display case, solid white banding, and the skull and crossbones icon on the back plate.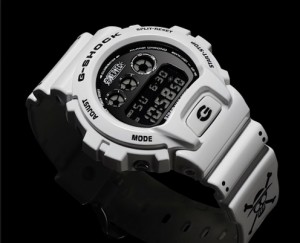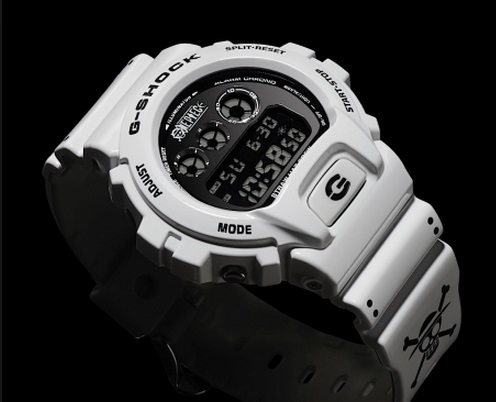 If you're die-hard One Piece fanatic, any of these watches are a must-have addition to your collection. Not only are they valuable to fan collectors, but due to their limited runs they can equally be seen as an investment that could pay off handsomely later on. If we've piqued your interested in G-Shock collaborations, find out what else From Japan has in stock, here.