With the month of April coming to a close, we say "Sayonara" to the end of spring—a season celebrating the birth of new things. For us Otaku, these new things include all new anime series, monthly chapters of our favorite manga, and highly-anticipated figurine releases.
Worried you may have missed the best of the best? Looking to grab a momentous figurine to signify your undying love for your favorite series? Then check our top ten picks for "must-have" spring 2015 figurines from Japan!
1/10 Megahouse Bishoujo Senshi Sailor Moon Figure of  Tsukino Usagi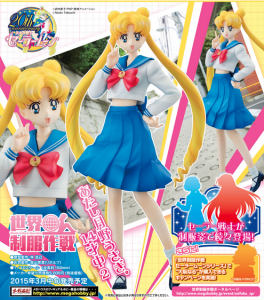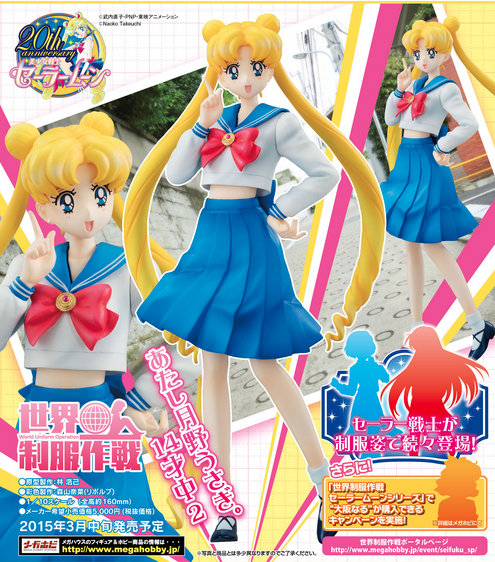 As the first figurine released in the 1/10 Megahouse Sekai Seifuku Sakusen line, and the starring senshi of the Sailor Moon series, this sculpt of Tsukino Usagi is a "bucket list" buy for fans of anime. Released in commemoration of the new Sailor Moon Crystal, this 1/10-scale figurine has been in high demand since her initial pre-order went public. Don't miss your chance to own her, and be on the lookout for Ami and Rei, who are being released later this year.
Petit Chara Land: Naruto  Shippuden's Uzumaki Naruto Special Dattebayo! (Box Set)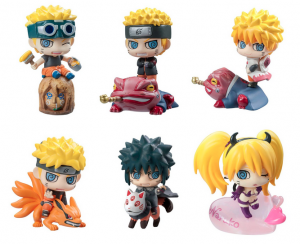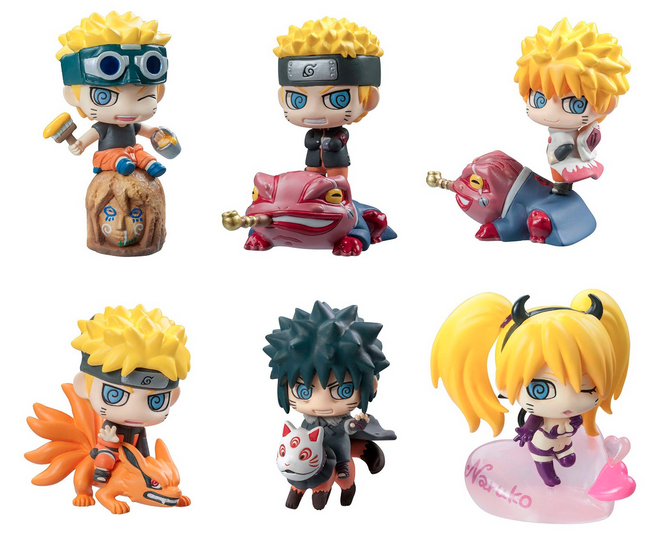 Also released by the high-quality Megahouse brand, the Naruto Special Dattebayo! set contains six figurines of the "number one, hyper-active, knuckle-headed ninja" himself, portraying his various appearances throughout the series. With the manga having penned its final page, and the end of the anime in sight, this set of figurines is the perfect way to celebrate Naruto's growth as a character, as well as the evolution of the Naruto manga. From mischievous boy Naruto, to Naruto as he appears in The Last, this set contains it all (and throws in a little "sexy jutsu" as a bonus!).
Amiibo Figures: Waves 3 & 4 (Nintendo)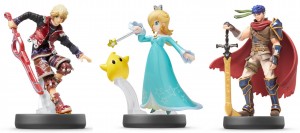 Amiibo are popular… popular enough to make would-be buyers stand outside in the freezing rain in a line that stretches a quarter mile. Perhaps Nintendo did not account for the overwhelming popularity of their interactive figurines, or perhaps scalpers are snatching them en masse to make a quick buck from their rarity. Whatever the case, collectors around the world have been contending for the rarest among the Amiibo—characters like Lucina, Ike, Rosalina, Lucario, and Shulk; whose utter lack of character-based figurines have driven their popularity (and demand) through the proverbial Nintendo roof.
Kantai Collection: Amatsukaze (Figma)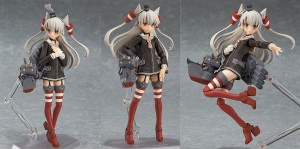 With pre-orders everywhere already sold out, Amatsukaze is one of the most in-demand figurines of spring 2015. Celebrate the latest episodes of KanColle with the 9th Kagerou-class Destroyer, now available through Figma—one of Japan's leading figurine companies. Amatsukaze comes with three interchangeable faces, Rensouhou-kun, and an extra hat featuring a love-struck, heart-shaped smoke puff. Whatever customizations you choose, you can lead the fleet of KanColle fans with this beautifully sculpted figure!
Attack on Titan's Eren Yeager Figma: Titan Version (Kotobukiya)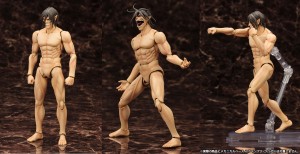 Fans of Attack on Titan would do well to put this one in the shopping carts. Thanks to the efforts of Kotobukiya, collectors can know own a fully-articulated replica of Eren in his titan form—perfect to stand alongside your favorite Figma figures inside your glass cabinet. Thoroughly articulated—even the eyes can be adjusted!—and packaged with two swappable faces, perhaps this figurine's only drawback is that its stand must be purchased separately. This fact isn't likely to deter hardcore fans from snatching it up as soon as possible, however, especially as this is the very first articulated figurine of Eren's titan form ever made!
Fate Stay Night: Saber 2.0 (Figma)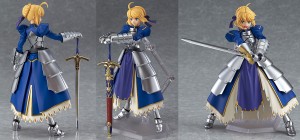 Re-released at the very beginning of spring, Saber is currently sold out everywhere. Figma has given the ultimate servant a makeover worthy of the King of Knights. Saber now comes with newly-designed joints for greater posing flexibility and variety, as well as multiple hair and facial parts in order to create dramatic, action-oriented scenes. Her rarity and beauty make her difficult to obtain, but collectors consider her a figurine worthy of pursuit and purchase.
One Piece: Trafalgar Law Figure by Megahouse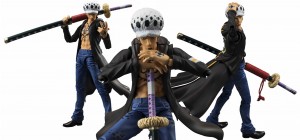 The "Surgeon of Death" looks sharper than ever in his latest figurine release from Megahouse's Variable Action Heroes line. Unlike Megahouse's Portrait of Pirates series, the Variable Action Heroes line prides itself in creating articulated figurines, slightly larger than Figma's personal brand but just as flexible. Trafalgar Law, as portrayed here, is no exception, as he comes with three facial expressions, nine interchangeable hands, and a removable hat and Kikokku. His demand has led to almost universal sell-out for all Japanese retailers.
Sword Art Online: Sinon (Figma)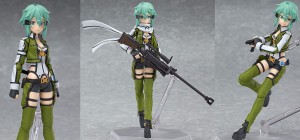 We've already praised the popularity of the Sword Art Online Figma cast, but Sinon stands out from the rest as having the sleekest design and widest variety of eye-catching colors. Fans who enjoyed the second season of the original Sword Art Online will undoubtedly want to snatch up this rare, in-demand figurine of Sinon—easily the most popular, debut character from the sequel. She comes with her Hecate II sniper rifle and pistol, among other accessories, and is a perfect fit alongside Asuna, Kirito, and the rest of the SAO Figma figures.
Ghost in the Shell Stand Alone Complex: Motoko Kusanagi (Figma)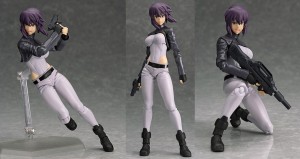 Figma's S.A.C. version of Motoko Kusanagi is a welcome sight to fanboys (and fangirls) around the world. Upon her release in early spring, she sold out within a brief time period and is currently in "out of stock" status on most all online figurine stores. Poised and confident, Motoko comes with her weapons of choice and multiple facial expressions for recreating her most iconic moments in the anime.
Fire Emblem: Awakening's Lucina (Figma)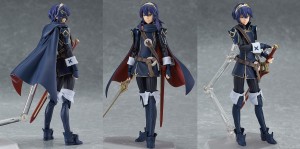 As both the first articulated Fire Emblem figure and first Fire Emblem Figma, it's really no wonder that Lucina is one of the most-viewed, most pre-ordered figurines of 2015. Standing at about six inches tall, Lucina's cape and hair parts are removable, allowing her to don her disguise as the legendary hero, Marth, and wield his Falchion blade. Don't wait until her official release in April. Be sure to put her on pre-order now, as she's selling out fast!
While these are our personal top picks for spring 2015 figurine releases, literally hundreds of other figurines have been released in the past three months, so don't forget to pick your favorites and treat yourself to a little memento of your favorite series or character. While you're at it, be sure to check out our Top 10 List of Japan's Most Anticipated Figurines for 2015.