There was nothing quite like ripping open a brand new set of Pokemon cards and being the envy of the schoolyard as you paraded around your newly-opened holographic cards. Pokemon-filled schooldays may be over for most of us, but that doesn't mean we can't go down memory lane every now and again! Read on to find our picks for the top 10 most nostalgic Pokemon cards that are sure to make you reminisce about your childhood Pokemon battles. Enjoy!
#10 Lapras (Fossil Expansion Pack)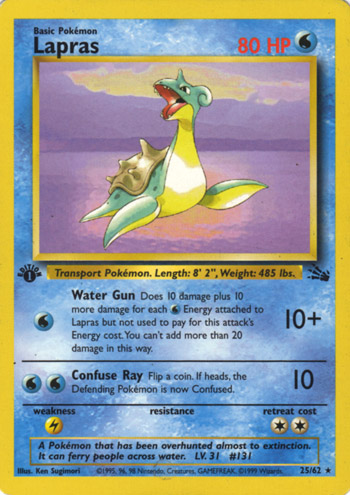 The water-type Pokemon was a favorite in Gen 1 and looks appropriately regal in this card featuring artwork from lead Pokemon designer Ken Sugimori. Originally released in both normal and holofoil versions as part of the Fossil Expansion pack, this Lapras is sure to bring back some fond Poke-memories!
#9 Machamp (Base Set 8)
The next card on our list features the fighting-type powerhouse Machamp. This card was released in the Base Set – the expansion pack that officially introduced the Pokemon Trading Card Game to the United States. Alongside regular printings of this card, this Machamp also came in a rarer holofoil version. The card uses the original Ken Sugimori illustration, making it one of the most memorable Pokemon TCG cards ever!
#8 Misty's Starmie (Gym Heroes Expansion)
The Gym Heroes expansion pack was an exciting prospect as a young whippersnapper, as it was a chance to own a Pokemon from one of your favorite Gym Leaders. This card featuring Misty's Starmie is a great throwback to the Gen 1 games and the first season of the anime. After all, who can forget all of the great battles Misty fought with her trusty Starmie?
#7 Dark Arbok (Team Rocket Expansion)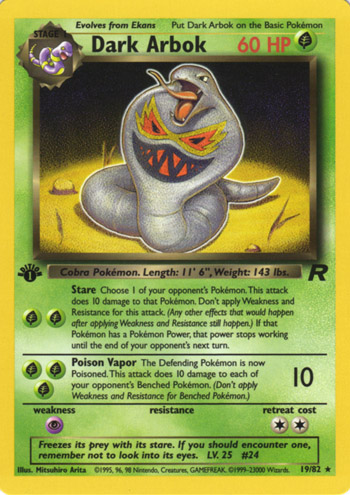 The mafia-esque Team Rocket were quite the threat in the first couple of Pokemon games and the Team Rocket expansion pack truly captures the badass side of the organization. Released as part of this evil expansion pack, the Dark Arbok card features super-rad artwork from Mitsuhiro Arita, one of the TCG's most prolific illustrators. Whether you were a goody two-shoes or had a mischievous streak as a kid, Dark Arbok is sure to give you a burst of nostalgia!
#6 Bill (Base Set 91)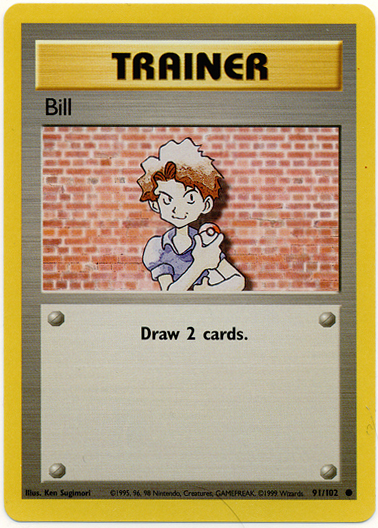 The only Trainer card on our list, this Bill card from the original Base Set features the creator of the Pokemon Storage system himself. The card saw several reprints across many Gen 1 TCG expansion packs, making it one of the most recognizable cards ever released.
#5 Squirtle (Base Set 63)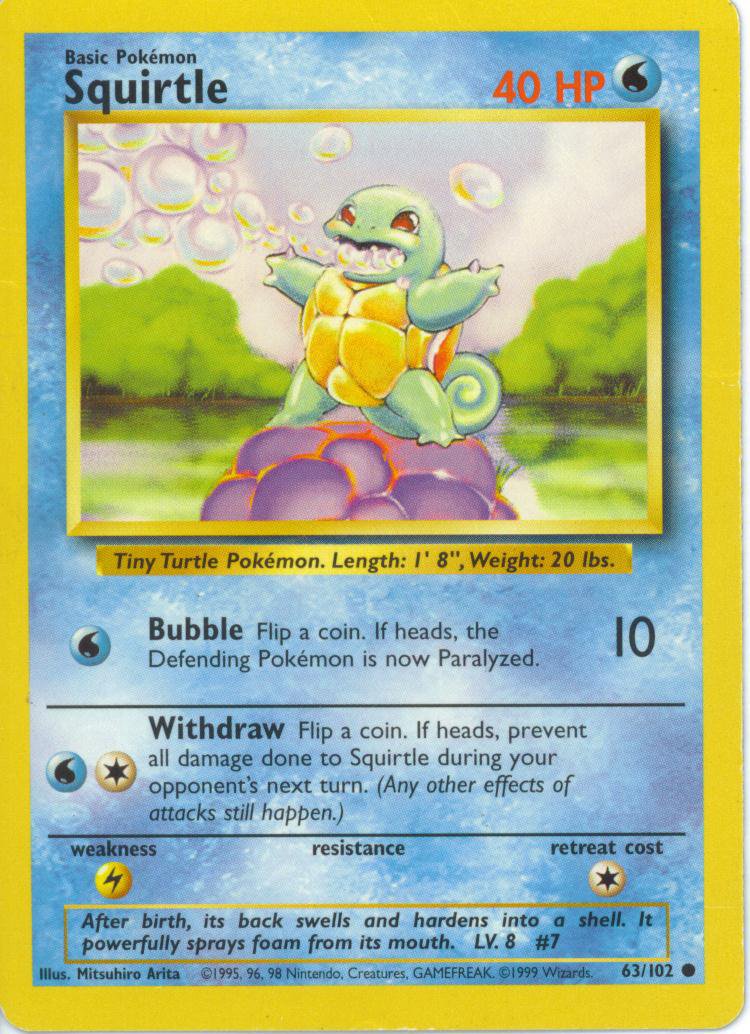 Yet another card from the OG Base Set makes it onto our list, this time being one of the Kanto Starters – the adorable bubble-breathing Squirtle. While the card may not be the strongest in play, we don't think anyone can forget this charming illustration by Mitsuhiro Arita.
#4 Pikachu (Base Set 58)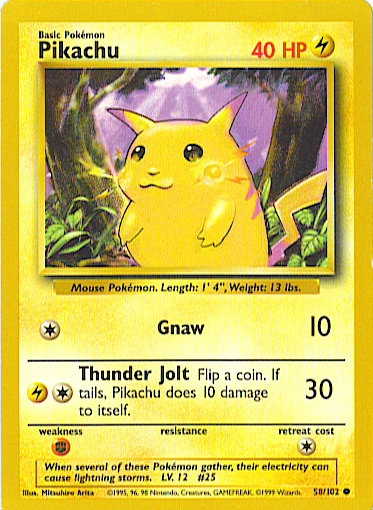 Would any Pokemon countdown be complete without the Pokemon mascot himself, Pikachu? This famous card from the Base Set expansion pack features a delightfully plump Pikachu who looks ready to unleash its signature Thunder Jolt attack.
#3 Gyrados (Base Set 6)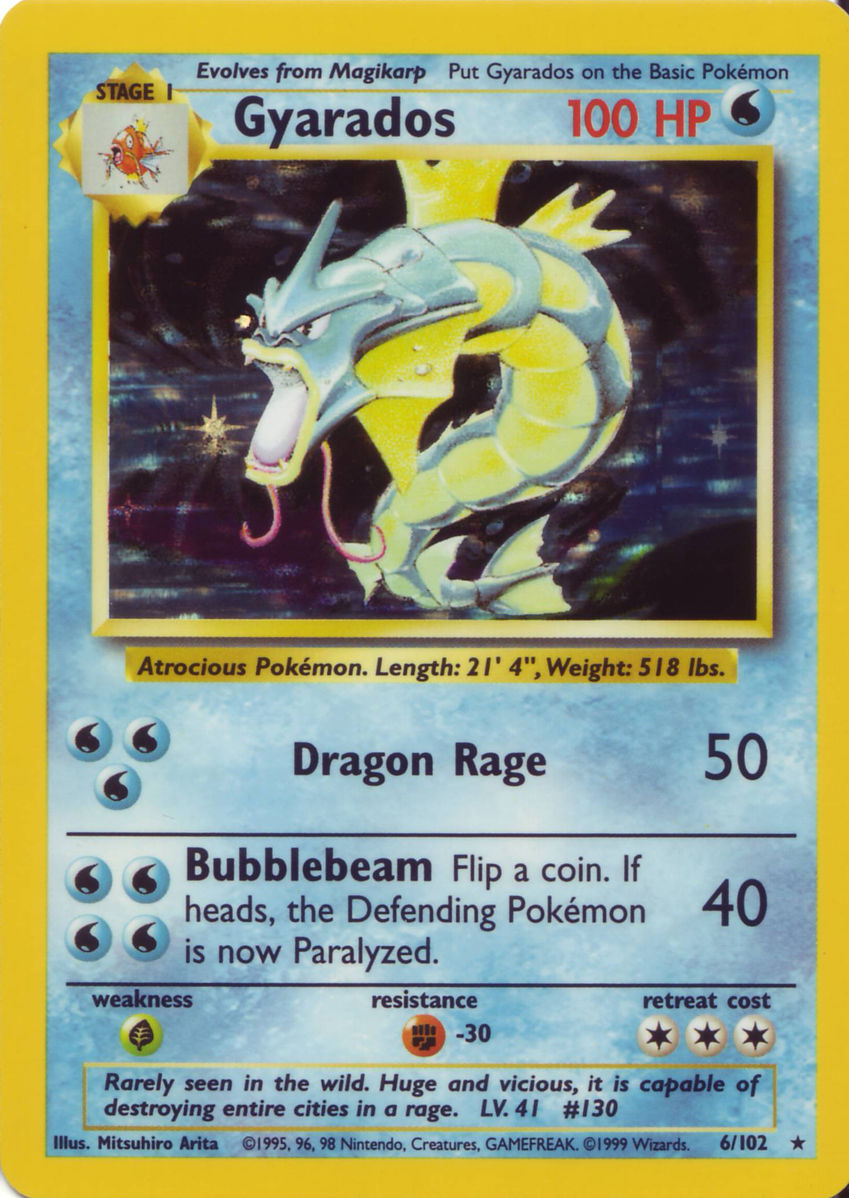 Gyrados is one of the strongest Gen 1 Pokemon and is still considered a pseudo-legendary Pokemon, even today. The Gyrados from the Base Set expansion pack was one of the most popular holofoil cards being traded within schools and it's easy to see why – Gyrados is just so cool!
#2 Ancient Mew (The Power of One Promo)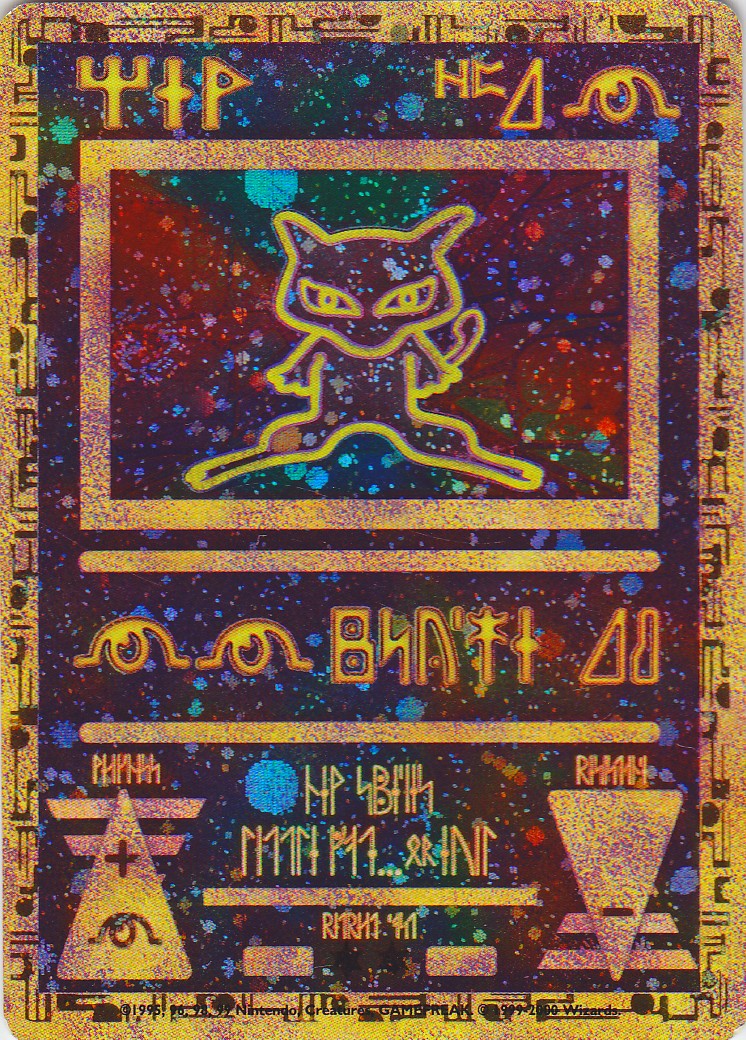 At the peak of Pokemania, this Ancient Mew card was the stuff of legends. Released as a promotional card in 2000, it was given out during the theatrical run of The Power of One film in the United States. One of the rarest cards on our list, Ancient Mew was the holy grail of many kids' Pokemon TCG collections.
#1 Charizard (Base Set 4)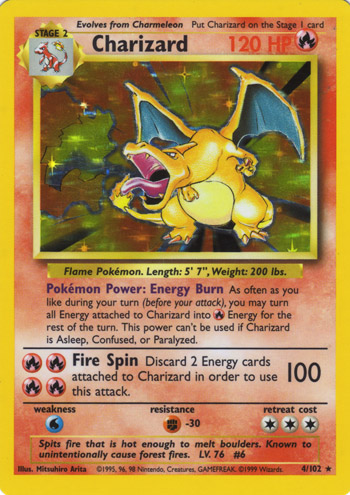 Coming in at number one is Base Set Charizard! This was the card to own at school and probably the cause of many schoolyard brawls. Kids who owned a holofoil version of the card were considered school royalty and even today a confirmed first-edition card can fetch hundreds on the second-hand market. Whether you are a hard-core Pokemon fan or just a 90s kid, you'd struggle to find anyone who doesn't have memories of this awesome card!
Add to your Pokemon Trading Card Collection with FROM JAPAN
Whether you want to add to your Pokemon TCG collection or get some Japan-exclusive Pokemon goodies, FROM JAPAN's proxy shopping and bidding service can help you. You can find all kinds of Pokemon merch, including Pokemon trading cards on FROM JAPAN using the handy search box on our site. Enjoy your Poke-shopping with FROM JAPAN!