Theme cafes are really popular among both tourists and locals in Japan, but why are they so special? And is there a way to get your hands on theme cafe items outside of Japan? In this article, we'll help you find out!
What are theme cafes?
As the name implies, theme cafes are more than just your regular coffeeshops. They typically have a specific theme which gets applied to their menu and interior decorations, and in Japan, they take theme cafes to another level.
Theme cafes in Japan are a unique experience. In the case of animal theme cafes, the most popular ones are cat cafes or owl cafes, where customers can come in to close contact with these animals while they're enjoying a drink. When it comes to pop culture theme cafes, these are where fans of certain video game or anime franchises gather to experience food or drinks based on their favorites or get a hold of merchandise that's exclusive to that cafe.
If you're currently unable to visit Japan but don't want to miss out on this essential part of Japanese sightseeing, we're introducing you to a handful of pop culture theme cafes you can save for your future itinerary, their merch, and how you can get exclusive theme cafe items in the meantime.
Top 5 Theme Cafes in Tokyo
Eorzea Cafe – Akihabara's Final Fantasy theme cafe!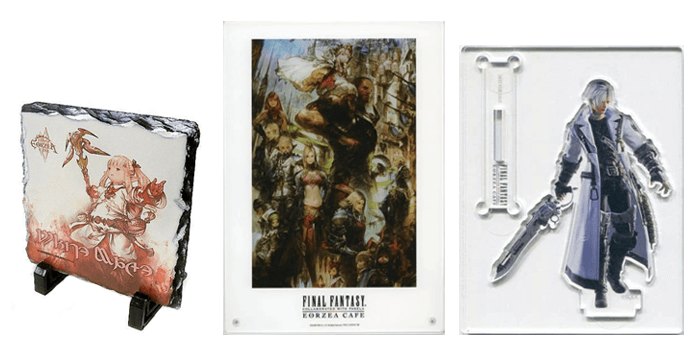 Eorzea Cafe is perfectly located at the center of Tokyo's gaming and otaku subcultures: Akihabara. The cafe was opened in 2014, and is based on Final Fantasy XIV. Inside, you'll find a atmospheric interior with motifs from the game such as weapons and armor. The cafe's menu even lists prices in the in-game currency, known as gil.
The cafe also has a merch shop inside, filled with all sorts of Final Fantasy-related items. Regular visitors to the cafe can participate in a stamp rally, and once they've successfully collected all the stamps by ordering different items on the menu, they're rewarded with exclusive Final Fantasy merchandise. These stamp rally prizes can sometimes be found in Japanese online stores being sold by those who completed the rally.
Pokemon Cafe – Catch all the exclusive Pokemon Cafe items!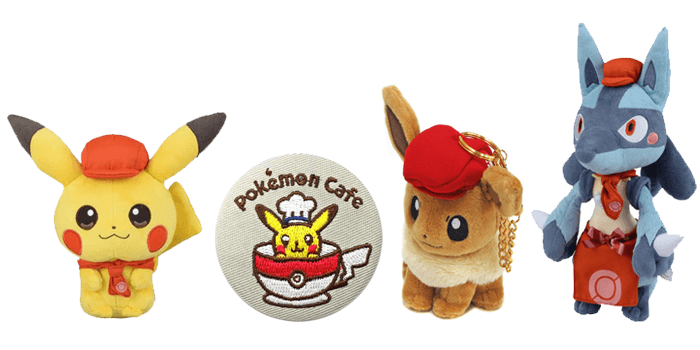 Pokemon Cafe has one branch in Tokyo and another in Osaka. When it comes to their menu items, they have a combination of sweet and savory food & drinks, with images of popular Pokemon such as Pikachu, Eevee and Gengar. Visitors will need to make a reservation before getting in, so make sure to check out their English reservation page in advance.
When it comes to their store, Pokemon Cafe has a range of merchandise including plushies of Pokemon dressed up in cafe stafff uniform, and also everyday use items such as a knitted badge with the logo of Pokemon Cafe and a plate in the shape of Snorlax.
Gundam Cafe – For fans of the Gundam franchise!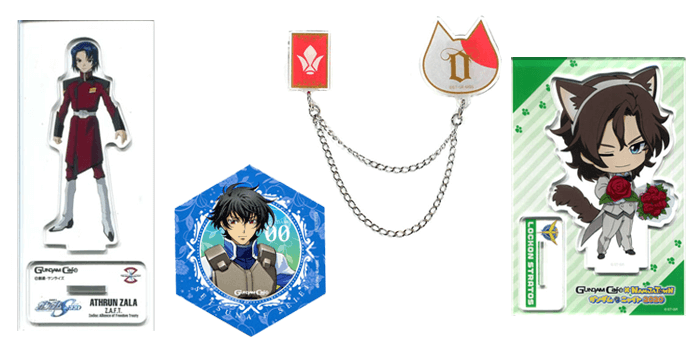 We introduce the Gundam Cafe with some sad news that was released at the time of this writing: all four branches of the Gundam Cafe in Japan will be permanently closing from January 2022. This is likely due to the effects of the coronavirus pandemic that's reduced the number of visitors coming to Japan.
If you've never had the chance to visit the Gundam Cafe however, all is not lost. Over the years since it was first opened, they've released a variety of merchandise that were sold exclusively through the cafe's store. Many of those items are still being sold online, so at the very least, you can still get yourself a piece of memorabilia from this well-loved otaku establishment.
Kirby Cafe – A cafe dedicated to Nintendo's cutest character!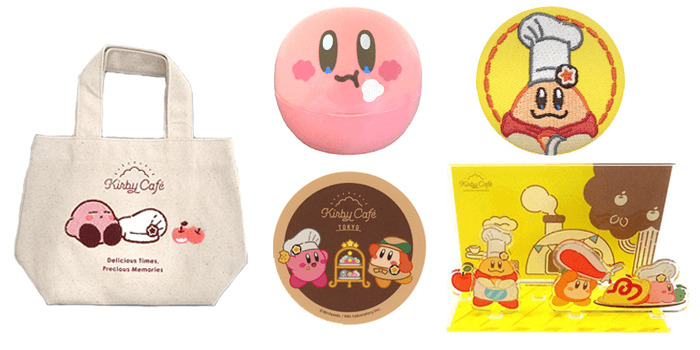 If you're a fan of Kirby, you'll be happy to know that the Kirby Cafe isn't solely dedicated to the blobby, pink Nintendo character (although we don't see anything particularly wrong with that!). Instead, the cafe also features a few of the other regular characters that have appeared in Kirby games throughout the years, such as Waddle Dee and Chef Kawasaki.
The menu items and exclusive merchandise being sold at the cafe reflects this too — the Kirby Cafe offers up scrumptious-looking burgers and pasta with familiar motifs like the yellow, five-pointed star. As for the cafe store, Kirby is often found alongside his friends on items like plushies and pins.
Sanrio Cafe – Hello Kitty, Gudetama, My Melody, and more!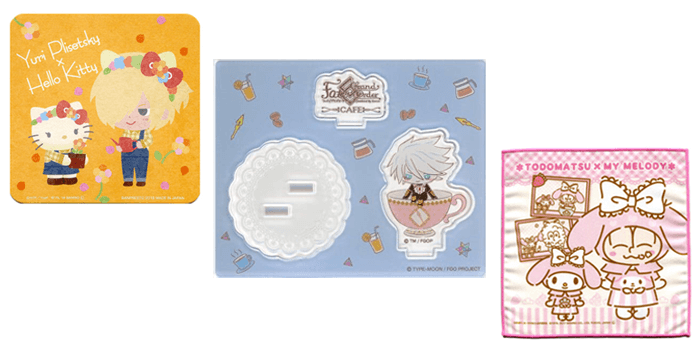 Last but not the least, we have Sanrio Cafe. With all the different Sanrio characters that have been introduced to the world, the cafe does a good job of catering to fans no matter who their favorite character might be. You'll see the most popular characters such as Hello Kitty, Gudetama, My Melody, Little Twin Stars, Pompompurin (amongst others) gracing the cafe's walls and menu items.
In addition, they've also done collaboration events with other popular franchises in the past — including anime series Yuri on Ice, Mr. Osomatsu (Osomatsu-san), and the popular mobile game and anime series, Fate/Grand Order. For these collaborations, Sanrio Cafe releases merchandise with various Sanrio characters usually partnered up with characters from the aforementioned series, and you can see examples of how adorable this turns out with the image above.
How to collect exclusive Japanese theme cafe items from outside of Japan
Because these theme cafes are only found in big cities in Japan like Tokyo, there is a demand for the items being sold there from fans who can't travel to Tokyo. Online resellers then make them available to the public, making it so that they can be purchased without going to the cafe itself.
FROM JAPAN is a proxy company that acts as an intermediary between you and online Japanese retailers, to help you get your hands on exclusive and limited edition figures and other merchandise. You can gain access to items being sold on Japanese online markets, including merch from the theme cafes we listed above.
We've helped thousands of happy customers get items directly from Japan over the years, so there's no limit to what you can find. You can get in touch with our Customer Service team or check out our Usage Guide to get you started. Happy shopping!