The sister groups of AKB48 are SKE48, HKT48 and NMB48 and they have their own theater photos which are worth talking about because of the modifications that were done. The distribution of HKT48 and some photos of SKE48, however, remains the same as the one for AKB48 since it has proven to work well.
The SKE48 Random Theater Photos
Released bi-monthly, the SKE48 theater photos offer one set of random pictures just like the ones of AKB48 and the second set is based on orders. The SKE48 Random Photoset comes in packets of 5 and is sold for 1,000 yen. Each set has 3 pictures and they follow a similar format with a bar (they chose to use a white bar) with the member's name, her team, and the date of the photo.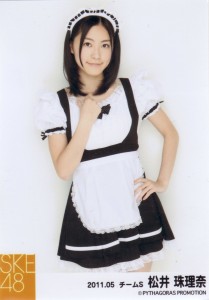 The photos feature the members in both theater and casual outfits. Unfortunately the quality is not as good as fans would want them to be especially for the earlier packs. Fans can buy the random set either from the SKE48 shop or by ordering them online. Buyers are only allowed to buy a maximum of 5 sets with every purchase. The demand for SKE48 random theater photos is amazingly high even if they cost more because of the fewer photos per set.
Continue Reading
The Ultimate AKB48 Photo Guide Part 4 – The Sister Groups of AKB48 and Their Theater Photos