When it comes to subtly expressing your fashion sense, blinging out your wrist with a sick watch is a timeless (no pun intended) and stylish way to showcase a piece of your personality. If you're looking to buy a watch either for the first time or to add to your roster, there's no competition: Casio Baby-G watches are the only way to go! In this guide you'll learn more about what makes these watches the best, and why you should be buying yours from Japan over anywhere else.
What Exactly Is a Casio Baby-G Watch?
What better starting point than explaining the history behind Baby-G? Designed for those with smaller wrists, Baby-G is the little sister to the popular G-Shock watch line, also made by Casio. Founded in 1994, the model's slimmer build, these watches set out to be bold, stylish, and durable, and they succeed on all fronts! Throughout the years, Baby-G watches have delivered an overwhelming collection of vibrant, muted, retro, modern, and collaboration watches, and there's never been a better time to start growing your own collection.
Casio Baby-G x Pikuchu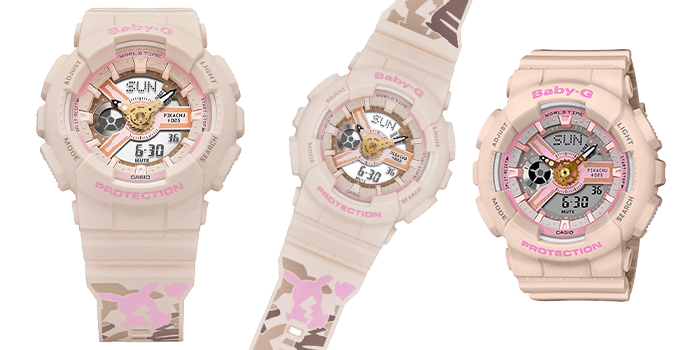 If you wanna be the very best like no one ever was, the Baby-G x Pokemon limited edition model is a must-have. With Pikachu patterns decorating the band, engraved on the back, and even on the hands of the watch, you'll feel just like Ash walking around with this limited edition Igglybuff-pink watch on your wrist. With Baby-G's unparalleled time-telling accuracy, you'll always know precisely what time it is whether you're traversing the shadowy Mt. Moon or battling Team Magma in Mossdeep City. The only thing you can't accomplish with this watch is Mega Evolution (yet…)
Casio Baby-G BGD-5000U Collection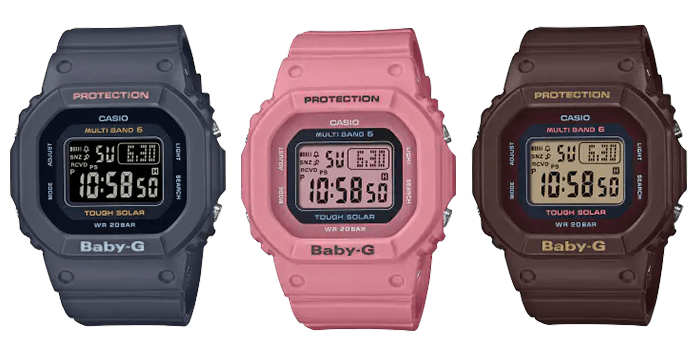 If you're not feeling like a Pokémon Master, perhaps something a little more sleek and refined is better suited to your liking? If that's the case, then the BGD-5000U Collection of Baby-G is simply unbeatable. Available in white, navy, black, and more, this subdued line of slim electronic watches retains all of the powerful features of any other Baby-G in a more reserved design. For those looking to get a simple watch that still has an undeniable stylish edge, the BGD-5000U Collection was made for you.
Casio Baby-G BGA-280 Collection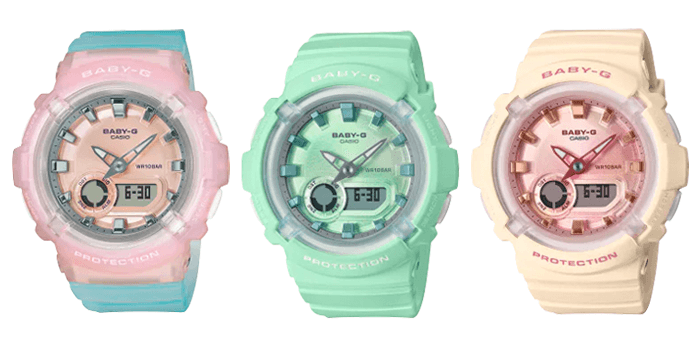 Looking to make a bold statement, express your love of vibrant colors, or even just rock the hottest watch around? If yes, look no further than the BGA-280 Collection. Not only do these watches look great, but they offer an extra level of shock resistance that's ready to endure just about anything you have to throw at it. White with an iridescent opal face, midnight black, baby pink, cotton candy tones, minty seafoam, it's impossible to properly describe all of the amazing variations this collection offers. Be careful when browsing the BGA-280's, as you will find at least one that you fall in love with.
Why Buy Casio Baby-G watches From Japan?
So you know the mission behind Baby-G's creation, you've read about a few of their different collections, so why should you buy them from Japan? Well, there are a few simple answers to that question, and hopefully, they'll help you see why it's foolish to buy your Casio Baby-G watches any other way.
For starters, Japan is the birthplace of Casio and the cornerstone of quality watches. Not only is the quality of craftsmanship put into Japanese watches remarkable, but purchasing your Baby-G directly from its homeland gives you access to better deals and Japan-exclusive watch models.
Right now, Japan's secondhand market is experiencing an unprecedented boom, especially in the realm of watches. The vast majority of secondhand items from Japan are retained in impeccable condition, creating quite a contrast to the largely unreliable American secondhand market. This means that buying your Baby-G from Japan will land you a better deal for what is essentially a mint condition product, with the added bonus of being able to browse amongst Japan-limited models.
When you buy your watches from Japan you're paying for lasting quality, and thanks to the delicate nature of secondhand treatment in Japan, you can easily find much better deals when buying from there than anywhere else.
How To Buy BABY-G Watches FROM JAPAN
When you're looking to buy directly from Japan, there's no better choice for the job than FROM JAPAN; we're so confident in that fact that it's even our name. Through the process of proxy shipping, we allow for you to buy straight from the source, giving you access to an unrivaled catalog of secondhand Baby-G watches (among our other amazing products available). Many people are unsure of how these sorts of purchases work, especially first-time buyers, so the end of this guide serves to elaborate on the buying process and how you can follow it:
Use the search feature on FROM JAPAN's homepage to look for Casio Baby-G watches; alternatively, you can copy and paste the URL of the product into the search bar
Check all listed details for your desired watch to make sure it's exactly what you're looking for.
Proceed to checkout and complete the order form.
Pay for Charge 1 (item cost) and second charges.
Pay for Charge 2 (domestic shipping, international shipping, and plan fee) and instruct your package for shipment.
Wait for your Baby-G to arrive at your doorstep!
For more information about FROM JAPAN's service and fees, please check our usage guide. If you have any questions about our service, then feel free to contact our Customer Service team. Happy Baby-G shopping with FROM JAPAN!