Have you noticed how bits of '90s and 2000s nostalgia keeps on popping up on your social media feeds? It's usually a picture of Britney and Justin in double denim or a video of Paris Hilton saying 'That's hot'. It's called the '20 year Rule', but it's more like the 20 to 30 year rule. Styles that were popular 20 to 30 years ago get recycled and become the new trends. So right now, in the 2020s, the 90s and 2000s are in that perfect sweet spot and in Japan that means a resurgence of brands like Angel Blue. If you haven't heard about it, read on this guide for a brief overview of this nostalgic brand.
Angel Blue debuted in 1989 as a children's clothing brand targeting tweens. It was sold in Narumiya shops and sat along other iconic brands like Hysteric Glamour, Mezzo Piano and Daisy Lovers. It blew up between the late 1990s and early 2000s, and it made its mark in the annals of Harajuku fashion history thanks to idol royalty like Ai Kago and Nozomi Tsuji from Morning Musume sub-group, Mini-Moni. The pair, affectionately nicknamed Aibon and Nono, usually wore Angel Blue for their TV appearances and magazine editorials. The brand was also the setting for a popular manga by shoujo manga mega-publisher, Nakayoshi. Yumemiru Angel Blue told the story of fashion-obsessed teenager, Amane Morino, who ends up working at the head office of her favorite brand, Angel Blue.
Incorporating vivid colours like marine blues, canary yellows and hot pinks, Angel Blue, at its peak, created clothes that were clearly inspired by bouncy castles—it was designed for tweens after all! Their pieces epitomized the curious nature and adventurous spirit of a bubbly but slightly mischievous girl. The brand also had its very own mascot named Nakamura-kun who made frequent appearances in their designs. Fun fact: Apparently 'Nakamura-kun' didn't originally have a name but when a shop assistant was asked by a customer, the assistant blurted out 'Nakamura-kun!' and the name just stuck.
Unfortunately, demand for the brand began to wane in the late 2000s because its success was tied to Morning Musume and, with T-shirts costing as much as 8000 yen, the price was too high for many families to justify. But, thanks to the '20 year Rule', Angel Blue is seeing a revival!
Angel Blue Collaborations
In 2019 Angel Blue and Nakamura-kun made a come-back, in collaboration with music entertainment website Mimi Man, to celebrate the brand's 30th anniversary. It was such a hit that Angel Blue has been coming back again ever since! They are currently on drop number four which includes T-shirts, hoodies, bucket hats and more!
Angel Blue Hoodies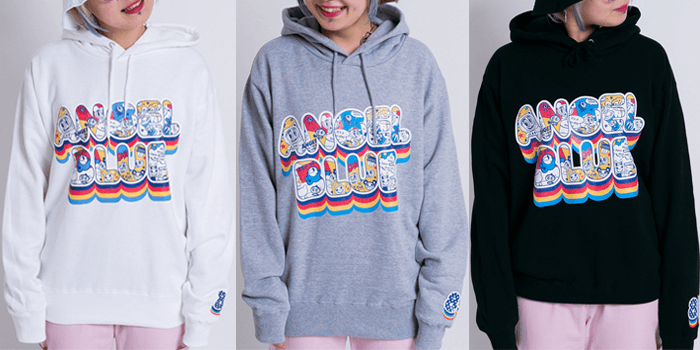 The Angel Blue Hoodie comes in three color ways: white, black, and grey. Each hoodie features Angel Blue lettering with super cute, hand-drawn cartoon characters. Can you spot Nakamura-kun? The hoodie is given that spark of childish adventure with a multi-colored outline of the brand name, and it's finished off with the number 89 on the sleeve as a little reminder of the year the brand was launched.
Angel Blue Bucket Hats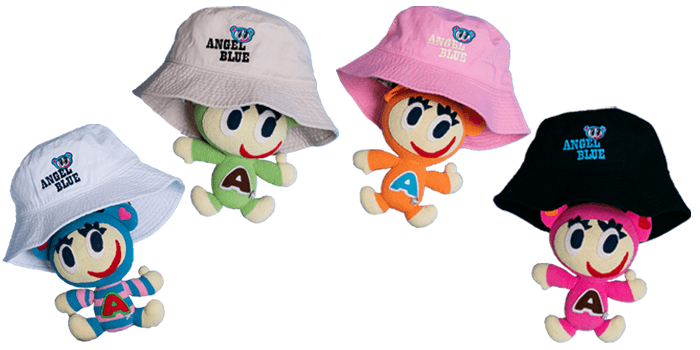 The Angel Blue Bucket Hat is embroidered with Nakamura-kun's cute, blue face, signature long lashes and the brand logo. There are four hats to choose from, so buy all of them because there's always time and a place for a bucket hat.
Angel Blue T-shirts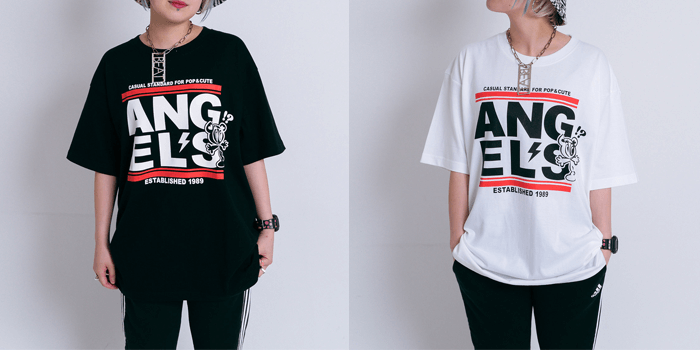 T-shirts quickly became a staple of Angel Blue 2.0 but this drop includes completely new designs. Taking inspiration from the hip-hop aesthetic integral to Urahara style, Angel Blue's new T-shirts have a distinctly 'Straight Outta Compton' vibe. The simple but impactful color palette gives an edgier feel to the otherwise cutesy brand. But, they did manage to sneak in a cute illustration of Nakamura-kun, so have no fear—Angel Blue is still totally cute!
Angel Blue Socks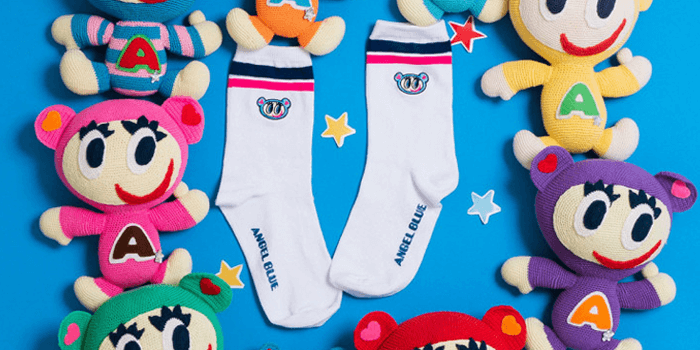 These super comfy 100% cotton Angel Blue socks are embroidered with Nakamura-kun's face—of course! The simple design is rounded off with the Angel Blue logo along the foot of the sock, and pink and blue bands around the cuff. They have a really sporty vibe so they make a perfect match for trainers.
Shop Angel Blue Products with FROM JAPAN
FROM JAPAN is a proxy bidding and shopping service that allows you to buy straight from the source while helping you to avoid the inevitable logistical hassle that comes with buying from abroad. FROM JAPAN acts as a bridge between companies based in Japan and consumers from all over the world.
Just visit the FROM JAPAN website and select the pieces you want from Angel Blue. FROM JAPAN will then confirm the price and availability of the pieces. Once everything is confirmed, FROM JAPAN ships the product to your country. You will receive the products within one to two weeks. So, why don't you start shopping for a piece of Angel Blue nostalgia with FROM JAPAN!