(Updated December 2022 — enjoy!)
The basics of flipping sneakers: How does reselling sneakers work?
Whether you're already a sneakerhead who knows about the resale market or you're just someone who's looking into starting a side hustle, let us introduce you to the world of flipping sneakers.
To make things simple, flipping sneakers basically means that you find low priced sneakers to resell to consumers for a profit. The most successful sneaker resellers see profits of up to thousands of dollars per month, and the best of the best even have huge social media followings or are trusted by high-profile customers.
Reselling sneakers has been made accessible to anybody from anywhere thanks to the internet, so if you know where to look, you can do everything remotely. Even during the pandemic, the online reselling market only became stronger as consumers were looking for their kicks but can't go to stores to find them. If you're considering a business in flipping sneakers, then you're doing it at the best possible time.
What sites can I use for flipping sneakers?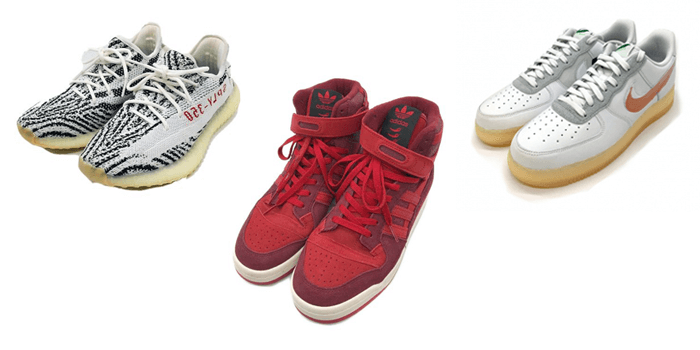 The best place to start is online. Nowadays, websites such as StockX help you keep track of average resale prices for sneakers. They list as many fashion and streetwear brands as you can think of, and it's an excellent place to study the market. Sites like High Snobiety and Hypebeast provide up-to-date news on what's hot in the sneaker world right now.
When you're ready to sell, experts recommend Goat, which has both a site and an app. Goat is the go-to for resellers because of how easy it is to use and how it's one of the safer, more reliable sites out there. If you prefer social media or other more familiar sites, then Facebook groups, Craigslist, and Ebay are also commonly used by those in the business.
If you find that the sneaker market in your area is already saturated making it hard to find a good source for low-priced sneakers, then you can turn to a country like Japan when buying sneakers you can resell everywhere else.
Is Japan a good place to buy from for flipping sneakers?
The short answer is: Yes! Japan is a great place to buy low priced sneakers and we'll explain why.
First is the cheap cost. Compared to bigger markets like the US, Europe, or China, Japan has relatively lower demand which means there isn't as much inflation of prices when buying sneakers.
Connected to this is the weak yen. When buying from abroad, the conversion rate is almost always in your favor — you'll find sneakers for slightly lower prices in Japan due to the weak yen. And in the world of reselling, this can make a huge difference in turning a profit.
Next is the good condition of sneakers sold in Japan. It's common to find unused or very lightly used popular sneakers in secondhand markets in Japan for a fraction of the price of brand new. Japanese secondhand stores are very particular with items they accept, so you're already bypassing extra steps in quality check.
How do I find authentic sneakers from Japan?
For all the good points we just mentioned, Japan isn't perfect in that there aren't any fakes floating around. It's still important to source your sneakers from Japanese stores that only deal with authentic sneakers.
If you've decided you want to tap into Japan as a source, you can get started here. One Map by FROM JAPAN is a proxy shopping service that utilizes a powerful search engine and verified sources to get items from Japan to anywhere in the world.
When it comes to sneakers, we highly recommend using the FJ Fashion section of the site, made specially for authentic luxury brand and fashion items. Possibly fake items get filtered out, and the listings only come from trusted secondhand stores in Japan.
How do I buy using One Map by FROM JAPAN?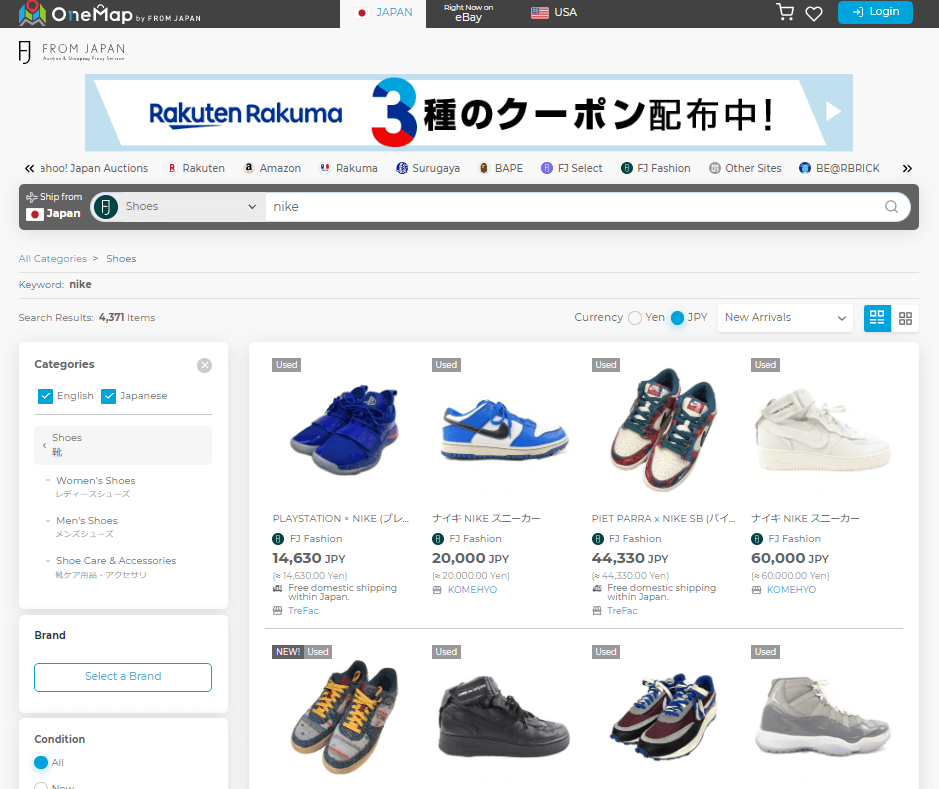 Once you get to the FJ Fashion section, all you need to do is input the brand name into the search bar in English. There are also a few quick links for popular brands at the end of this article.
As for brands that experts recommend, they say you can never go wrong with Nike and Adidas. In recent years, there's also been a trend for reselling brands like Reebok and Under Armour. If you have a particular model in mind, there's also the Find It For Me service, which you can use to make a request to our Customer Service team who will do all the hard work for you. (You need to have an account and be logged in to access the Find It For Me page).
Once you've found sneakers to start off with, go through the item description at the lower half of the product page and click the drop down button to find 英語 (English), so you can check all the details.
After that, it's just a matter of paying for the charges and waiting 'til the sneakers arrive. You can find more details on the steps of ordering with One Map by FROM JAPAN via our Guide for First Time Users. Finally, just like that, you're now equipped to start your business in flipping sneakers!
Quick links to find the top sneaker brands from Japan: