Japan, which is nothing if not innovative when it comes to fashion, has a huge number of different fashion magazines that cater to a wide range of discerning fashionistas. There are many different subcultures each with their own unique style, all of which also have magazines that are specifically tailored to them. A lot of magazines are printed on quality paper, and some will even include a special item inside just for their readers along with each issue. Here is a list of some magazines to get you started on your own Japanese fashion journey.
Popular Japanese Magazines for Women
KERA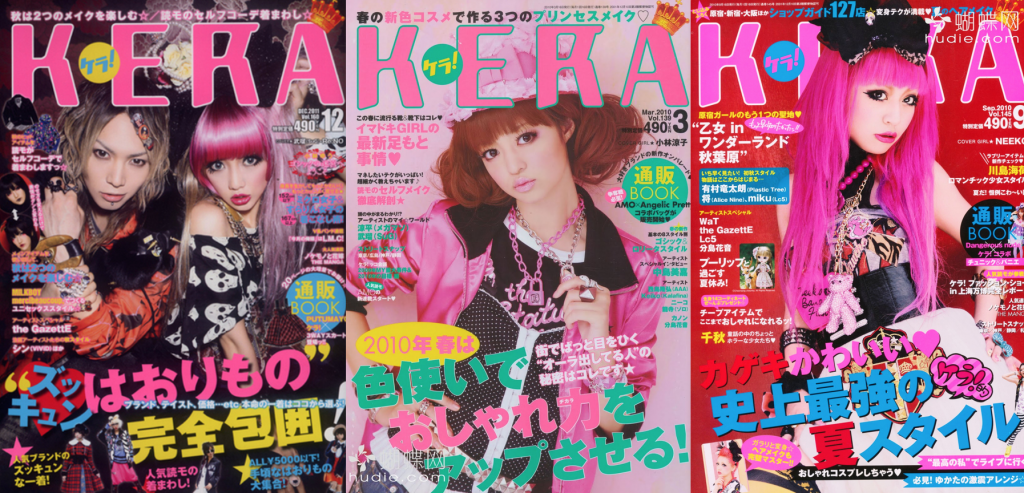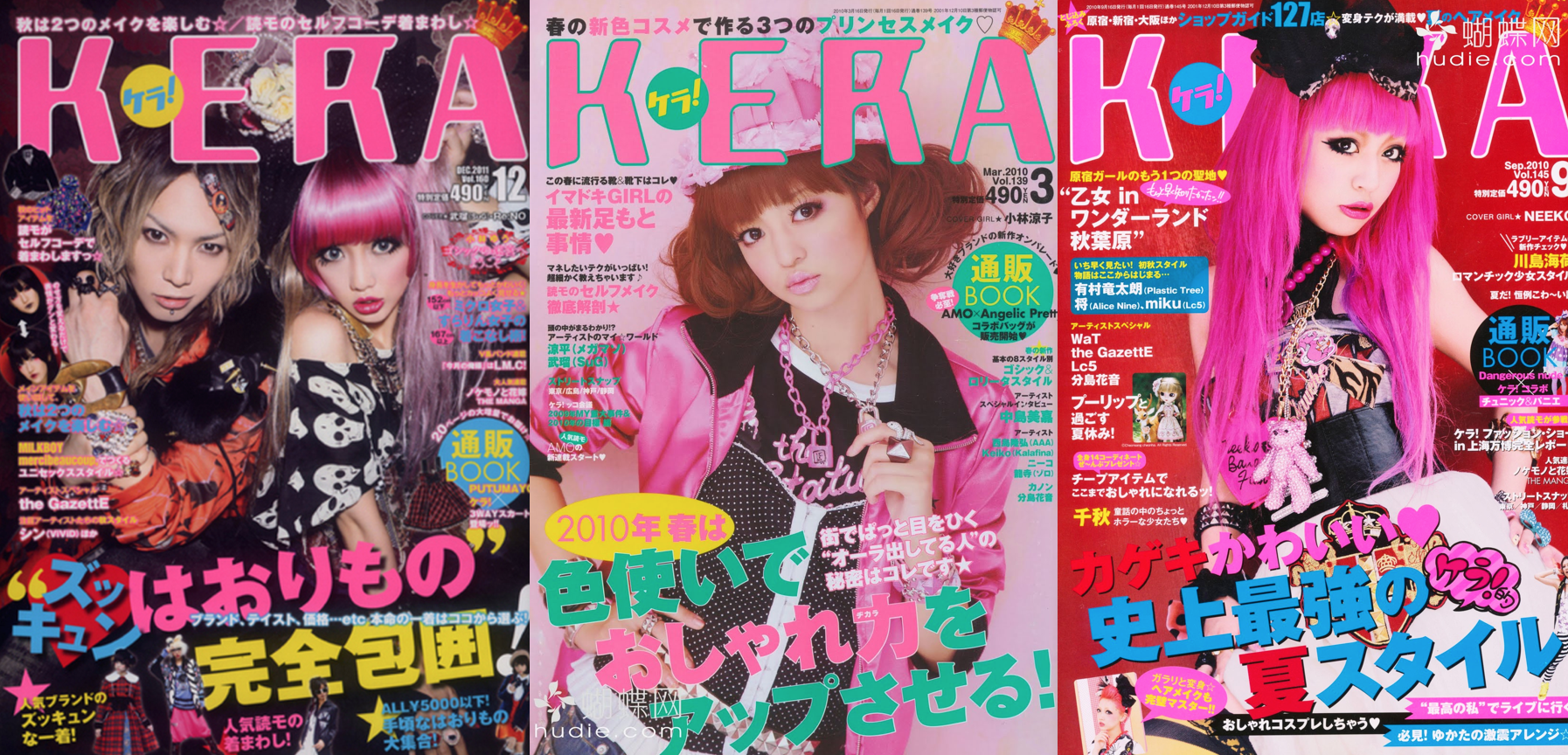 KERA – Featuring Harajuku, Gothic Lolita, and everything 'Kawaii', this magazine has great insight into Japanese street fashion. It captures the interest of many diverse readers and it's well-suited for somebody unique who likes a bold statement.  It's also enjoyed by foreigners who admire Japanese alternative fashion.
Zipper

Zipper – the number one Harajuku style fashion and culture magazine. Zipper's fun pop mix attracts readers its readers in their teens and twenties. Similar to KERA, they also offer alternative fashion but with a more casual street touch.
Cutie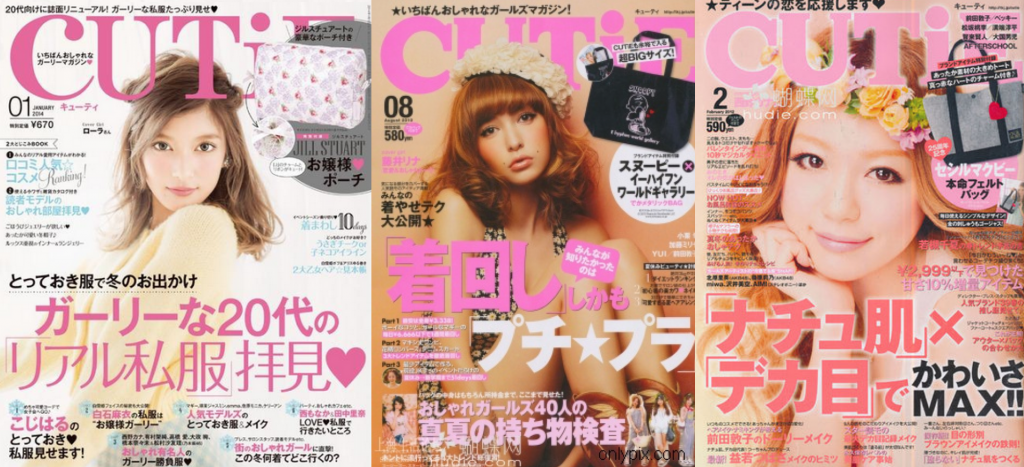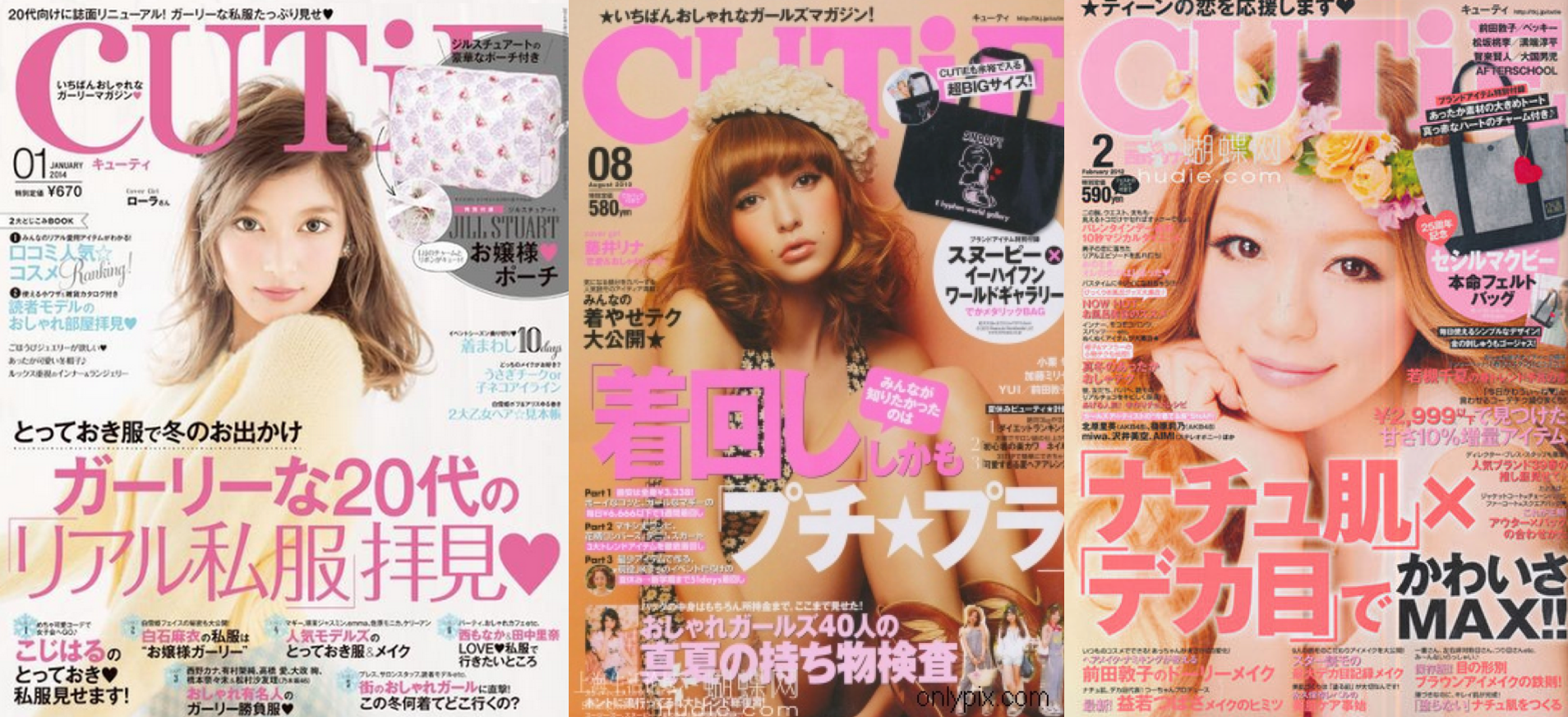 CUTiE – a girly magazine focusing on the 'J-POP' look. Each issue incorporates mix & match, hybrid, and street fashion, taking inspiration from different styles rather than focusing solely on mainstream trends.
Seventeen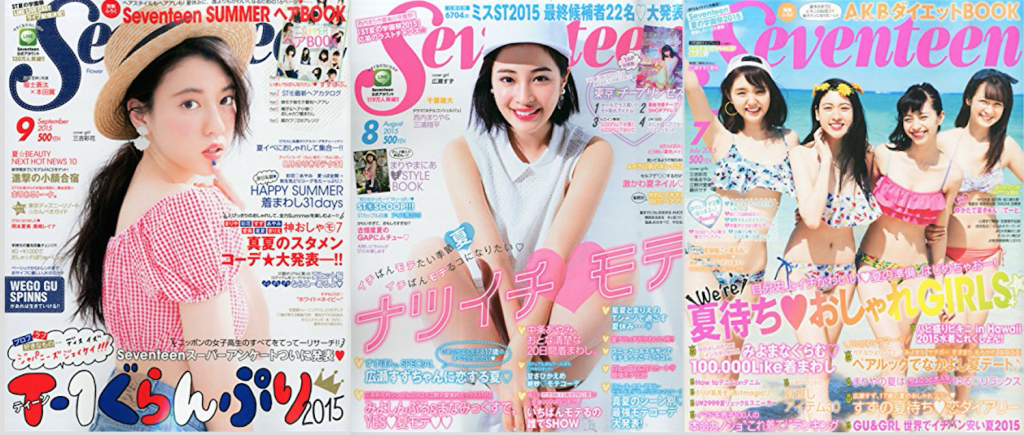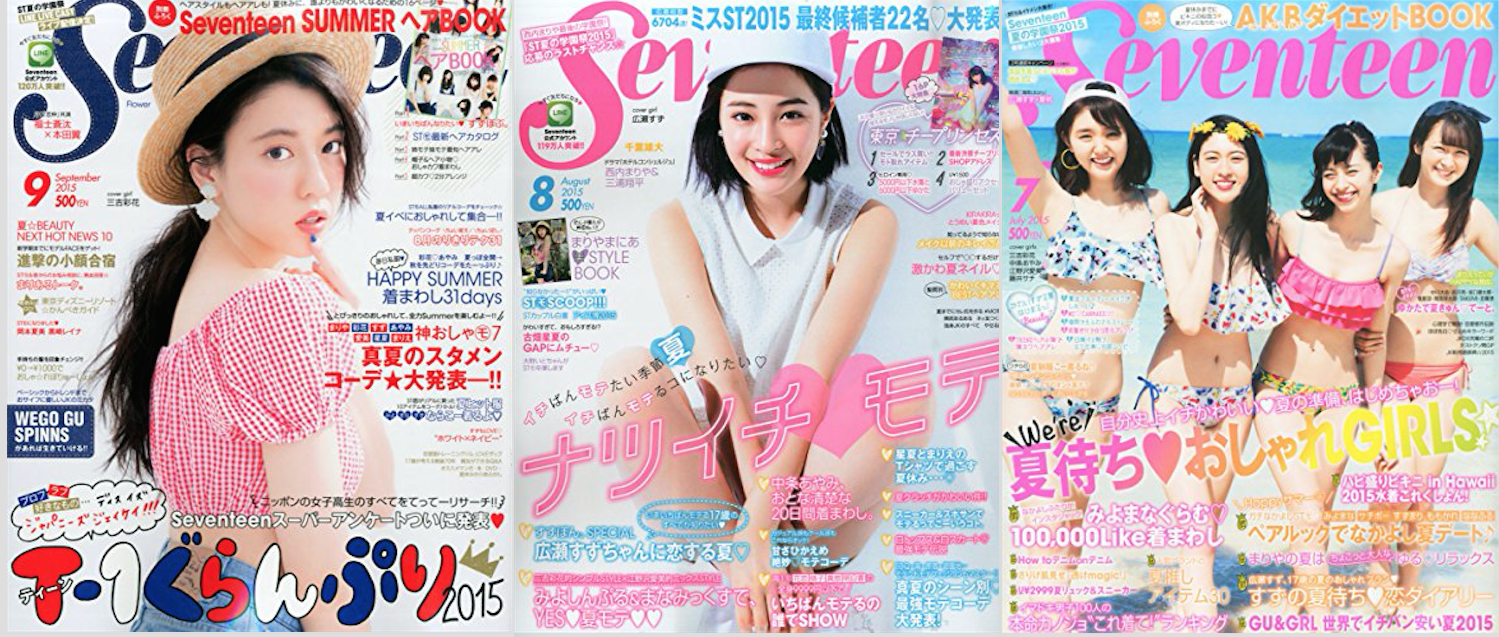 Seventeen – One of the popular magazines aimed for teenagers, this magazine is based on the American version of Seventeen. It features teen models as well as upcoming models, and it centers on a style that is cute and casual while still being trendy. In addition, this magazine also has advice and tips for teenagers, so it is a definite hit with its readers.
Popteen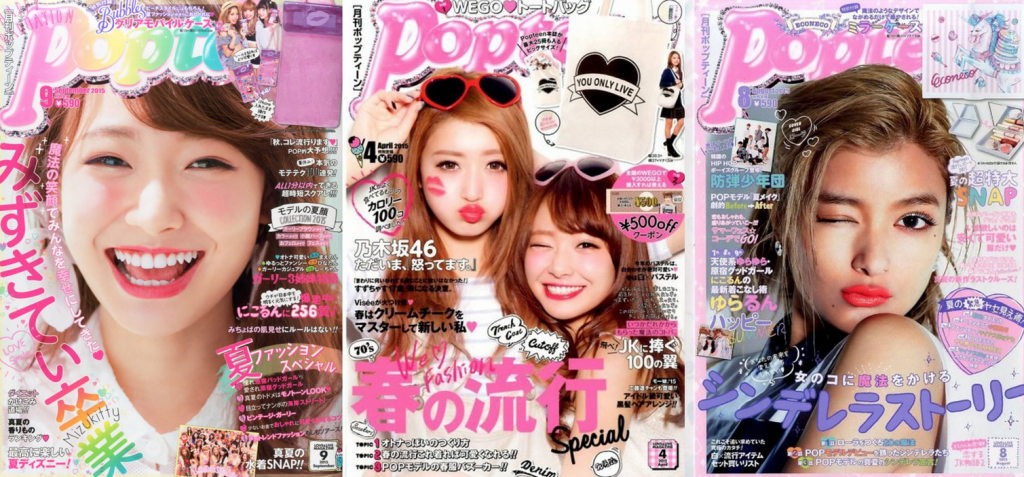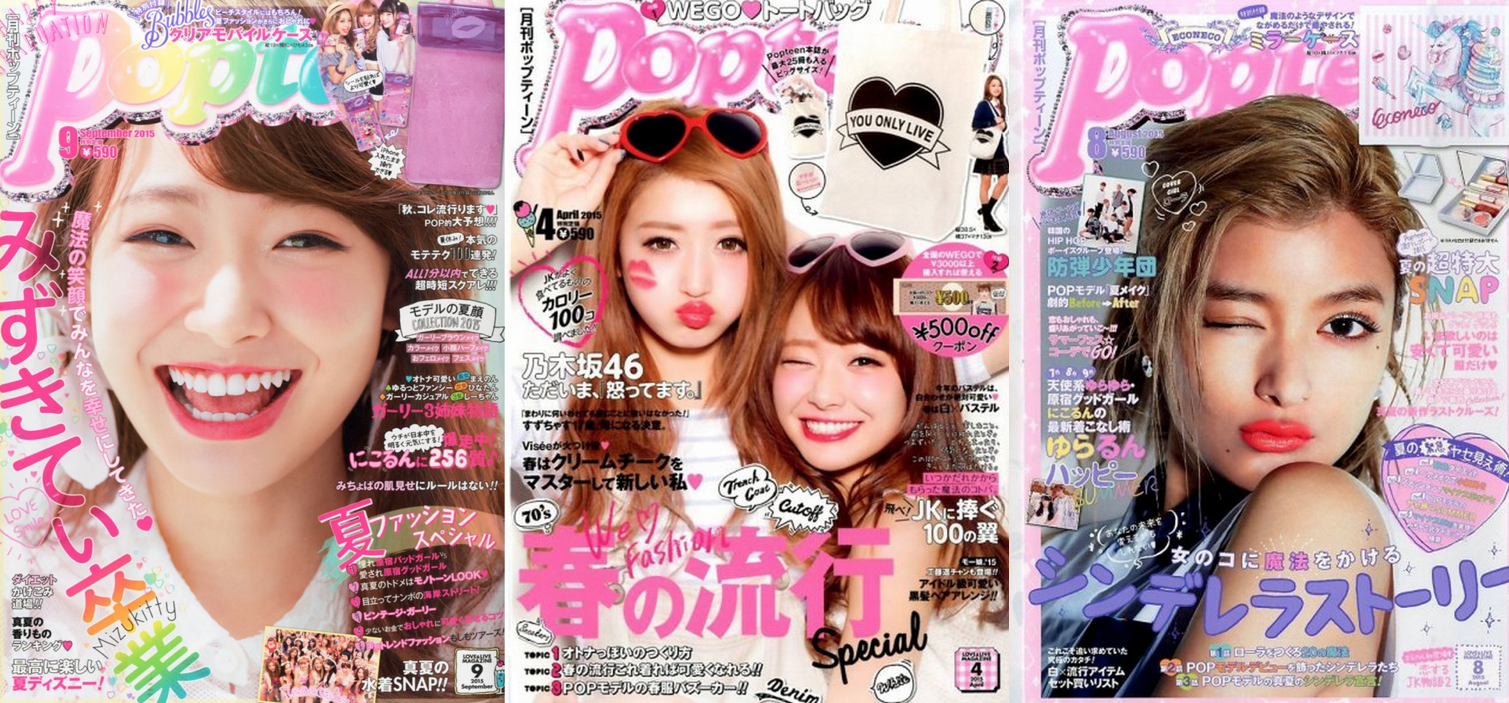 Popteen – Also for teens, but featuring more girly cute fashion than Seventeen does. Popteen is also popular source for 'gyaru' fashion and is a great magazine for beginner 'gals.' They also offer makeup and hair tips to go along the seasonal fashion, a very sweet and girly touch.
ViVi
– Another top magazine that is perfect for the adult-gal look. It's great for 20 year-olds who aspire to be girly and elegant-sexy. In addition to seasonal fashion, hair and makeup tips, ViVi  also covers some entertainment news. It features a lot 'hafu'(biracial, half-Japanese) models and put emphasis on mixing and matching clothes to create various unique looks.
Sweet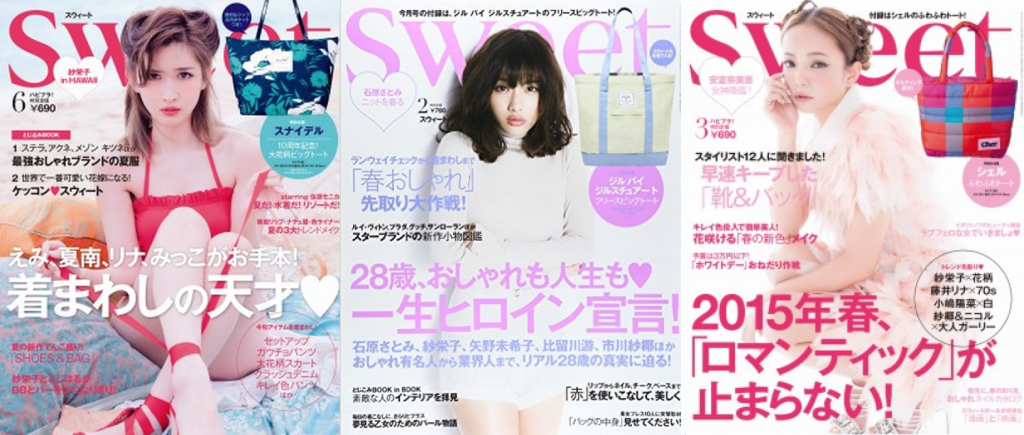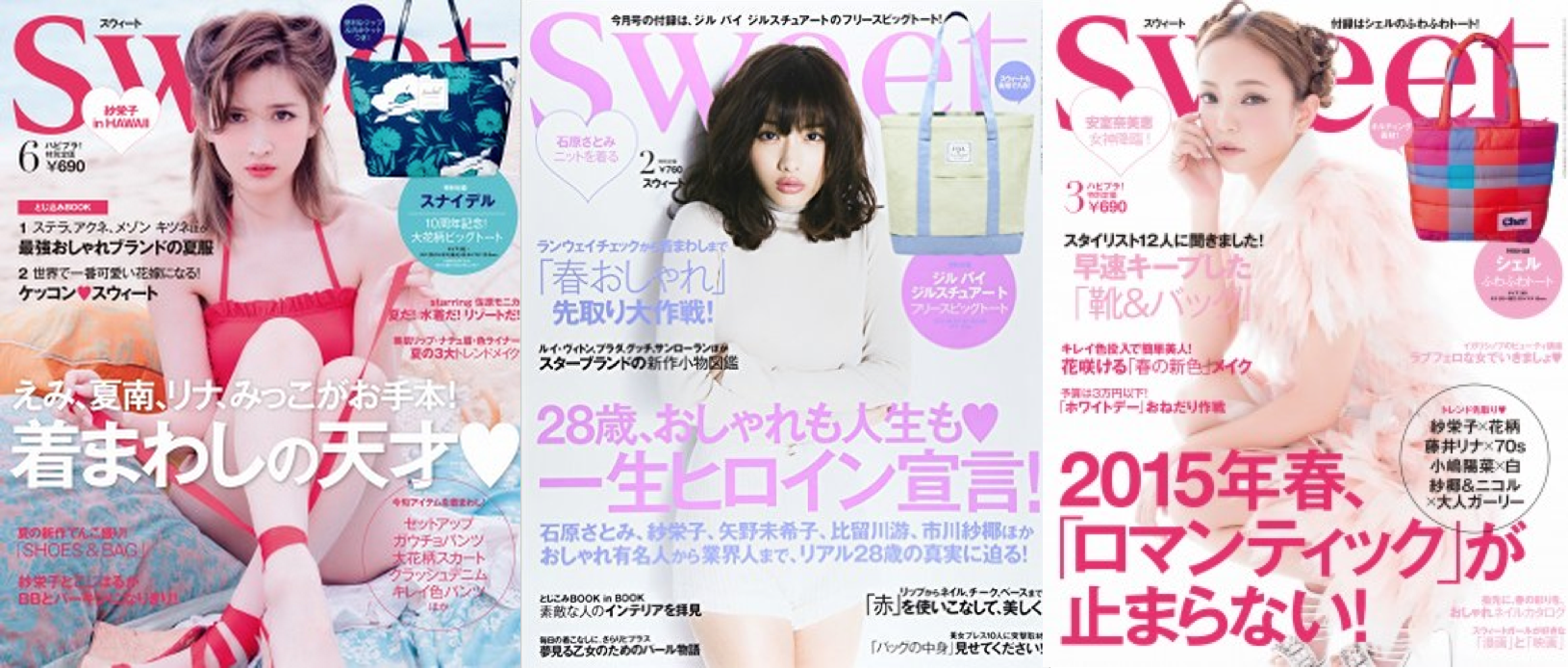 Sweet – Is currently the top selling fashion magazine geared towards 20-something year old females who enjoy current mainstream fashion. It appeals to the more casual, stylish girl who likes to spend a bit of money. Their concept is casual 'adult girly,' meaning being stylish without being too youthful. Each issue comes with a cute present!
Jelly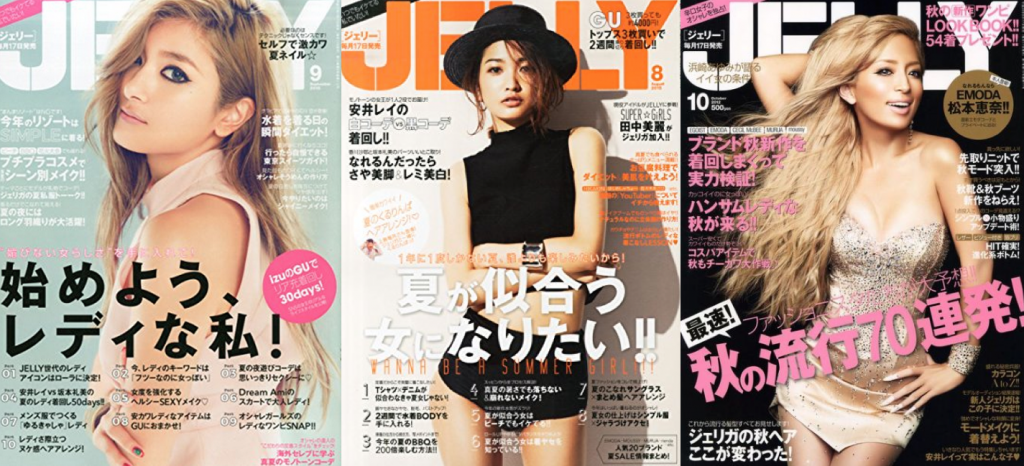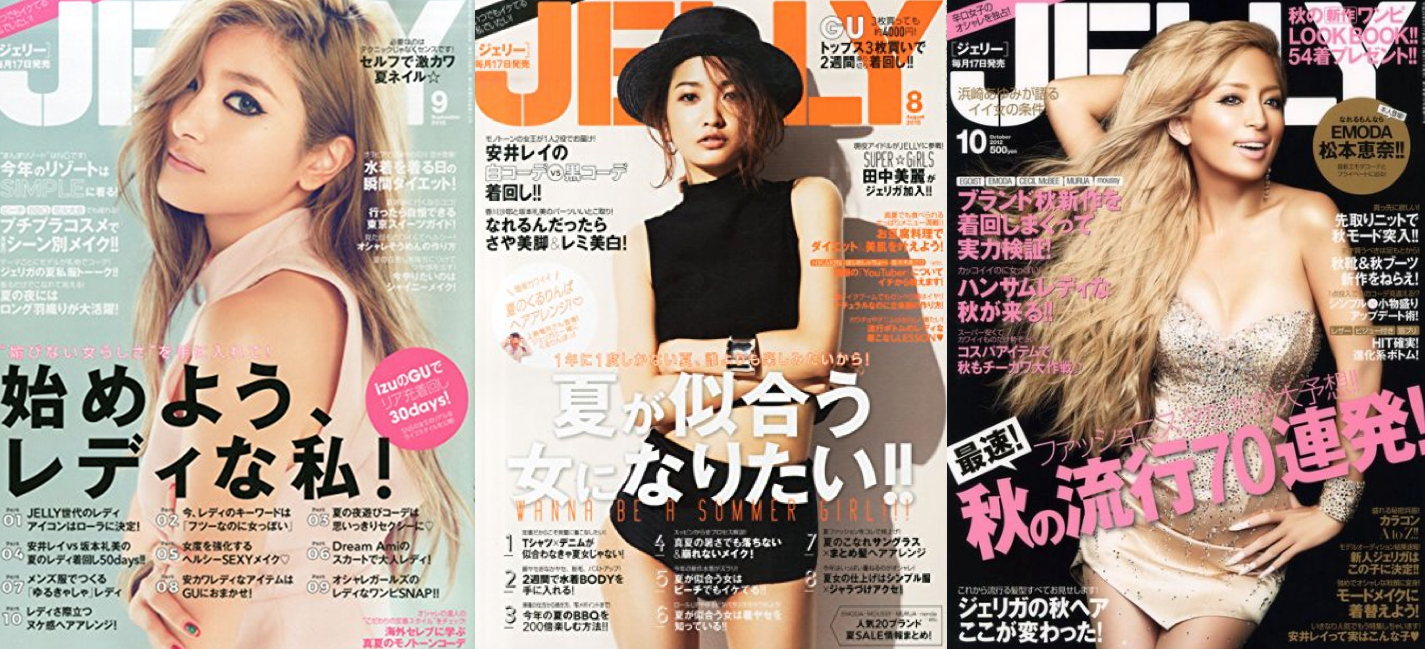 Jelly – An adult gyaru magazine for readers in their late teens to late 20's. While being trendy and girly, it also aims to be cool. It's the magazine for adult girls who want to be a 'cool gal' while still being casual. It does not follow too closely to mainstream fashion, so it's a good read for those who want to be unique.
Can Cam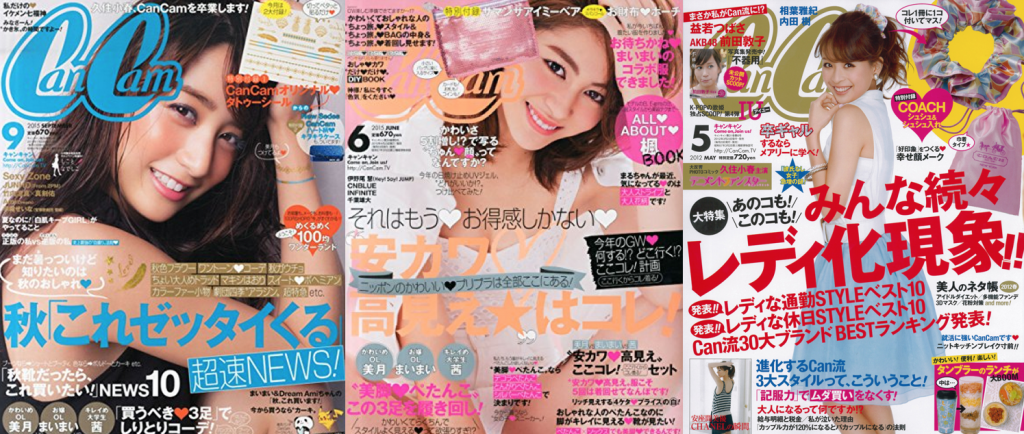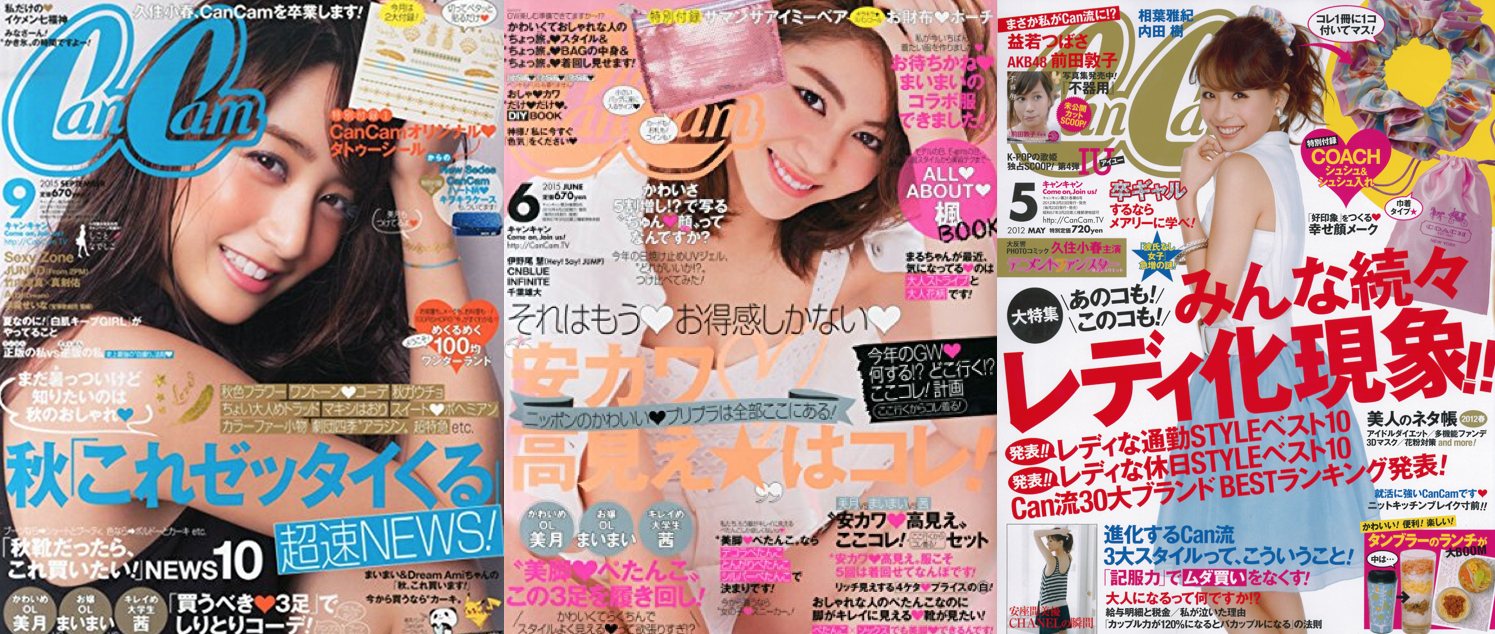 Can Cam – This magazine is very popular among office ladies and university women who strive to be leaders. It's a magazine that showcases femininity without the overly sexy appeal; a very 'mote kei' fashion sense. They have a lot of different outfits every issue and mix and match inexpensive items with some luxury accessories.
VERY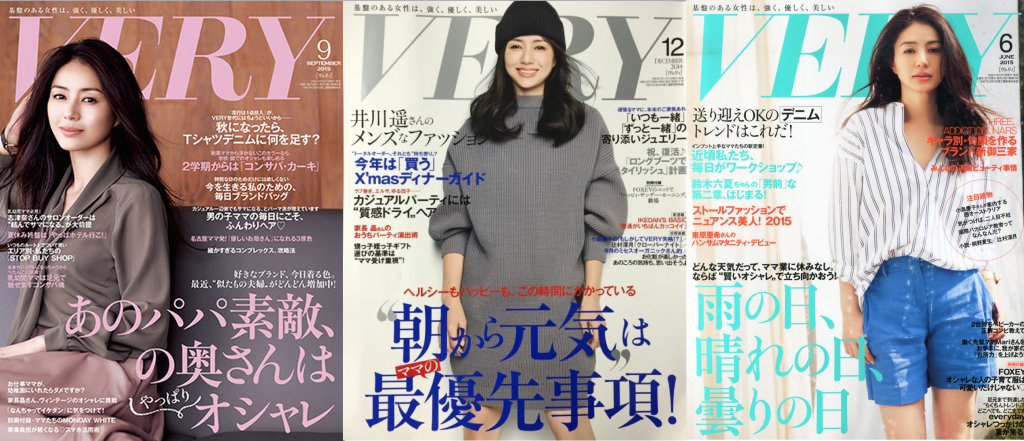 VERY – Perfect for the conservative lady with very mainstream fashion geared toward women in their 30's. Very portrays women as strong and gentle with all around beauty. It includes articles on interior decoration as well as food culture, which are a hit with family-oriented women.
FUDGE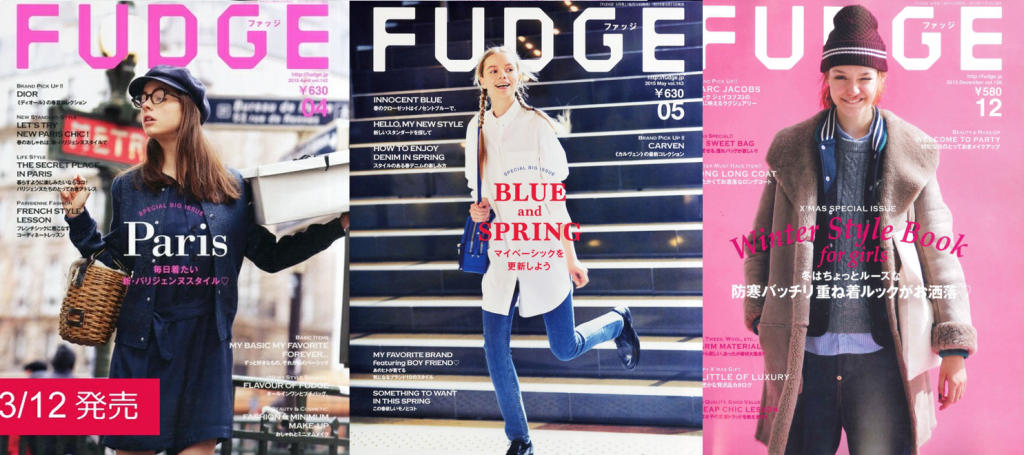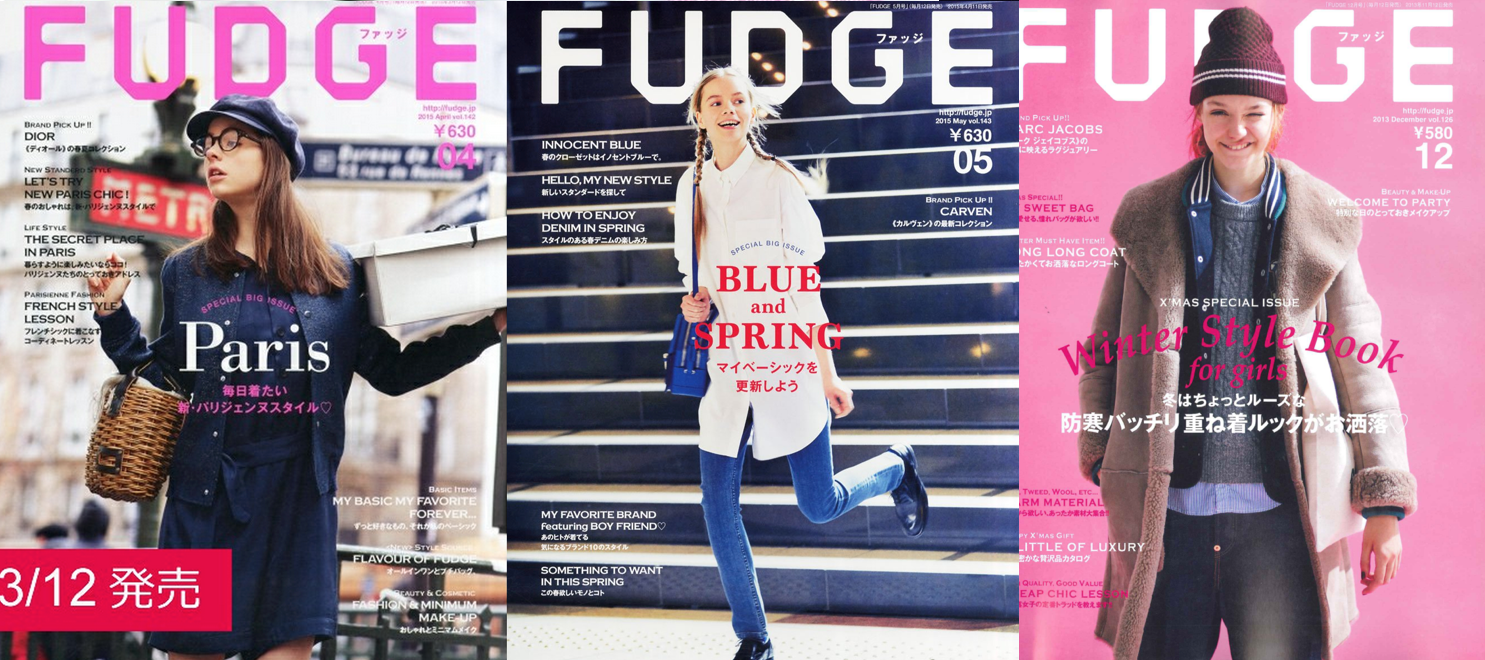 FUDGE – A self-proclaimed "new type fashion magazine for girls," FUDGE is a magazine for 20~30 something year-old women. It's rich in content that expands beyond fashion, dipping into movies, arts, and music. It has a more international approach to fashion than is typical, creating a more high fashion, global gal look. Fudge features many foreign models and is great for women preferring more adult and boyish look that is still cute.
Japanese Fashion Magazine Guide for Men
POPEYE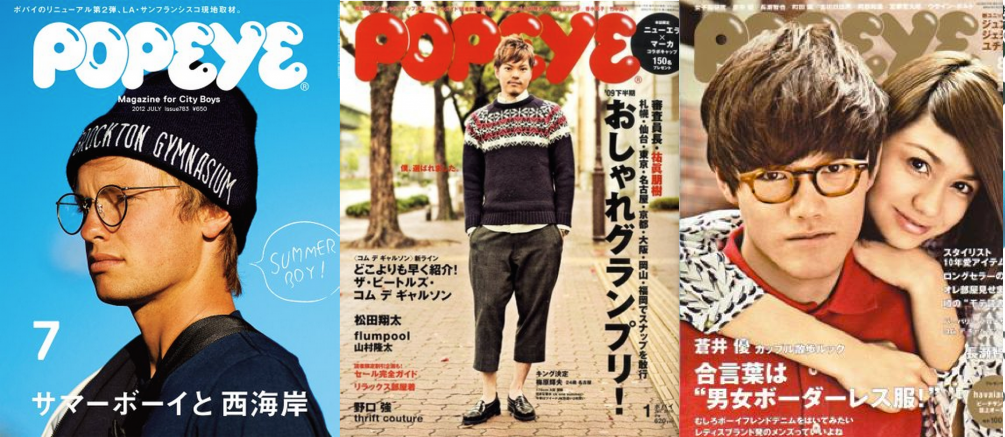 POPEYE – Currently the top ranking fashion for men, Popeye calls itself "the magazine for city boys". It's a magazine for men in their 20's who like to be casual and stylish, and it is designed with an urban feel that fits its slogan. The magazine covers a wide range of topics including fashion, cars, sports, travel, and music. It's equivalent to the"streetwear" and "hype beast" fashion now popular in the West.
FINEBOYS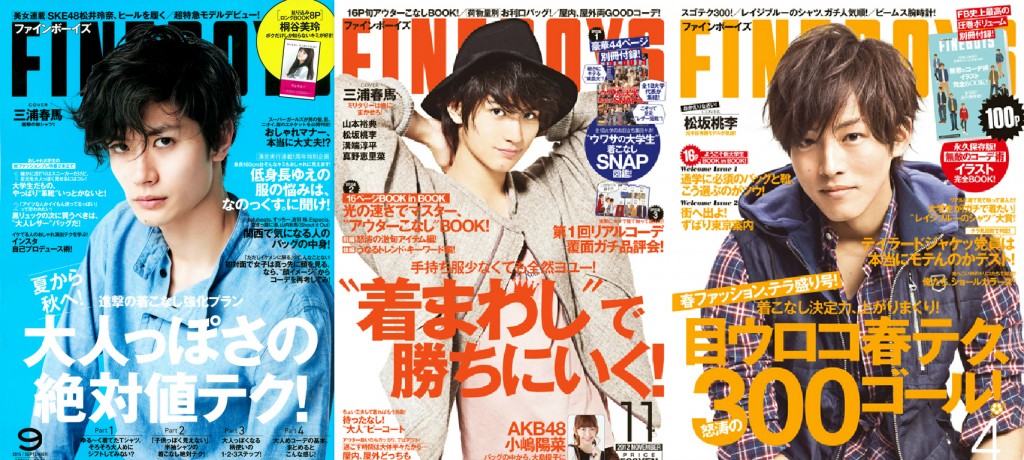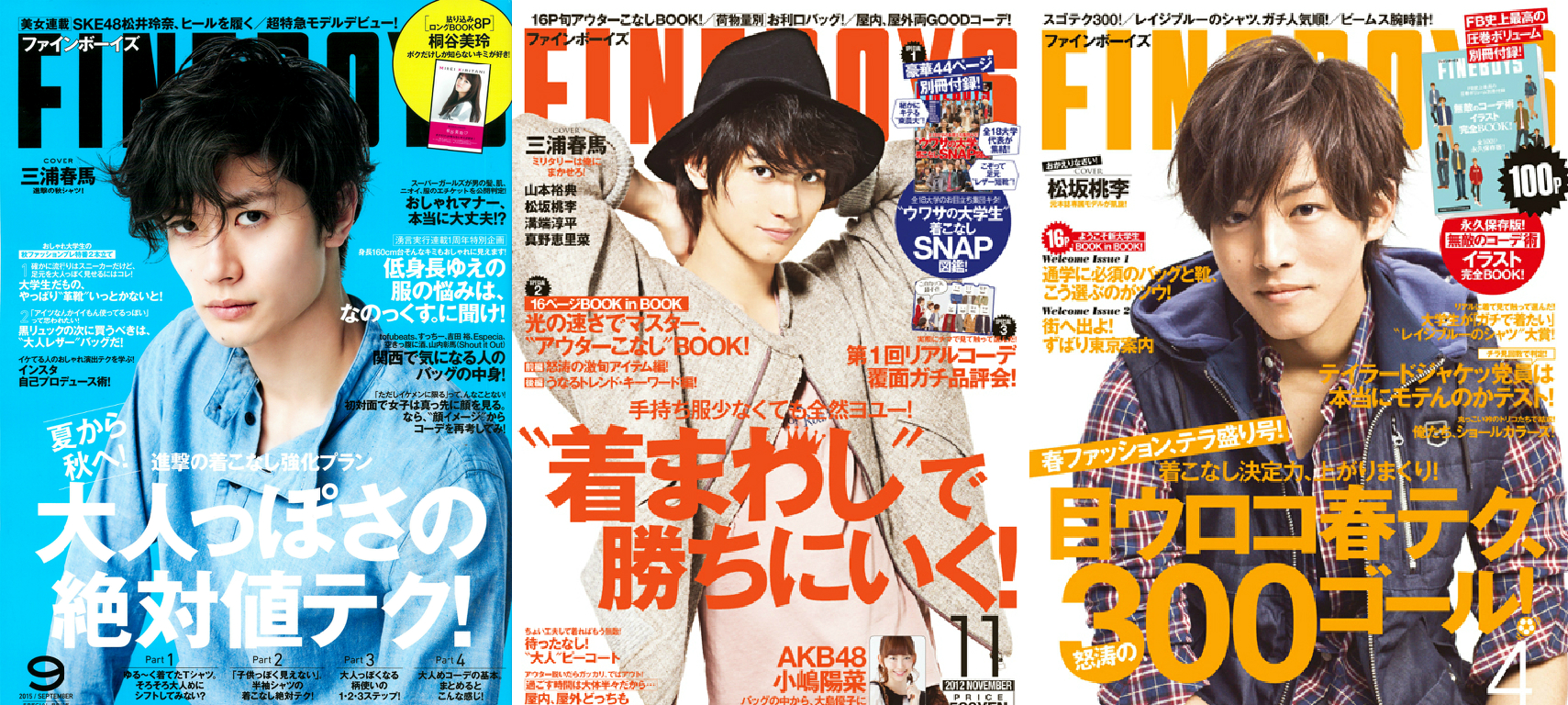 FINEBOYS – Like the name indicates, it's the top magazine focusing on a well-defined, clean and simple look.  It appeals to college students who want to incorporate the latest trends but for a low price. It revolves around the ideal of a "fresh faced" look. They usually have entertainment news and a lot of times, a star from Johnny's Talent Agency (which has introduced some of Japan's most famous faces throughout the years) graces the cover.
Men's Joker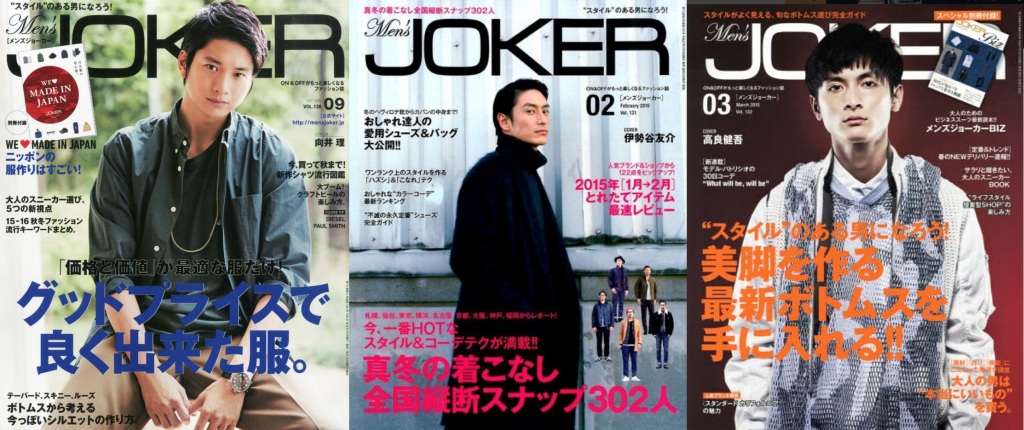 Men's Joker – Using many basic styles of clothing, Men's Joker aspires to create the fashion of an off day Hollywood star. This magazine is for the 20's~30's year old male who aims to be stylish but low key.  Nothing here is too extreme; this magazine features fashion that is safe for an all-around guy.
Men's Non-no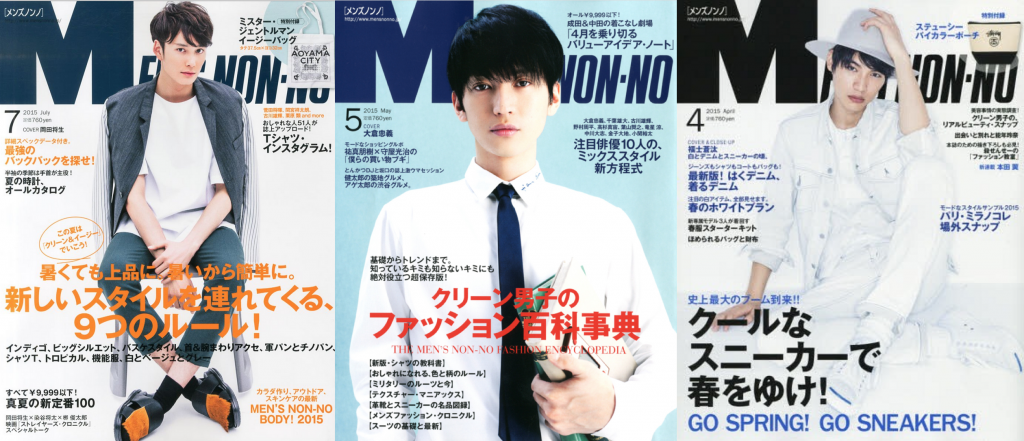 Men's Non-no – This magazine highlights the type of fashion you can see passing by a boutique, absolutely unique and with great attention to detail. This is a must have magazine for the serious fashionista as it includes many styling tips from real world professionals. Men's Non-no has a wonderful combination of both high end and affordable wear.
Safari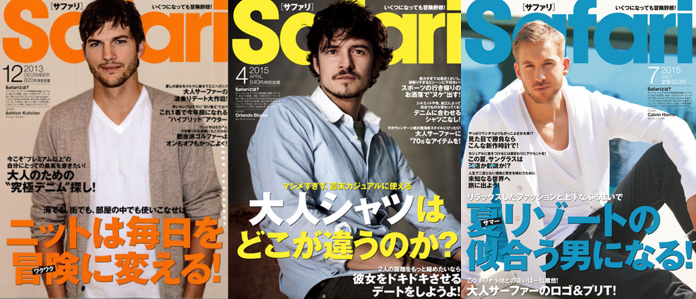 Safari – Aimed toward the 30~40 year-old reader, this distinct magazine features A-list celebrities and covers a lot of overseas trends, especially  tapping into LA style. With this in mind, it should be especially cool for denim enthusiasts! Safari likes to show an easy going surfer or wilderness lifestyle, portraying fashion itself as a journey meant to be savored and enjoyed.
SENSE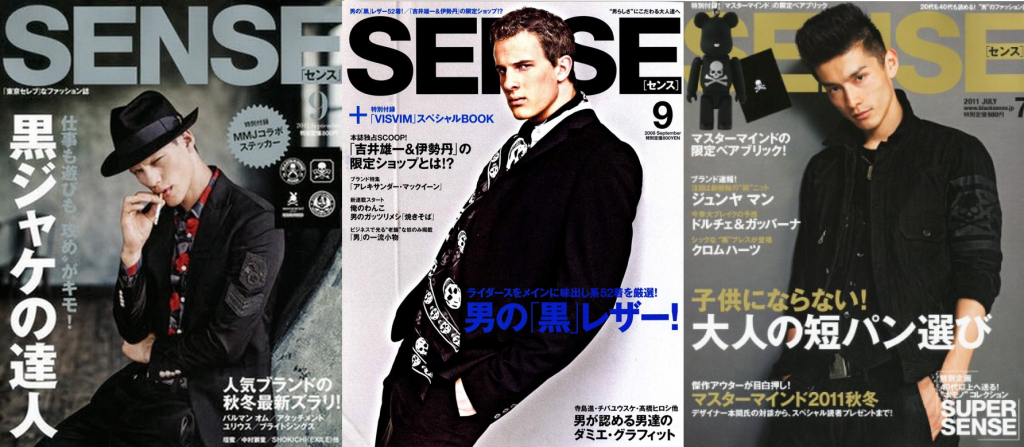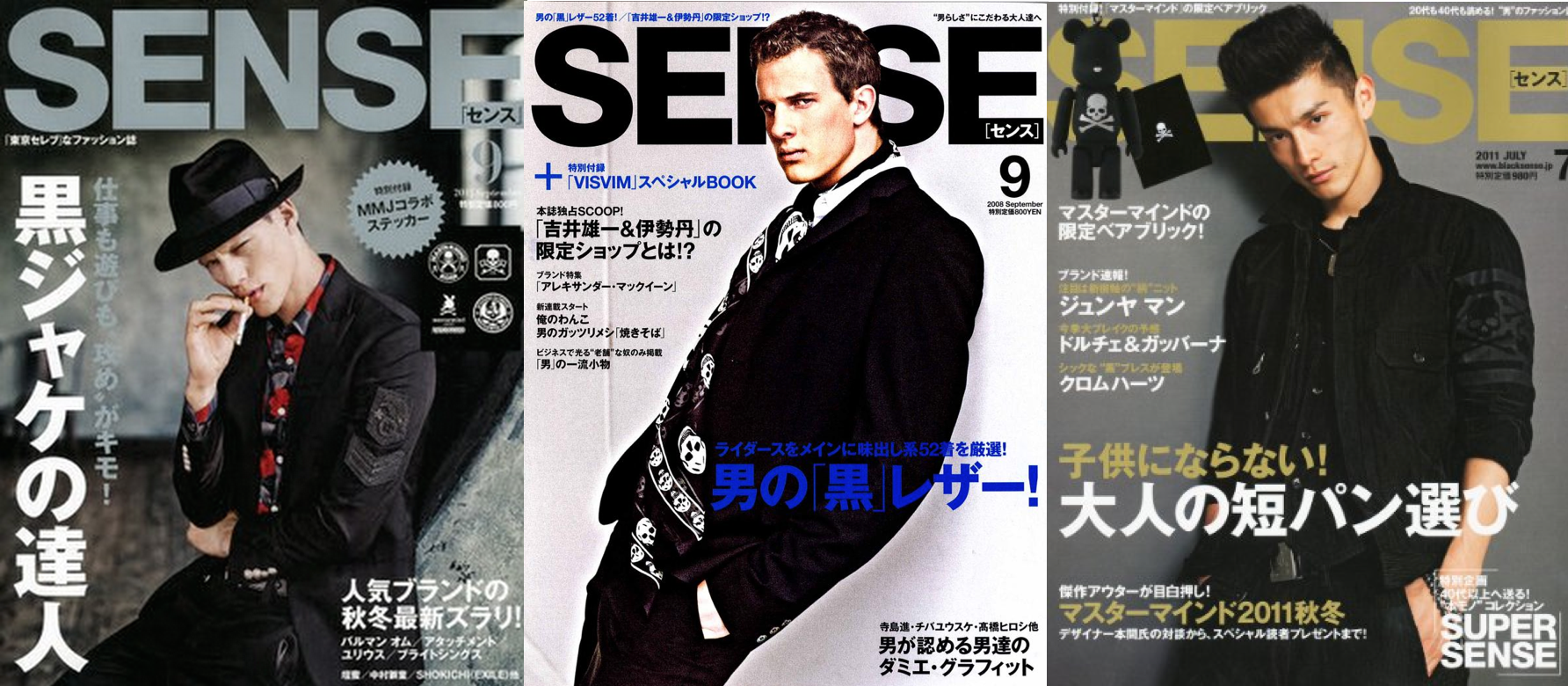 SENSE – This is the magazine where street clothes meet high end fashion. Going above and beyond in highlighting every aspect of luxury fashion, Sense features a lot of influential high end brands and icons. SENSE aims to give men a sense of masculinity and coolness; it is perfect for men between the ages of 20-40 something.
The Japanese are Fashion Fanatics!
When it comes to fashion, the Japanese don't joke around. They take it seriously enough that even their magazines are known for outstanding designs and quality photography. It's simply stunning to see the vast variety of fashions exploding within Japan. There is a niche suited for all types of fashion and tons of magazines catering to each one. So if you are interested in Japanese fashion, pick up a copy or two and dive in soon! If you're on a budget but still want to buy Japanese magazines, you might want to try Yahoo Auctions for old back issues that can help you whet your Japanese fashion appetite. Happy hunting!