If you're into streetwear then you've definitely heard of Suicoke, the cult Japanese sandal brand that is on everyone's lips as well as feet. Having collaborated with numerous brands from Dr. Martens to BAPE to Golf Wang, Suicoke has always pushed the boundaries on style without having to compromise on comfort.
Changing the perception of "ugly" men's sandals, these technical sandals have become ubiquitous in the fashion world for their iconic silhouettes. Their influence can be seen amongst many fashion brands worldwide, so if you want to be stylish this summer, read ahead to find out how you can grab yourself a pair.
What is Suicoke?
Established in 2006, Suicoke originally produced small home accessories, including hand-painted Matryoshka dolls before focusing their attention on men's sandals. Although the reason behind this transition is unknown, it aligns with their brand philosophy of only producing products they enjoy making and wearing.
The brand as a whole has a sense of mystery surrounding it, with the founders and designers being completely anonymous. Suicoke's reasoning for this is to place the focus on the products, letting the shoes speak for themselves. A testimony to their dedication to creating high-quality sandals, with their signature features of Vibram footbed and soles, woven logo, neoprene panels, and nylon straps.
Most Popular Suicoke Models
With a number of different styles and collaborations in existence, it may be a bit overwhelming to decide which style you want. Along with their latest Dr. Martens collaboration, some of the most popular models include the MOTO and KISEE series, all of which have unique features that make them stand out as Suicoke sandals.
Suicoke KISEE-V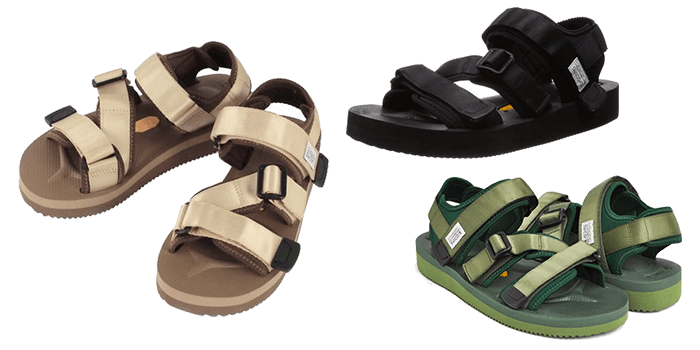 The KISEE-V model is the most recognizable and iconic sandal from Suicoke. Featuring a nylon and neoprene upper shell and a signature Vibram wedge-type sole, this sandal comes with a backstrap to ensure a comfortable fit so your feet won't slip out. If you want a quintessentially Suicoke sandal, this is the ideal choice.
Suicoke MOTO-CAB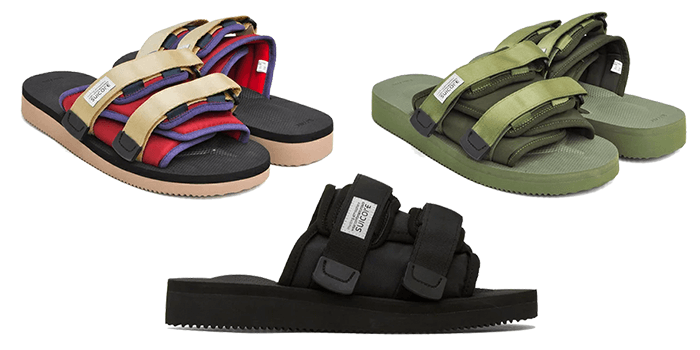 The MOTO-CAB model is made with a nylon upper shell and also features an EVA antibacterial footbed and an original wedge-type shoe. This is the best model if you're in the market for a simple sandal that looks stylish no matter what, whether you're dressing up or dressing down.
Suicoke MOTO-VS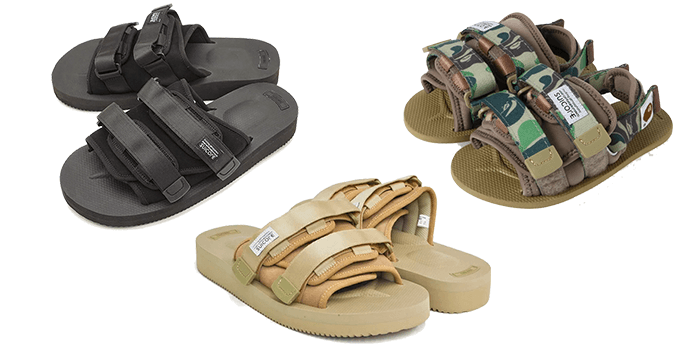 The MOTO-VS sandal is similar to the MOTO-CAB model, with a few distinct differences. Featuring a slightly higher wedge-type sole to add some height to the sandal, as well as a suede and nylon upper shell for an added sense of chic and luxury.
Suicoke x Dr. Martens

This newly released collection with Dr. Martens perfectly incorporates their history of celebrating cultural heritage with Suicoke's boundary-pushing designs. Repackaging Dr. Marten's iconic bright yellow stitching and black leather into the signature silhouette of a Suicoke sandal, this collaboration is sure to be a hit amongst punks and streetwear enthusiasts alike.
How to Buy Suicoke Products Using FROM JAPAN
If you want to get your hands on a pair of Suicoke sandals, buying directly from Japan is often the best option. Using a proxy service such as FROM JAPAN is the easiest way of buying as it means buying straight from the source with a better selection of models and sizes for you to choose from.
Proxy services are especially useful if you've been searching for your holy grail collaboration that is no longer being sold. With FROM JAPAN, you can access Japanese auction sites like Yahoo! Auctions Japan and marketplace apps like Rakuma to search for the perfect pair. The condition of items on Japanese secondhand sites are usually at a high standard compared to their western counterparts, plus you get the satisfaction of knowing you have access to more items than people only searching on Grailed and Depop.
If you want to get your hands on a pair of Suicoke sandals, using our proxy service couldn't be easier – simply search for your desired item in the search bar and the rest will follow. Check out our Usage Guide for more information on shopping with FROM JAPAN.