This article was updated with new information in March 2022 – enjoy!
What is Tamagotchi?
Tamagotchi (たまごっち) is a series of Japanese virtual pets by the toy manufacturer Bandai. Originally released in 1996 in Japan and in 1997 throughout the rest of the world, the Tamagotchi soon became the fad toy of the time with over 82 million sold as of 2017.
Each Tamagotchi is housed in a small egg-shaped shell that come in a variety of colors and designs. The name "Tamagotchi" is a combination of the Japanese word "tamago" which means egg, and the English word "watch". Just like a real pet, you need to keep your Tamagotchi happy and healthy by feeding it, playing with it, scolding it when it misbehaves and even clearing up its poop. Neglect your Tamagotchi and your precious pet will die.
Since the Tamagotchi was released in 1996, there have been countless reinventions and interpretations of the OG virtual pet but the original spirit of the product has remained unchanged for over 20 years inspiring nostalgia and joy in adults and children alike.
We at FROM JAPAN are also big fans of the egg-shaped virtual pet, so we've put together this article featuring some of the coolest collabs and most exclusive Tamagotchis out there. Enjoy!
Original Tamagotchi 1996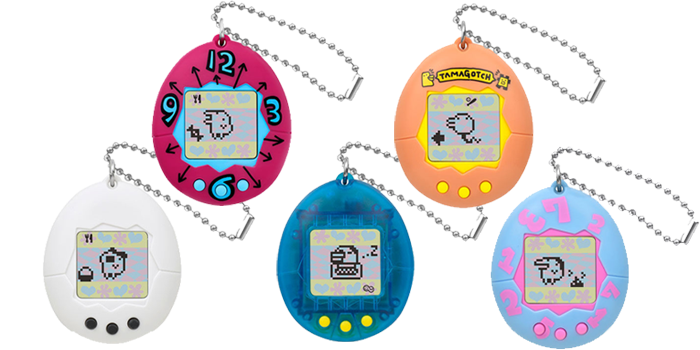 The original Tamagotchi was first released over 20 years ago in 1996 by Bandai. It was an instant hit and there seemed to be no corner of the world that wasn't touched by the Tamagotchi fever. The original Tamagotchi set the precedent for many of the features still used in modern-day Tamagotchis and introduced many of the Tamagotchi we know and love today.
Due to popular demand, a second version of the virtual pet was released, with the two versions differentiated as Generation 1 and Generation 2 respectively. A nostalgia-fueled rerelease of the original 1996 Tamagotchi was announced in November 2017, where exact replicas of the toys were produced to celebrate the franchise's 20th anniversary.
Japan-Exclusive Tamagotchi
While Tamagotchi was a cultural phenomenon around the world, some lines of Tamagotchi never made it out of Japan. You can check out our favorite Japan-exclusive Tamagotchi below!
Tamagotchi 4U and Tamagotchi 4U+
The Tamagotchi 4U and its updated version the Tamagotchi 4U+ are a Japan-exclusive line of the virtual pet that heavily implement an infrared "touching" feature, where players bump devices in order to receive special characters and items. The products in this series were also the first in the virtual pet franchise to allow players to customize the shells of Tamagotchi toys with officially licensed faceplates and charm straps featuring a variety of adorable designs.
Tamagotchi m!x
The Tamagotchi m!x (pronounced as "Tamagotchi mix") is a range of Japan-exclusive Tamagotchi toys that introduced a brand new feature known as "m!x" to the virtual pet franchise. The m!x feature allows for the Tamagotchis to breed and their children to take on the physical characteristics of its parents, with certain traits disappearing and reappearing as the generations go on.
Tamagotchi Plus Color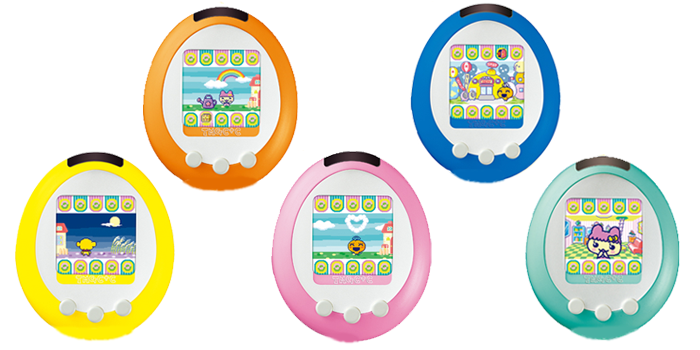 The Tamagotchi Plus Color was released in 2008 and was the very first Tamagotchi toy to have a full-color LCD screen. The toy featured several mini-games for your virtual pets to enjoy and introduced a new weather feature that determines where your Tamagotchi can go at any given time. The Japanese idol group Exile collaborated with Tamagotchi to release a special edition of the Tamagotchi Plus Color which featured illustrations inspired by the band members.
Tamagotchi Smart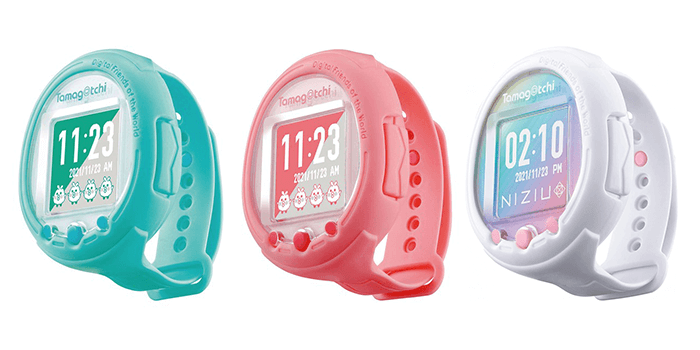 When the 25th anniversary of the first Tamagotchi was celebrated in 2021, it came with a brand new type of Tamagotchi we've never seen before: the Tamagotchi Smart. Similar to modern smartwatches, it is the first wearable Tamagotchi that comes with a touchscreen.
It can be used alongside something called TamaSma Cards, which are memory cards that can be plugged in to your Tamagotchi Smart to include additional content on to your device. And of course, it can't be a smartwatch without being able to tell the time, and so the Tamagotchi Smart also gives you the option to switch to a clock face screen when not interacting with your Tamagotchi character.
The standard Tamagotchi Smart comes in two colors, Coralpink and Mintblue. A collaboration with idol group NiziU brought on a white version that was also released in 2021.
Tamagotchi Collaborations
Tamagotchi have joined forces with a variety of big names over the years to bring out a variety of adorably charming Tamagotchis featuring beloved Japanese characters. Read on to see our favorite Tamagotchi collaborations!
Eevee Tamagotchi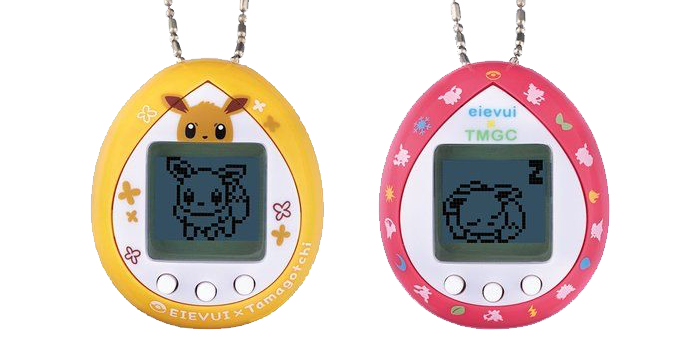 The Eevee Tamagotchi is the first ever collaboration between Pokemon and Tamagotchi featuring everyone's favorite evolution master – Eevee! Available in two colors ("I love Eevee" and "Colorful Friends"), the Eevee Tamagotchi is a variant of the Tamagotchi Nano where players must raise their Eevee lovingly in order for it to evolve into one of its eight evolutions.
Gudetama Tamagotchi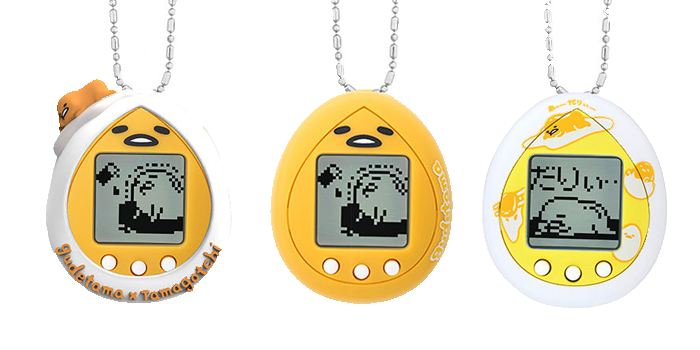 Two iconic eggs join forces in the Gudetama Tamagotchi release of the virtual pet! This version of the Tamagotchi differs from other releases in the series in that the primary goal of the Gudetama Tamagotchi is to see all of the different death screens, wherein your pet Gudetama is cooked into a variety of egg dishes.
Tamagotchi Meets Sanrio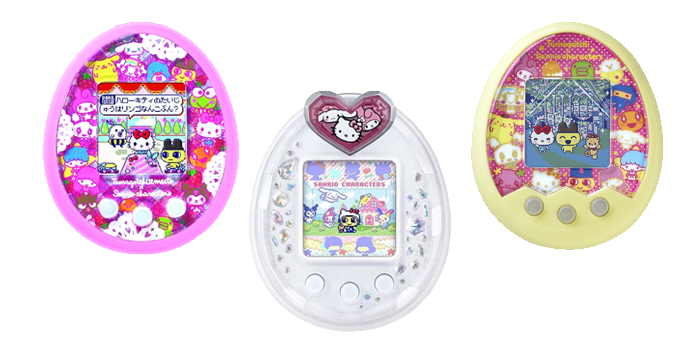 Have fun with all your Sanrio friends in the Tamagotchi Meets Sanrio series! Like in the Tamagotchi m!x series, you can breed your virtual pets in order to create adorable Sanrio and Tamagotchi hybrids! With this special version of the Tamagotchi Meets, you can play with your favorite Sanrio characters such as Hello Kitty, My Melody, Pom Pom Purin, and more to your heart's content!
Tamagotchi On/Tamagotchi Meets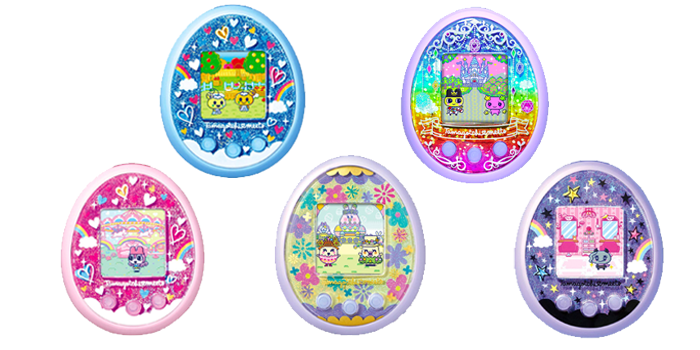 The Tamagotchi On (known as the Tamagotchi Meets in Japan) is the newest addition to the Tamagotchi franchise, featuring full-color Tamagotchi pets and a similar breeding function to its successor, the Tamagotchi m!x. Tamagotchi On models are compatible with a special app in which players can send their Tamagotchis to an interactive town where they can play games, collect Gotchi Points, and marry other characters they may meet there.
Evangelion Tamagotchi (Evacchi)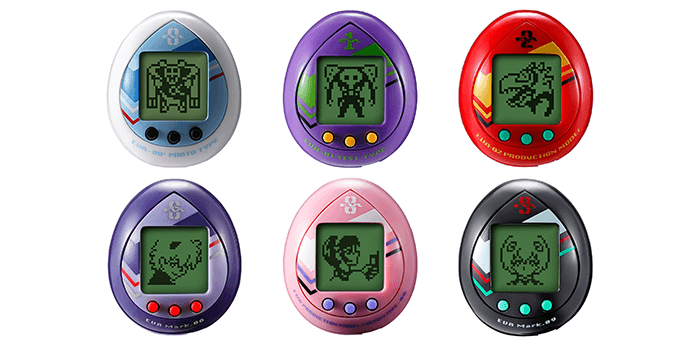 Six Evangelion Units have been recreated in the design of these Evangelion Tamagotchi (known as Evacchi for short). Identifying features such as the units' colors and even the name of the Unit appear on the designs, making it feel like you have a mini Evangelion Unit in the palm of your hands. Players are assigned an Angel, which they can evolve into various forms depending on how well they take care of it.
Demon Slayer Tamagotchi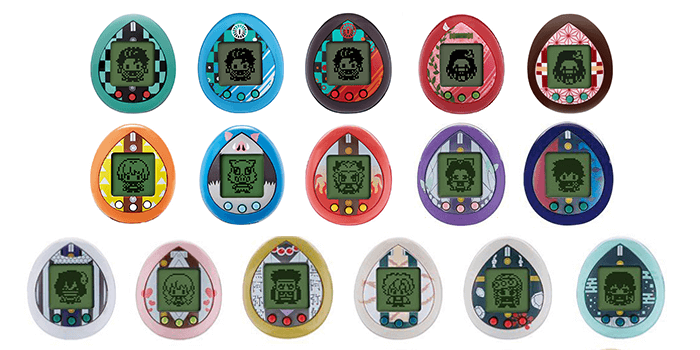 Last but not the least a collaboration between Tamagotchi and one of the most popular anime series to have come out of Japan in recent years: the worldwide phenomenon that is Demon Slayer. The Demon Slayer Tamagotchi series (known as Kimetsu Tamagotchi in Japan after the Japanese title) features a total of 16 different designs.
Protagonists Tanjiro Kamado and Nezuko Kamado are of course represented in designs inspired by their attire from the anime. In addition, three more designs (the middle three Tamagotchi in the first row of the image) are inspired by the brother and sister duo from the series' Entertainment District Arc, and are set to be released on June 18, 2022 in Japan. The "Hashira Gathering Tamagotchi" version includes 8 redesigns of the Tamagotchi based on members of the elite Demon Slayer Corps.
Players of the Demon Slayer Tamagotchi start off as a generic character who just became a part of the Demon Slayer Corps, and can eventually evolve their character into one from the actual series based on the care it receives and how many demons it slays along the way.
How to buy rare and exclusive Tamagotchi with FROM JAPAN
Inspired by our article to start raising your very own virtual pet? Or maybe you are an avid Tamagotchi fan who wants to add to their collection? Many of the Tamagotchis mentioned in this article are only available in Japan, but that doesn't mean you need to give up on your virtual pet dreams. But with the help of the proxy shopping and bidding service FROM JAPAN, you can easily find Tamagotchi items and have them delivered directly to your door! Be a good egg and shop Tamagotchi with FROM JAPAN!