The history of Cinnamoroll, our favorite curly-tailed, flying puppy
Over the years, the leading kawaii company Sanrio has introduced to the world dozens of lovable characters that have become adored all over the world. Some of these characters have had a stronger impact in terms of popularity, and by winning as the number one most voted "favorite Sanrio character" for two years in a row, Cinnamoroll is officially the most popular Sanrio character.
With the long-eared white puppy celebrating his 20th anniversary this year, let's take a look back at Cinnamoroll's debut in the Sanrio universe and see how we got here.
Did you know? — 5 fun facts about Cinnamoroll's origins
1: Cinnamoroll was first created in 2001.
In addition, his birthday is set for the same year (March 6, 2001).
2: Cinnamoroll's original name was Cinnamon.
However, there were some issues with trademarking the name outside of Japan, and so the Cinnamoroll name was born. The "cinnamon" inspiration was taken from the shape of his tail, which curls up similar to the look of cinnamon buns.
3: Cinnamoroll's story was first introduced through a short manga series titled Fluffy, Fluffy Cinnamoroll.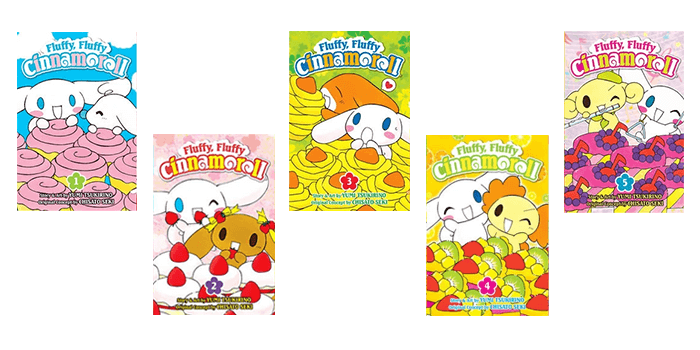 Written and illustrated by Japanese manga artist Yumi Tsukirino, a total of 5 volumes of the Fluffy, Fluffy Cinnamoroll manga were released between 2005 and 2008. Some of Cinnamoroll's best friends were also first introduced in this series.
If you're interested in getting yourself a piece of this Cinnamoroll history, you can find English-language volumes from online stores in Japan!
4: Although many mistake him for a bunny, Cinnamoroll is actually a dog!
It's true! The official Japanese Sanrio character page for Cinnamoroll states that he is a "white puppy who was born on a cloud in the distant sky." He can flap his unusually large ears to send himself into flight.
5: Cinnamoroll works as the mascot of the fictional Cafe Cinnamon.
Cinnamoroll was said to be hired on the spot by the owner of Cafe Cinnamon after being impressed by seeing Cinnamoroll fly. He ended up becoming popular and beloved among the patrons of the cafe.
And as for his interactions with the customers, Cinnamoroll is described on the official Sanrio official website as a "quite shy, but very friendly" mascot who sometimes likes to "take a nap on customers' laps".
20 years of Cinnamoroll: All the celebratory Cinnamoroll Anniversary merch released in Japan
This year, Sanrio is celebrating Cinnamoroll's 20th anniversary with the release of special and limited-time items. The full collection includes not just merchandise of Cinnamoroll himself, but also some of his friends such as the equally adorable Espresso and Cappuccino.
Cinnamoroll 20th Anniversary Plushies
All of Cinnamoroll's buddies are here in the 20th Anniversary plushie lineup! You'll see plushies of characters like Milk, Espresso, Mocha, Cappuccino, Cherry and Chiffon. Some plushies have a unique commemorative anniversary plate attached, while the ones that don't are released exclusively to the anniversary goods store. Cinnamoroll himself comes in a total of five designs, including one of him in a cute baby blue band costume.
Cinnamoroll 20th Anniversary Bags and Apparel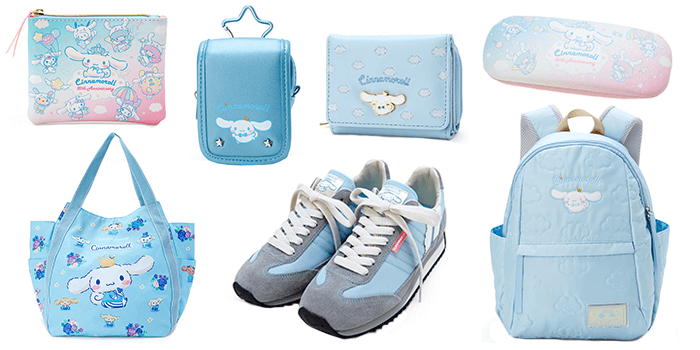 The collection has everything you need for a complete Cinnamoroll-themed look! From an everyday use Cinnamoroll backpack to a glasses case, coin purse, and even Cinnamoroll sneakers, all of the anniversary items match with Cinnamoroll's bright blue theme color. You get different ways to show your love for this fluffy Sanrio character, so these items are perfect for those who prefer something practical but still absolutely adorable.
Cinnamoroll Anniversary Jewelry & Accessories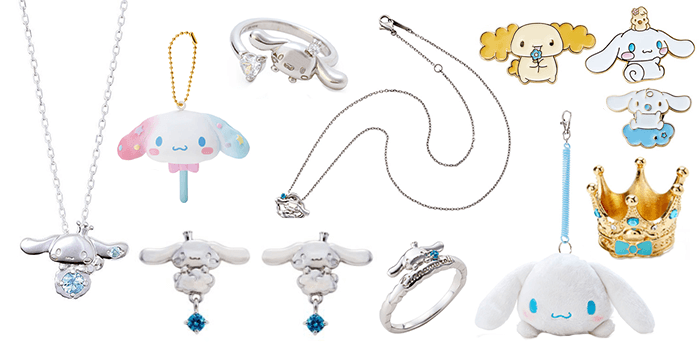 Lastly, for those who want to add Cinnamoroll to their style in a more subtle way, there are also all sorts of limited-edition Cinnamoroll 20th Anniversary jewelry and accessories. For the accessories, you have big and small keychains, along with metal pins shaped like the characters or circular pins of their images. As for the jewelry, there are earrings, necklaces, and rings all with the Cinnamoroll's smiling face in their designs.
How can I get the Cinnamoroll 20th Anniversary merch if I don't live in Japan?
Unfortunately, the Cinnamoroll 20th Anniversary goods are only available through the Sanrio Japanese store. But you still have a way of ordering them no matter where you are in the world: FROM JAPAN is a proxy shopping service that can get you Japan-exclusive items like these and send them out to your country. We're trusted by thousands of customers from all over the globe and have plenty of benefits — regular sales and campaigns, free storage of up to 45 days, and a responsive Customer Service team, just to name a few.
We also have a dedicated page for merchandise of other Sanrio characters – so make sure to check that out as well if you're a fan of other favorites such as Hello Kitty, My Melody, Pompompurin, Pochacco, and Little Twin Stars.
If you're new to our site, we're explaining how you can go from browsing Cinnamoroll items to getting them shipped to you through just a few clicks in our quick guide below.
Step 1: Find items from the Cinnamoroll 20th Anniversary Collection through FROM JAPAN's powerful search engine.


Our search engine combines results from a variety of online stores in Japan, so there's no need for you to go through them one-by-one. To get you started, we've provided you with a search results page that will show you only items from the Cinnamoroll 20th Anniversary Collection.
Step 2: Check the Details of Your Item.

Once you find the items you want, look through the details shown on the product page including the photos, the product price, and on the bottom half of the page, you will see a text box for the Description. Clicking on 英語 for English will give you an automated translation.

Step 3: Add the Items to Your Cart and Pay for Charge 1.
Step 4: Items Arrive at Our Distribution Center for Shipment Instructions
Step 5: Pay for Charge 2.
Step 6: Shipping.

After the Charge 2 payment, your items are prepared for dispatch. We dispatch all items within two working days to ensure that you receive your items speedily.

Step 7: Arrival of your Cinnamoroll items!
---
To learn more about FROM JAPAN, visit our Usage Guide for more information on our services. Happy shopping!