What is BEAMS Japan?
Tokyo street style is undefinable. It includes everything from Lolita to Yume Kawaii and Urahara. But maybe that's exactly what defines it—subcultures that are diverse and plentiful. So, how exactly does a retail chain, which is the epitome of mainstream, tap into this hive of creativity? Many don't manage to but BEAMS, established in 1976 by Etsuzo Shitara and Osamu Shigematsu, is doing just that.
Modelled after the 'Ivy style', BEAMS gained notoriety as a menswear line fiercely inspired by American college campus style. The brand expanded in the 1980s with a number of sub-labels like BEAMS F, Fennica, Ray BEAMS, BEAMS Plus and so on. In 1997, BEAMS collaborated with Motorola to produce specially designed mobile phones and gadget-compatible apparel.
Collaborations have been the norm ever since. They've worked with international phenoms like Vans, The North Face and Ziploc as well as homegrown brands like Tsutaya and Bunzaburo. BEAMS is a pioneer of lifestyle retailing that incorporates the dynamism of Japanese street style. Read on to see how you can get your hands on a piece of BEAMS with the help of FROM JAPAN!
How to buy from Beams Japan
As the Japanese version of the BEAMS website does not ship outside of Japan, you're going to need a proxy shopping service like FROM JAPAN. FROM JAPAN makes it super easy to buy and pre-order a whole range of Japanese-exclusive items! Read on to find out more.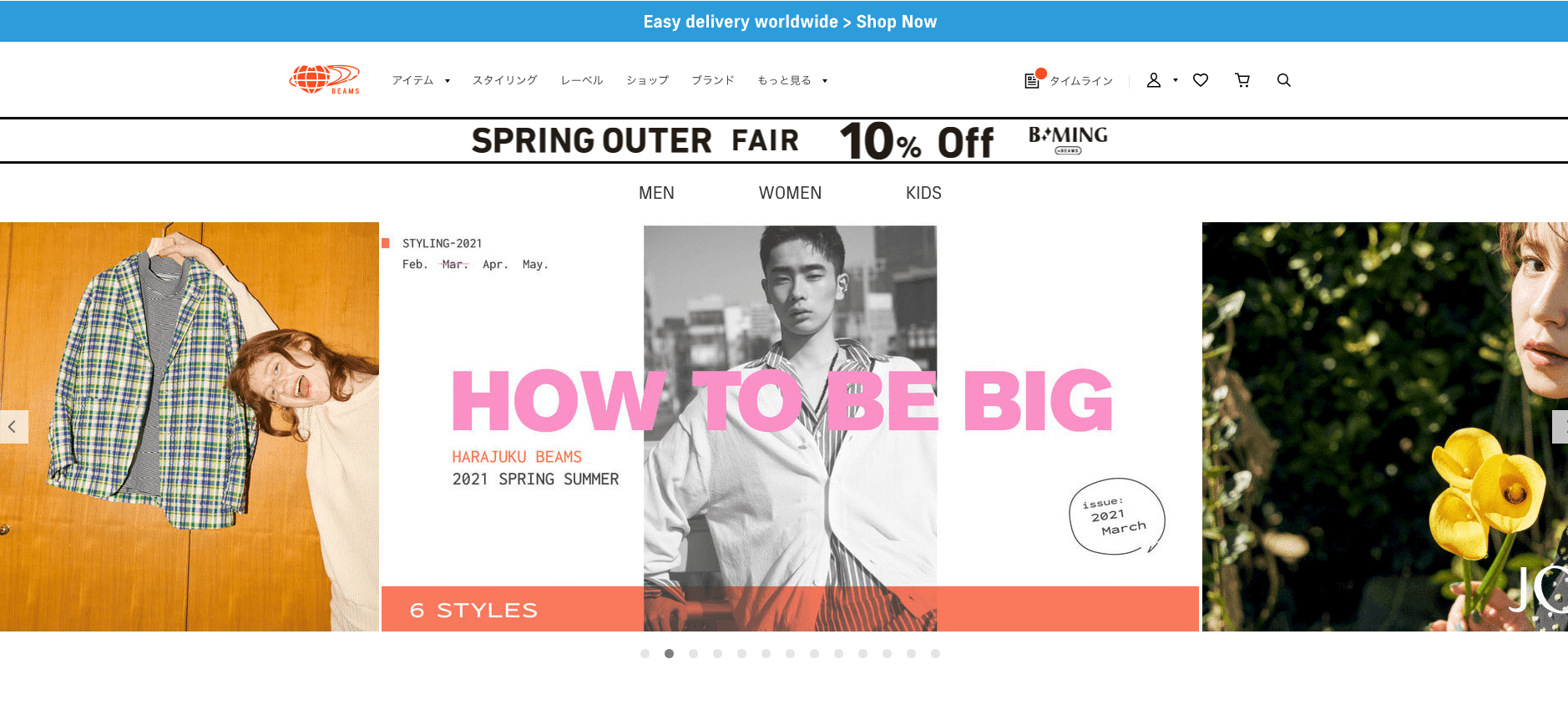 When BEAMS' homepage loads, you'll be greeted by a lot of Japanese, a little bit of English and a bunch of good looking Japanese people. The website doesn't provide any English language support but don't let that put you off! You can use Google Translate to help you navigate the site, and if you have a specific query about something on the site, you can contact FROM JAPAN's multilingual Customer Service team who can help with any Japanese language troubles you may be having.
Step 2. Start searching!
There are several ways to search for an item on the BEAMS Japan website. If you are just browsing, you can navigate the site using the categories MEN, WOMEN and KIDS which appear at the top of the page in English. And if you hover your pointer over アイテム (item) in the top left-hand corner, you can find… a lot more Japanese but with cute little line drawings of the categories which don't need translating. If you have used Google Translate for this page, then the categories should be displayed in your desired language. However, if for example, you were looking for a pair of shoes (because everyone loves shoes!), click on the drawing of the shoe. It will take you to a page that looks something like this: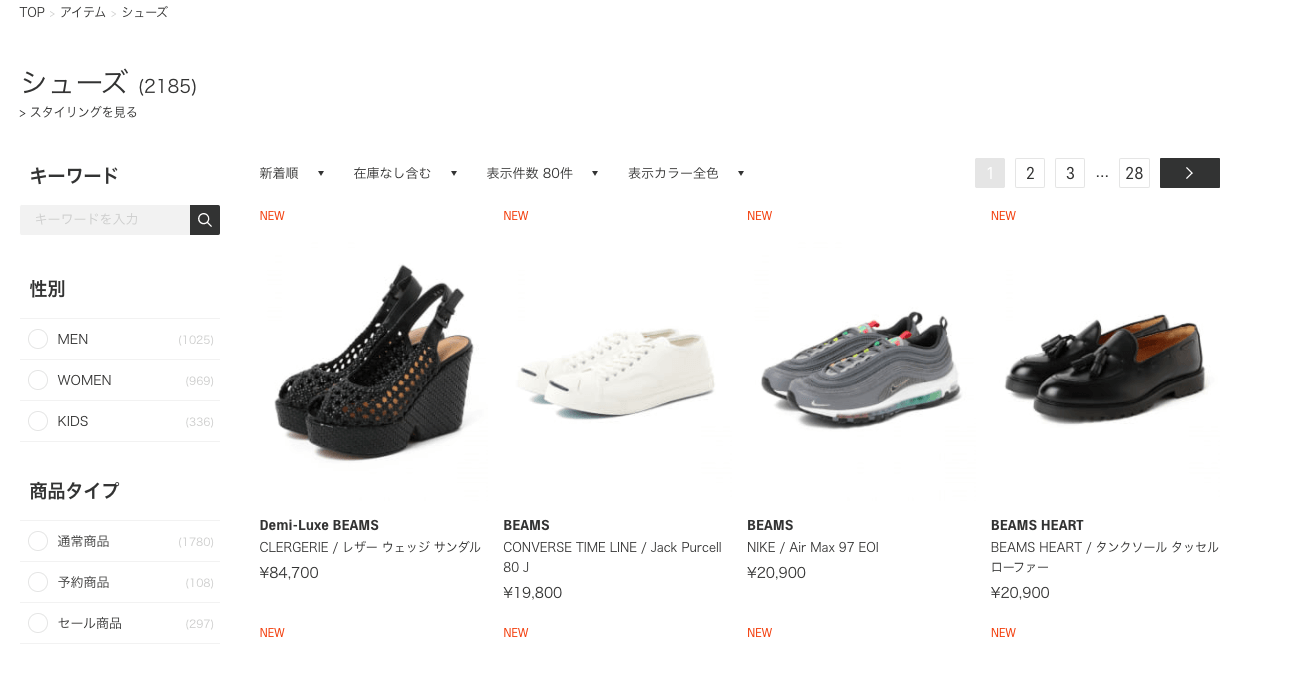 The page includes all BEAMS shoes and is not just limited to a specific sub-label. Click on whatever catches your eye and take a closer look for sizing options, composition and pricing.
If you already know the Japanese name of the item you are looking for, you can search for it by clicking on the magnifying glass in the top right-hand corner of the homepage. It will take you to a page that looks like this: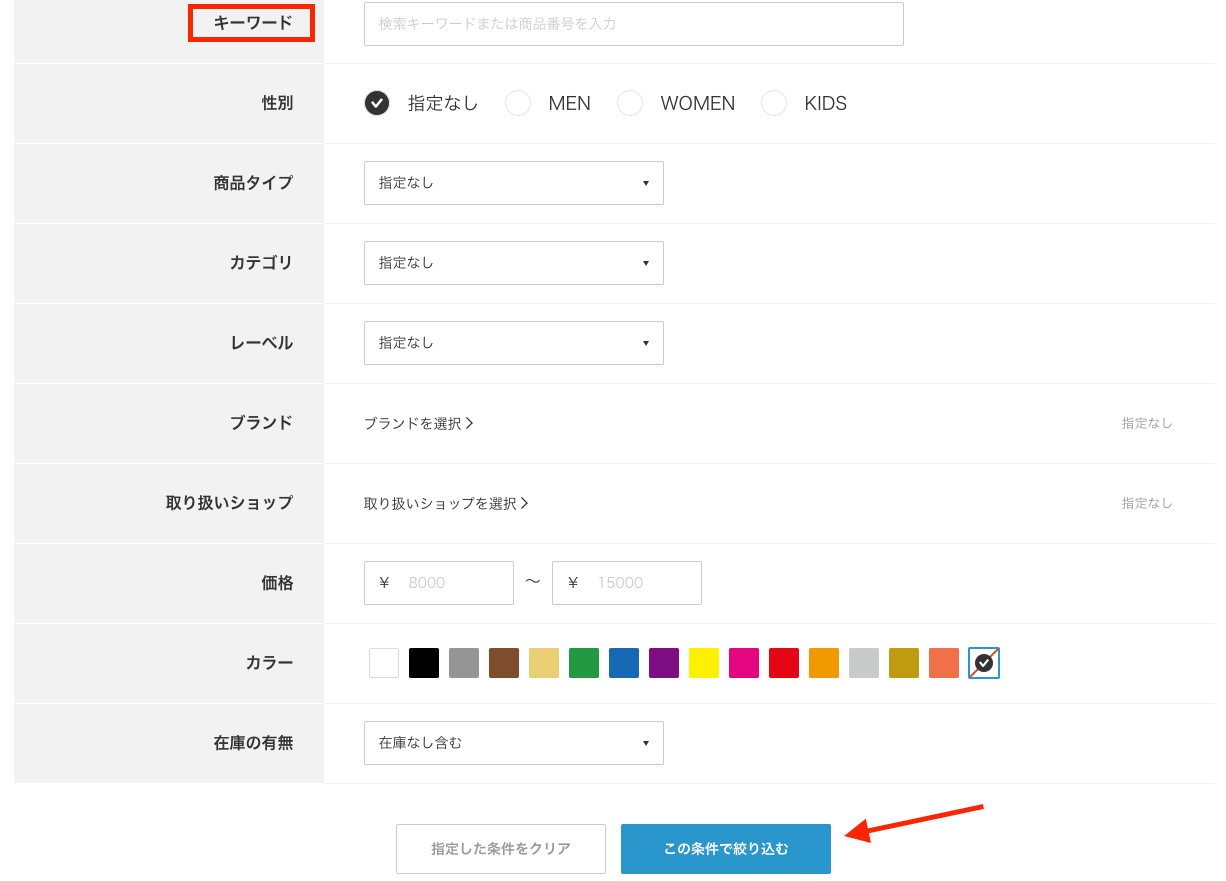 The top field means 'Keyword' (キーワード.) Copy and paste the Japanese in there, and then scroll down and click この条件で絞り込む, which roughly translates as "filter based on these conditions". Once you have entered your keywords and searched, you can scroll away to explore all the apparel and accessories!
Step 3. Check out the item details.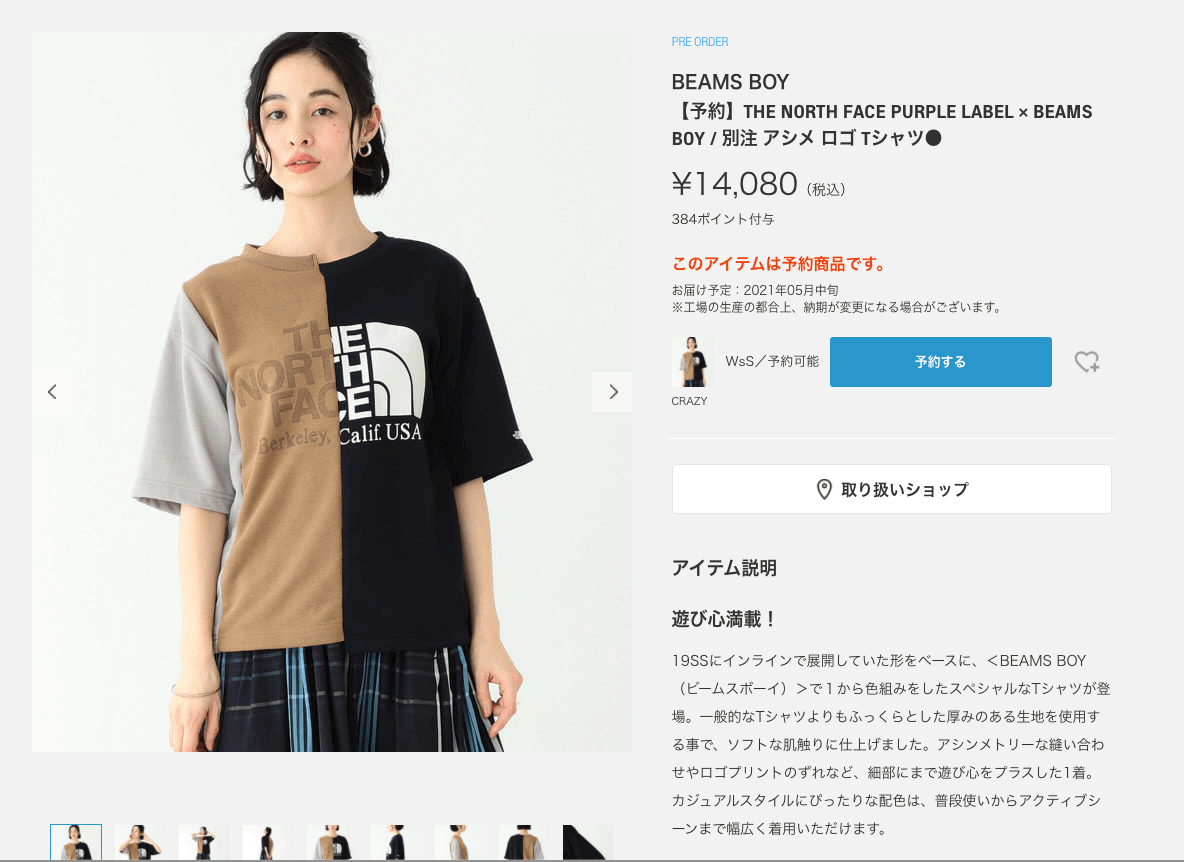 Make sure to review the item details (sizing, composition, pricing etc.) before placing an order with FROM JAPAN. It is really important that you pay attention to the prices whenever shopping on a Japanese website. BEAMS Japan includes the 10% Japanese consumption tax in the price of the item. Please also be aware that some items are pre-order items and will be shipped at a later date. The Japanese word for pre-order is 予約, which will appear on the button of a pre-order item. A normal item will have a button that reads "カートへ入れる", with a shopping cart icon which simply means "add to your cart."
Step 4. Create an account with FROM JAPAN and then copy and paste the URL of the item page into FROM JAPAN's search bar.
Once you've double-checked all of the details on your item, it's time to place your order! All you need to do is copy the URL of the item and paste it into FROM JAPAN's search bar like below:

Step 5. Hit search and complete the order form.
Once you've hit the search button, you will be taken to our price quote request form where you will have to fill in the details of your order. Below is an example of a completed form.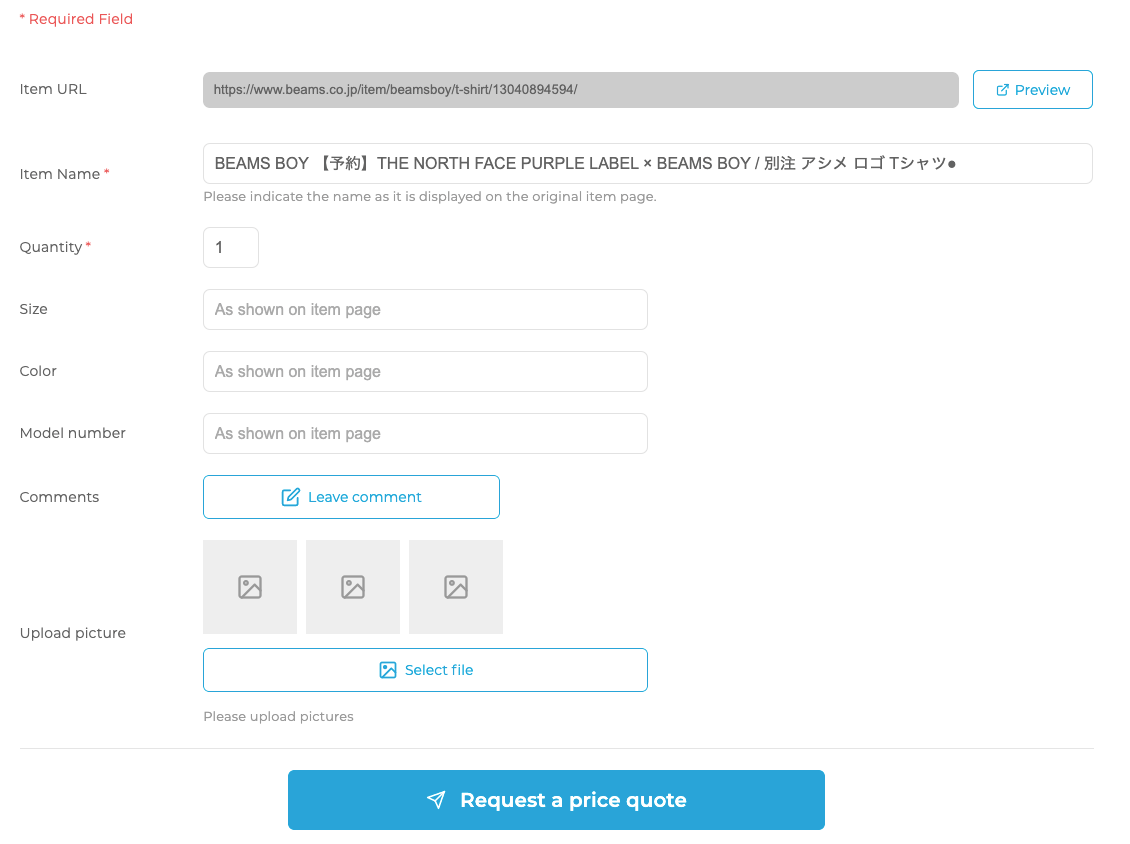 You will need to fill in the name of the item exactly as it appears on the site and provide the desired quantity of the item. Make sure to fill in the fields about your preferred size, color, and design if applicable because we need this information to proceed with your order. You can leave us a comment if there is any extra information you wish for us to know. Don't forget to double-check all the details before sending it to us!
Once we've processed your price quote request, our Shopping Team will send an invoice with the cost breakdown of the item. If you are planning to buy multiple items from BEAMS Japan, you will need to request a separate price quote for each individual item.
After you have received all invoices and Charge 1 has been paid, your items will be shipped to our distribution center. Once all your items have arrived at our warehouse, you can choose which items you would like shipped together and select your preferred shipping method. At this point you will be sent to the Charge 2 payment page. Charge 2 includes international and domestic shipping fees, as well as the fee for our Product Protection Plan. BEAMS Japan charges a flat shipping fee of 440 yen (including tax), with free shipping for orders over 3,000 yen (including tax).
We recommend that you check out our usage guide for more information about our process. If you have any more questions on how to use our service, our Customer Service team will be happy to help. Enjoy shopping at BEAMS with FROM JAPAN!