What is Village Vanguard?
If you have an interest in anything that's a part of pop culture, or if you just like collecting weird knickknacks, then Japan has an answer to your needs — it's called Village Vanguard.
This all-in-one variety store is a favorite amongst Japanese people just because it's the type of store that carries all sorts of items you didn't know you needed, but ended up getting anyway. Whether you're a fan of manga, anime, video games, singers, bands, idols, Vtubers, or anything else that falls under the pop culture spectrum, you'll find something here that's suited for you.
Because of the wide range of items that they have, it's probably best to break down their items into different categories to get a better idea of what you can get. And if learning more about Village Vanguard made you want to buy stuff from there yourself, we'll tell you how you can buy their items using FROM JAPAN so you can easily get things delivered to you — no matter where you are!
So let's dive right in to the colorful, wonderful world of Village Vanguard!
What can you buy from Village Vanguard?
Manga and Anime Merchandise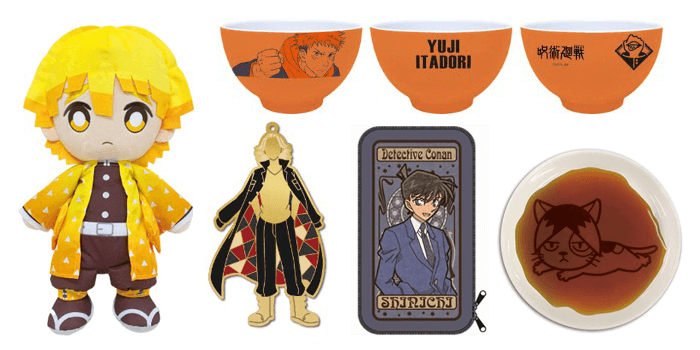 Since anime and manga are a big part of Japanese pop culture, and Village Vanguard specializes in pop culture items, you'll be greeted with a wide variety of anime and manga merchandise available in their physical and online store. Many of the mainstream anime series have products listed here, such as Detective Conan, Demon Slayer, Haikyuu!!, Jujutsu Kaisen, and Tokyo Revengers, just to name a few.
Pop Culture and Video Game Merchandise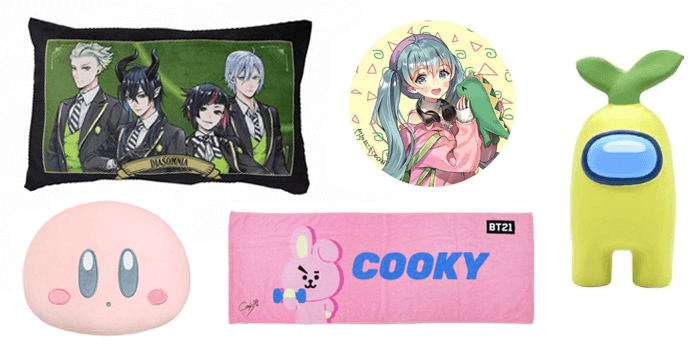 Village Vanguard is a great all-in-one place to visit because no matter what your interests are, they're sure to have something you'll like. This also extends to our next category: general pop culture and video game items.
A few examples of the pop culture items that Village Vanguard sells are merchandise from Japanese Vtubers and BT21. In terms of video games, if it's popular in Japan, they'll have it. So that means that you'll find things from Japanese games like Twisted Wonderland, but also Western games like the viral game, Among Us.
Weird and Quirky Knickknacks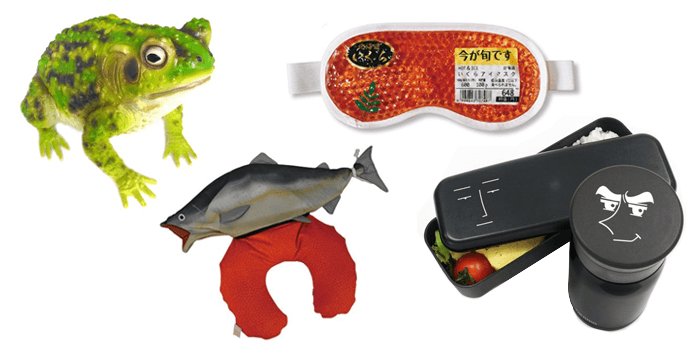 You might already know that Japan can come up with some really quirky products, so if you've ever wondered where they sell those, Village Vanguard is one such place.
These items aren't exactly a necessity, but they do fill that need to have something just for the humor it provides. You can see a few examples in the image above, like the neck pillow with a fake fish attached to it and the eye mask made to look like a pool of fish eggs. They also have an adult section that continues with the weird and quirky theme, so browse it at your own risk!
Unique and Cute Everyday Items
Village Vanguard is nothing if not versatile, so while they might have some items that will make you laugh or go "Huh?", they also know how to appeal to those who just want items that are cute or nice to look at.
One of their popular item themes is traditional Japanese-inspired everyday items; there are kitchenware, stationery, and even everyday use clothes inspired by beautiful Japanese motifs! You can also find more specialized categories, such as space, cats, and trains — all of which have been transformed into all sorts of unique items.
Artist and Creator Merchandise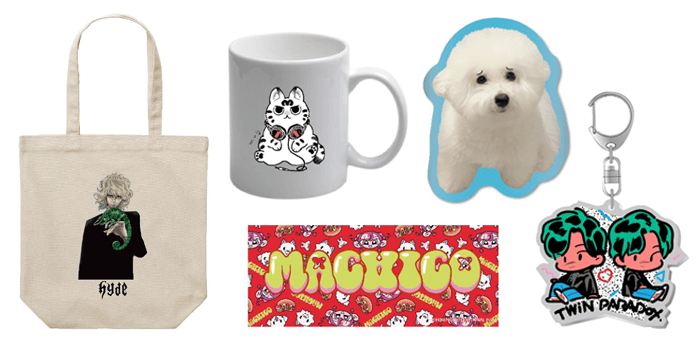 Lastly, Village Vanguard also has a special section where they feature works from both local and internationally known artists. As an example for the internationally known side, they recently released a collaboration between visual kei icon Hyde from L'Arc-en-Ciel and manga artist Hikaru Araki. The collection consists of everything from phone cases and mugs to tote bags and t-shirts.
In addition, the creators featured in their creator merchandise section come from all sorts of expertise. There are Japanese illustrators, photographers, voice actors, and up-and-coming Vtubers — among many others — whose works are being constantly transformed into collaboration goods by Village Vanguard.
Step 1. Go to the official Village Vanguard Online Store.
The Village Vanguard homepage is as colorful and varied as their products themselves. Once you open up the site, feel free to look around just to get an idea of the site layout, and in the next few steps, we'll teach you how to search for items you want, even if you can't read any Japanese.
Step 2. Get searching!
Since Village Vanguard is a variety store, their range of items is endless — which might make it seem intimidating to search for items. If you don't see anything on Village Vanguard's homepage that catches your eye, you can use Google Translate to automatically translate the page for you, then scroll down the page until you find Category.
We've created an easy translated reference picture to start you off below. You can use a translation tool to translate the smaller categories into the language of your choosing.

You can also click on the "Search for Items from Village Vanguard" above or at the end of this article. This will show you all the items available on FROM JAPAN through auction sites or other Japanese shopping sites like Rakuten or Surugaya. To learn more about these and how FROM JAPAN's proxy shopping services work, you can read all about it on our Usage Guide.
Once you've selected the items you want to buy, it's time to move on to the next step.
Step 3. Check out the item details.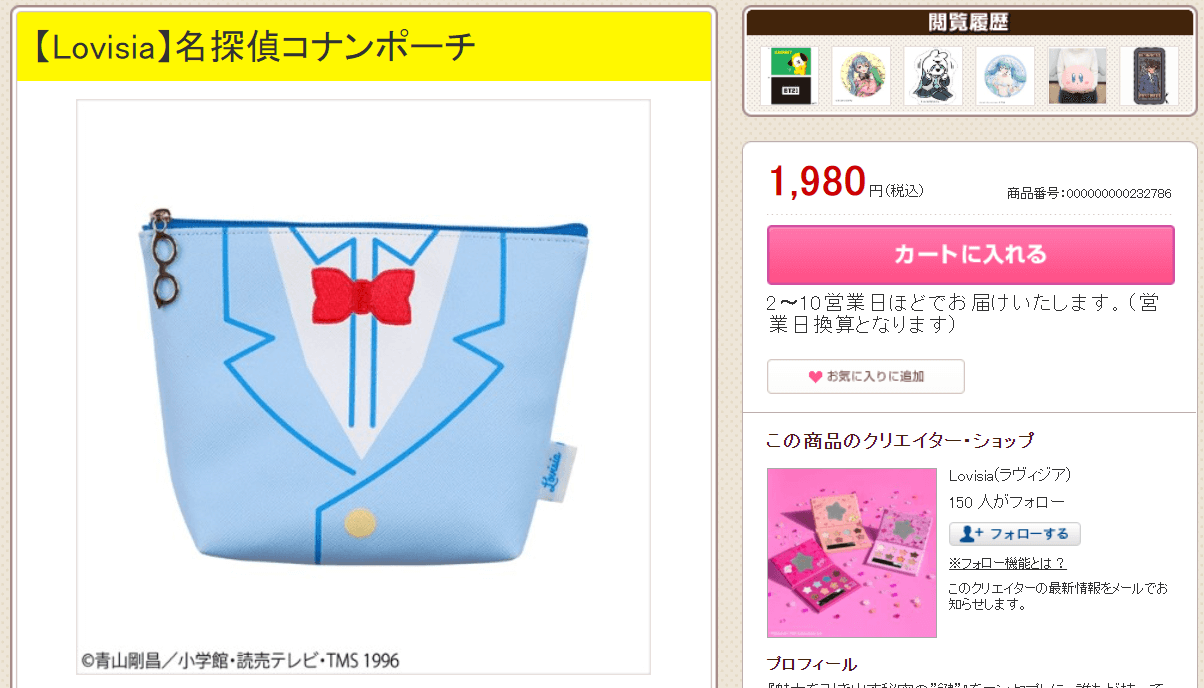 In this example, let's use this cute Detective Conan-inspired coin purse. Once you open up a product page on Village Vanguard's website, on the righthand side you'll see the main details like the price in yen.
Another important thing to take note of is that you need to check if you see the カートに入れる ("Add to Cart") button. If so, this means that the item is currently available and can be ordered using FROM JAPAN. In some cases, Village Vanguard will still show the listings for items that are unavailable with a written text such as 品切れ中です ("Item is currently sold out"), so the "Add to Cart" button is the easiest way to know an item's availability.
You can find more details for the item on the lower half of the page, which you can use a translation tool with if you'd like to learn more about what you're purchasing. Once you've reviewed all the details, we can proceed to the steps in securing our purchase.
Step 4. Create an account with FROM JAPAN and then copy and paste the URL of the item page into FROM JAPAN's search bar.
Copy and paste the URL from the Village Vanguard online store to FROM JAPAN's search bar, which would look like this:

Make sure the link you're copying is of the item page itself, not of the collection that the item is a part of. The correct link will look similar to the one in the screenshot we've included above.
Step 5. Hit search and complete the order form.
Clicking on the search button will take you to our price quote request form where you will have to fill in the details of your order. Below is an example of a completed form.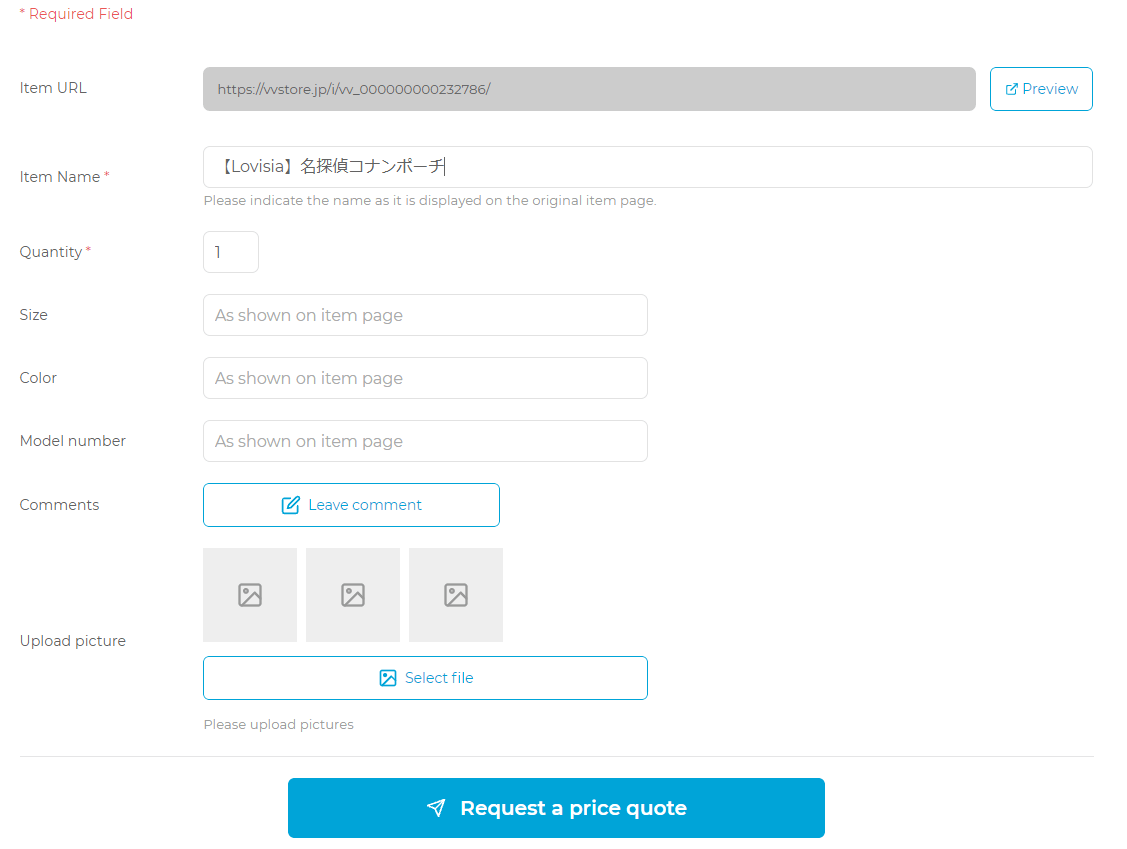 You need to fill in the Japanese name of the item exactly as it appears on the site — even if the title is long, you need to copy and paste all of it! Then fill in the quantity of items you want to order. If an item has different size or color options, make sure to fill these in as well because we need this information to proceed with your order. You can also choose to upload images of the item if you wish to do so.
Lastly, you can leave us a comment if there's any extra information you wish for us to know. Don't forget to double-check all the details before sending it to us!
Once we've processed your price quote request, our Shopping Team will send an invoice with the cost breakdown of the item. If you are planning to buy multiple items, you will need to request a separate price quote for each individual item.
After you have received all invoices and Charge 1 has been paid, your items will be shipped to our distribution centre. Once all your items have arrived at our warehouse, you can choose which items you would like shipped together and select your preferred shipping method. At this point you will be sent to the Charge 2 payment page. Charge 2 includes international and domestic shipping fees, as well as the fee for our Product Protection Plan.
Step 6. Wait for your Village Vanguard items to arrive!
You've completed all the steps, so now all that's left is to wait for your items to arrive! Remember that if you purchased a pre-order item, shipping won't start until your item has been released in Japan, so this will affect your waiting time.
If you have any more questions on how to use our service, our Customer Service team will be more than happy to help. We hope you enjoy your shopping with FROM JAPAN!