All information is accurate as of time of publication.
What is Melonbooks?
Melonbooks is one of Japan's biggest doujin specialist shops, selling fan-made doujinshi, anime Blu-rays, video games, and much more! Melonbooks boasts 31 brick-and-mortar stores across Japan, with their two biggest stores being in otaku paradise Akihabara.
While Melonbooks specializes primarily for those looking for well… "melons," Melonbooks' sister store Fromagee sells a plethora of BL doujinshi for those more interested in yaoi titles. No matter what your preference, Melonbooks has you covered!
Unfortunately, Melonbooks does not ship outside of Japan or accept non-Japanese payment methods. Melonbooks' site is also rather difficult to navigate if you can't read Japanese. But that doesn't mean you have to give up on your doujin dreams! Read on to see how easy it is to buy doujinshi from Melonbooks and Fromagee with FROM JAPAN.
How to buy from Melonbooks and Fromagee using FROM JAPAN
The method of buying from Melonbooks and Fromagee is the same, so no matter which site you're using, you can follow this guide!
Step 1. Go to Melonbooks' or Fromagee's official homepage.
Please make sure you've accessed Melonbooks.co.jp and not Melonbooks.com, their online store for digital content. As of late 2018, it appears that all non-Japanese IPs have been blocked from accessing the Melonbooks.com URL, but the Melonbooks' storefront for physical media is still fine.
Currently, Melonbooks' site has no English-language support, but running the site through Google Translate will help enough to start navigating. For more specific queries, FROM JAPAN's multi-lingual Customer Service team can help you with any Japanese language troubles you may have.
Step 2. Get searching!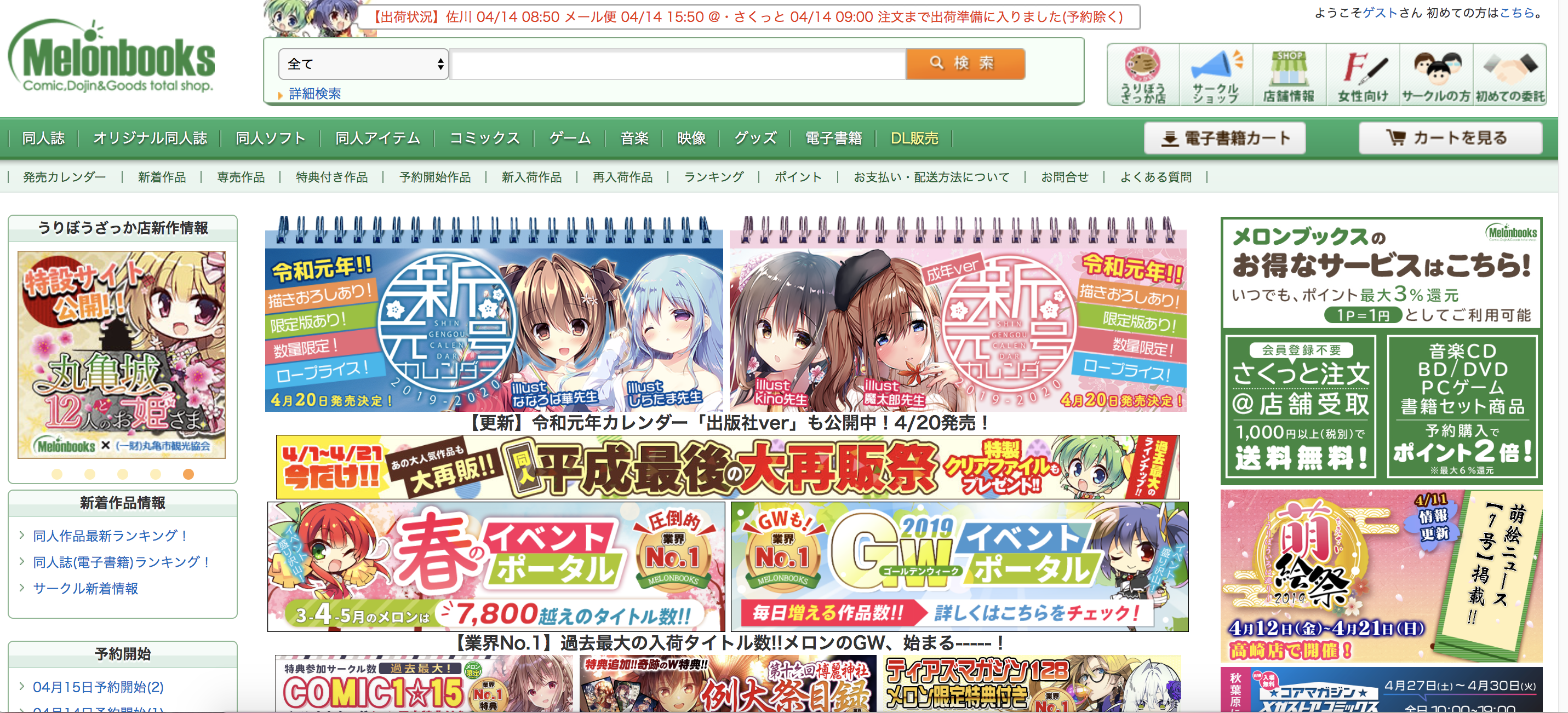 There are several ways you can search for doujin content on Melonbooks or Fromagee. If you have a particular title or series in mind, then you can search for it in the site's search bar. You can also send our Customer Service team a message if you need any help with Japanese.
On the left-hand side of the site, you can search within lots of useful categories including:
人気キーワードで探す – Search by popular keywords. Most of the search terms listed here are names of popular doujinshi events.
ジャンルで探す – Search by "genre." However, this section actually lists popular titles listed alongside original character (オリジナル) fanworks.
サークルで探す – Search by "circle." Circles are groups or individual authors who publish doujin. Melonbooks have listed some popular circles to help you get searching!
If you have a particular item in mind and are struggling to find it on either Melonbooks or Fromage's page, then our Customer Service team is happy to help!
Doujinshi Terminology
Here's out doujin terminology cheat sheet to help you while on the hunt for your best girls and boys:
一般同人誌 (Ippan Doujinshi) – Doujinshi suitable for general audiences.
R18 – "Rated 18," or the classification for adult content.
BL (Boys' Love) – this is doujinshi with male pairings usually aimed at a female audience. Content aimed at a gay male audience is known as "Bara" or "Men's Love".
男性向け (Dansei Muke) – Doujin aimed towards male audiences. Often this term is conflated with hentai, but there are some titles in this genre that are suitable for a general audience. That being said, most doujin under this category are sexually explicit.
女性向け (Josei Muke) – Doujin aimed towards female audiences. This usually encompasses genres that feature male pairings, such as yaoi and BL.
ノベル/小説 (Novel/Shosetsu) – Doujin works in novel or fanfiction form.
サークル (Circle) – "Circles" are groups or individuals that create and publish doujinshi. They often sell doujinshi at doujin conventions such as Comiket.
Step 3. Check the details of the item.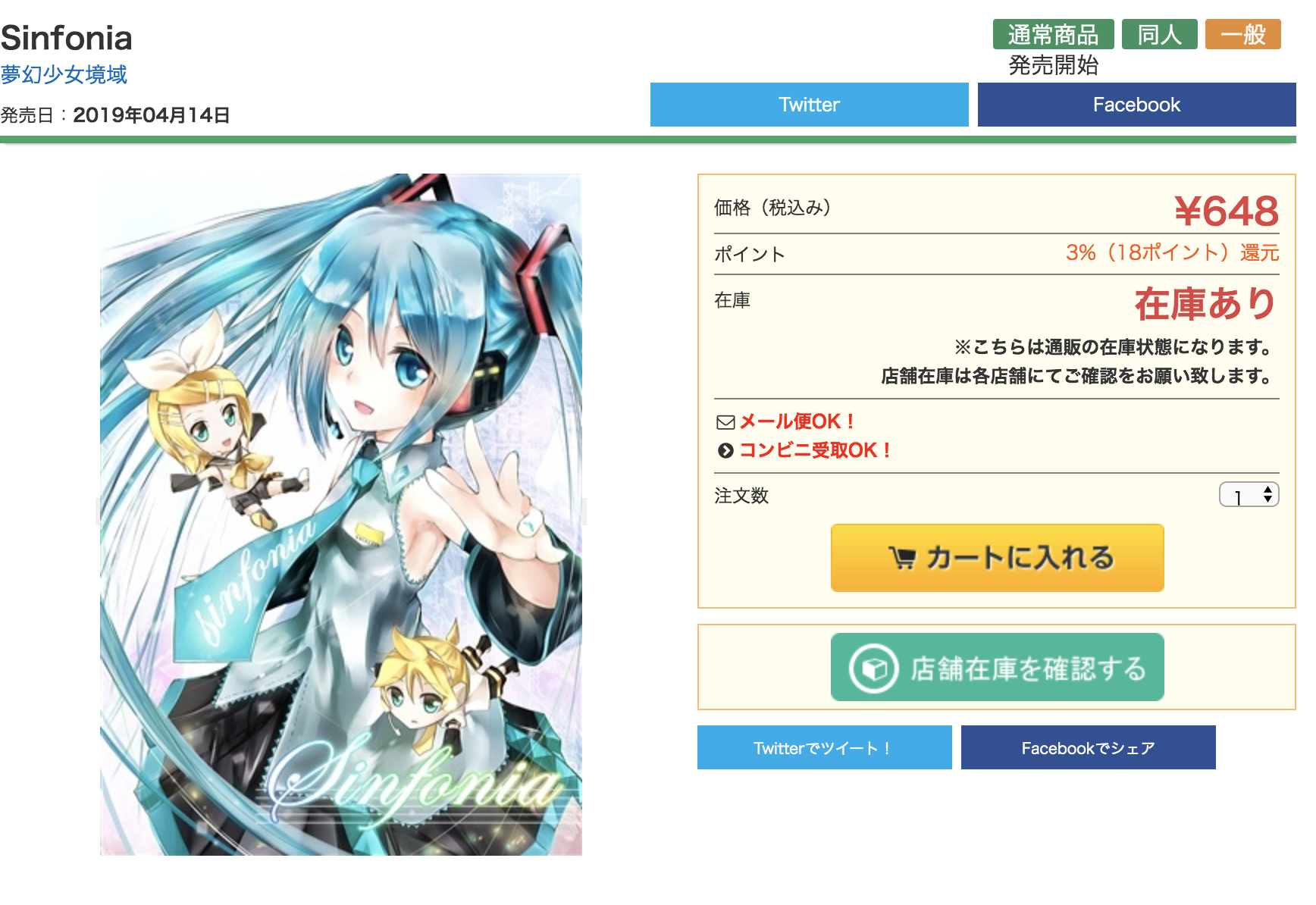 Before making your order with FROM JAPAN, it's best to look over the item page to check the details of your doujin before you buy. Here are some words you should look out for:
発売日 (Release Date) – Some products on Melonbooks may be for pre-order, so we recommend you check the release date of the item before placing your order.
一般 (Suitable for General Audiences) – In the upper-most right corner, you can see an orange square marking that this doujin is suitable for all audiences. In the case of 18+ materials, you will find an R18 rating here.
価格 (Price) – All of the prices on Melonbooks' site include the 8% consumption tax rate so you won't get any surprises when you make your order!
One of these three terms will follow 在庫 (stock), giving more info about the availability of the item.
在庫あり – In Stock
好評受付中 – Taking Orders
売り切れ – Sold Out
Step 4. Create an account with FROM JAPAN and copy and paste the URL of the item page into FROM JAPAN's search bar.
Once you've checked all the details of the item, it's time to add it to your FROM JAPAN order! All you need to do is copy and paste the URL of the item's page in FROM JAPAN's search bar like the example below:

Step 5. Hit search and complete the order form.
Once you hit search, it will take you to our price quote request sheet where you can fill out the details of your order. Here's an example of a completed form: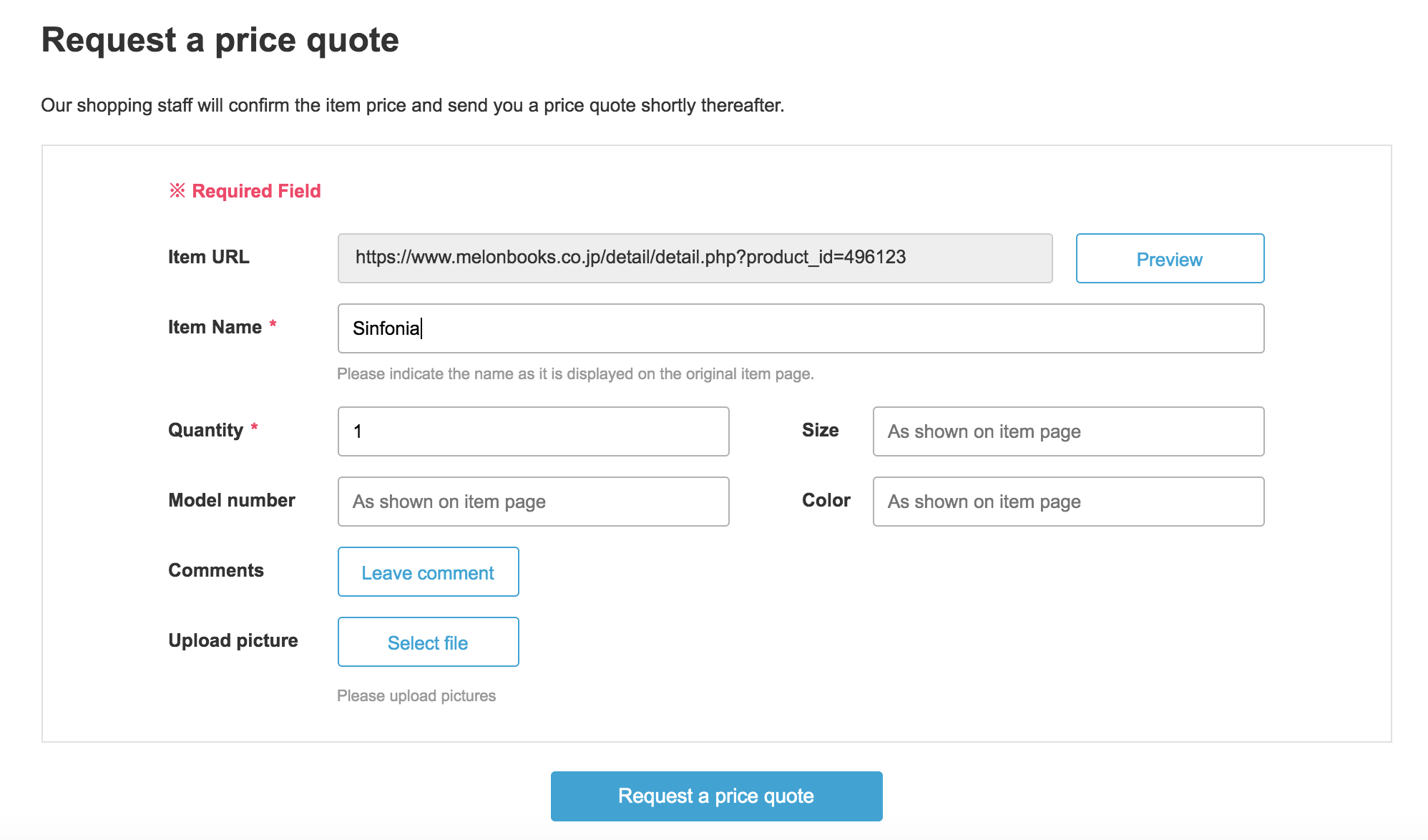 You will need to write the item name and provide the desired quantity of the item. You can also leave us a comment about any additional information that you want us to know! Please make sure to double check all the details before sending your order to us. Once we've received your price quote request, our Shopping Staff will send the invoice for the cost of the item. If you are planning to buy multiple items from Melonbooks, then you will need to make a separate price quote request for each unique item.
After all your invoices have arrived for your items and Charge 1 has been paid, your items will be shipped to our distribution center. Once we receive the items, we will wait for your instructions regarding shipment. After you've notified us about your shipment instructions, we will send an invoice for international and domestic shipping and the fee for our Product Protection Plan.
For domestic shipping, Melonbooks and Fromagee charge and 690 yen for orders under 5000 yen and 590 yen for orders over 5000 yen.
And then all you have to do is just have to wait for your doujin goodies to arrive at your door! Check out our usage guide for more details about our process and fee structures. If you have any further questions on how to use our service, our Customer Service team will be happy to help. Happy doujin shopping on Melonbooks and Fromagee!
Disclaimer: In our experience, 18+ doujinshi can be exported from Japan. However, this is subject to Japanese Customs policy and discretion. Please be aware that each country or region's customs body defines rules and regulations for what material can be imported. FROM JAPAN does not review individual destinations' import regulations. Please be aware that issues regarding customs regulations are not covered by our Product Protection Plan.