Why buy Tokyo Disneyland and DisneySea goods?
No matter what age you are, Disneyland is a place where you can create fun memories while being surrounded by some of your favorite Disney characters.
In Japan, fans of Disney have two amusement parks they can go to: Tokyo Disneyland and Tokyo DisneySea. Both of these places have something for everyone, and whether you're nostalgic for your visit to these parks or you're someone who's never been but want to see what's there, one of the best ways to get the Disney experience even from miles away is through exclusive goodies.
Each year, Tokyo Disneyland and Tokyo DisneySea have special events where they release limited edition merchandise of the most popular Disney characters. This means that even if you've been to other Disney theme park, Japan has all sorts of merch that you won't find anywhere else.
If you're interested in learning how you can get Tokyo Disneyland and Tokyo DisneySea souvenirs and merch, today we're teaching you how you can get them delivered to you wherever you are using FROM JAPAN!
Step 1. Find the item you want to buy.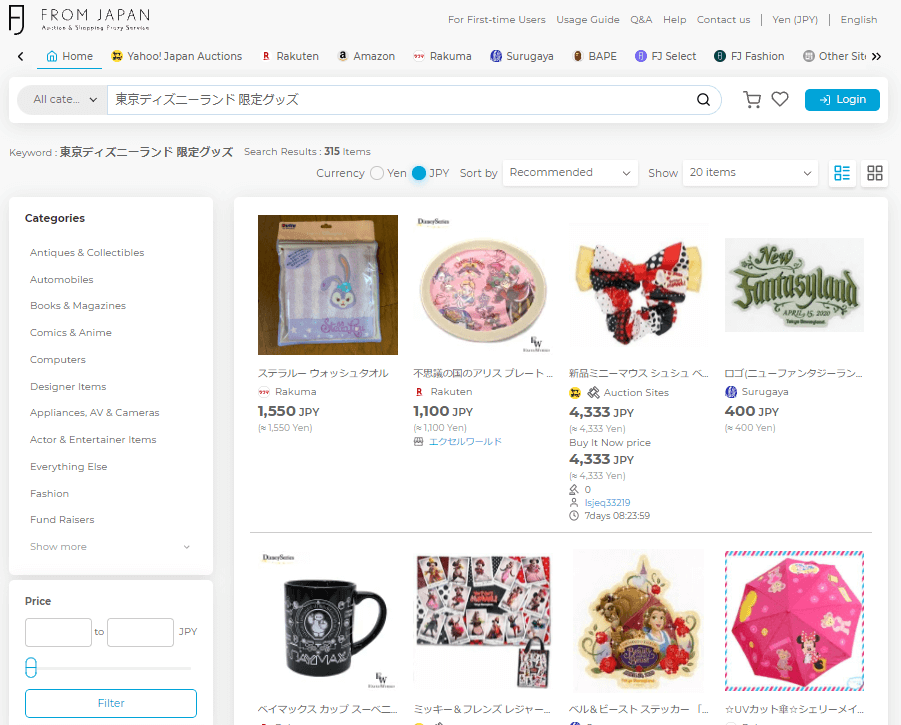 To start finding these goodies, the Japanese terms you need are 東京ディズニーランド 限定グッズ for Tokyo Disneyland and 東京ディズニーシー 限定グッズ for Tokyo DisneySea. These translate directly to "Tokyo Disneyland Exclusive Merch" and "Tokyo DisneySea Exclusive Merch." Pop in the Japanese terms into FROM JAPAN's search bar and watch your screen fill with Disney goods.
Another way is by clicking on the "Search for Tokyo Disneyland-Exclusive Goods" and "Search for Tokyo DisneySea-Exclusive Goods" buttons at the start and at the end of this article as an easy shortcut.
You might come across some items you will need to bid on and some that you can purchase directly. You can learn more about the difference between these two on our handy FROM JAPAN Usage Guide!
Step 2. Check the details of your item.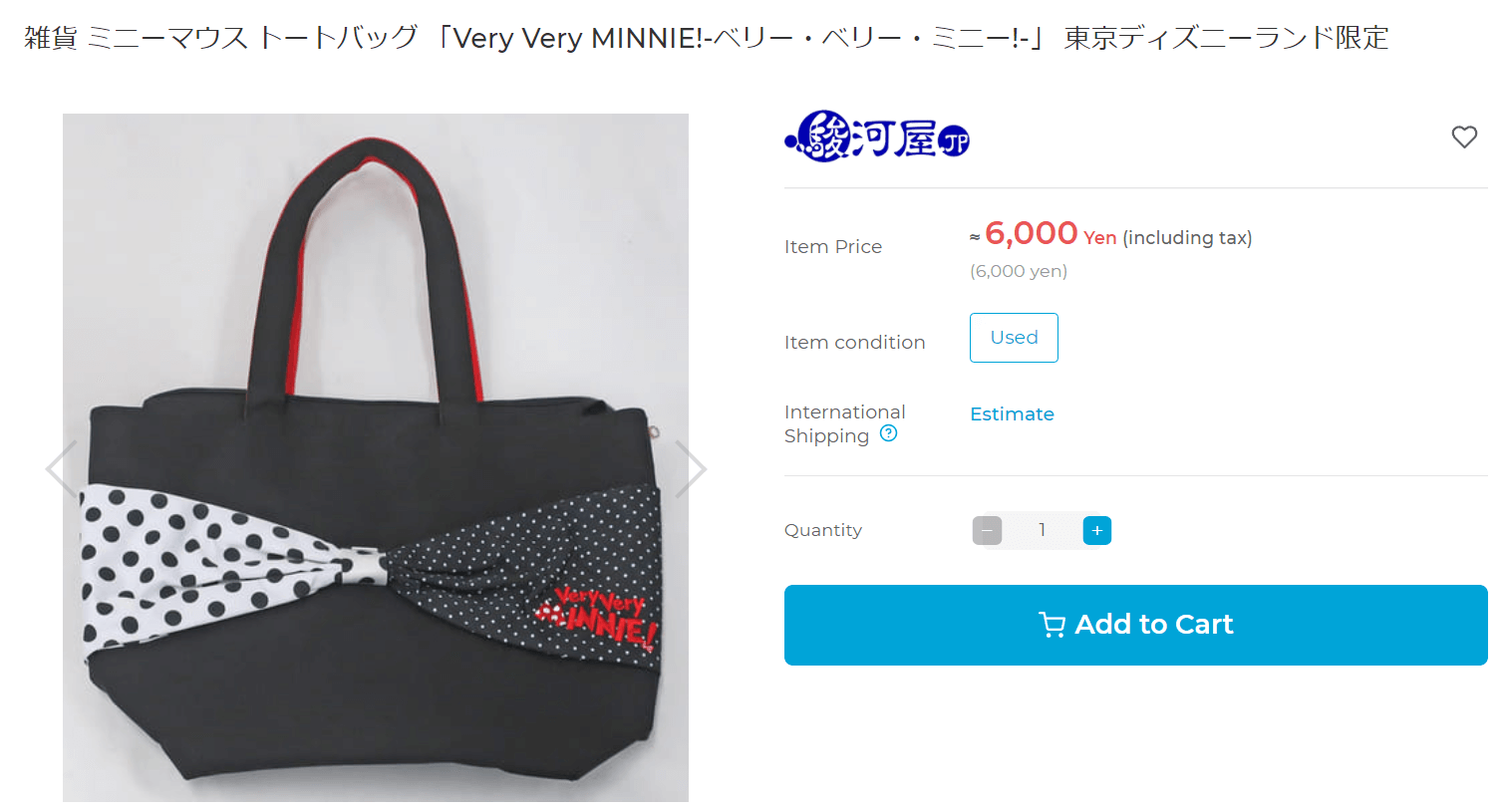 Let's use this Minnie Mouse bag as an example. Once you've picked out items you want to buy, you can see things like its price and the item description towards the middle of the page. You can click on the Google Translate drop down menu and click on 英語 to read the description in English.
3. Add items to your cart and pay for Charge 1.
Once you're happy with the items you're getting, add them to your shopping cart and pay for Charge 1.
4. Items arrive at our distribution center ready for shipment instructions.
When your items have arrived at our distribution center, our Customer Service team will ask for your shipment instructions. Items can be stored for free in our warehouse for up to 45 days, which you can take advantage of if you're ordering multiple items from us!
5. Pay for Charge 2.
After receiving your shipment instructions, we will calculate the shipping fees and send you a Charge 2 invoice.
6. Shipping.
Shipments are dispatched within 2 business days, excluding peak seasons and holidays so you can rest assured knowing you will receive your items speedily.
7. Arrival.
You're now the proud owner of exclusive goodies from Tokyo Disneyland and Tokyo DisneySea! We hope they'll make a great addition to your collection and we hope you enjoyed your shopping experience with FROM JAPAN!