Why buy Gucci from Japan?
With a hundred years of history since they were first established, Gucci has become one of the most recognizable names in the fashion world. Even if you've never set foot inside a Gucci store, you're sure to have encountered the brand's interlaced double G-shaped logo and their famous criss-cross pattern somewhere out in the wild.
Japan is one of Gucci's biggest markets, owning almost 100 stores in the small island nation alone. With this in mind, it also means that there's a huge second-hand market for Gucci bags, wallets, hats, coats, and everything else you can think of in the country. And although there are some fakes floating around, customers in Japan put a lot of value on real second-hand Gucci items that are in good condition.
So if you're thinking "Well, I want in on that!", it's time to set your sights on Japan and search for Gucci products using their second-hand shops. In this article, we're explaining how you can do just that — all while being in the comfort of your own home.
How to buy Second-hand Gucci from Japan
1. Find the item you want to buy.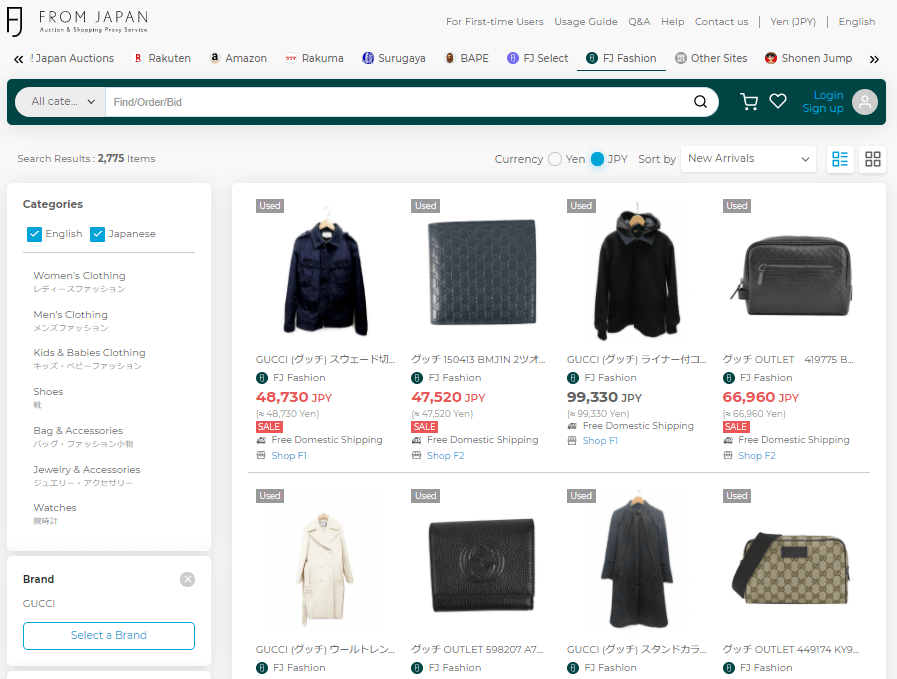 One easy way to steer away from fakes is by using FROM JAPAN's FJ Fashion section. FROM JAPAN is a trusted proxy shopping service for items sold in Japan, and the FJ Fashion section is curated to only display items from established Japanese second-hand retailers. This means that the listings that appear here are considered reliable not just by shoppers from Japan, but also by customers around the world.
You can click on the "Search for Second-hand Gucci items" button above or at the end of this article to take you to the Gucci category for FJ Fashion.
2. Check the details of your item.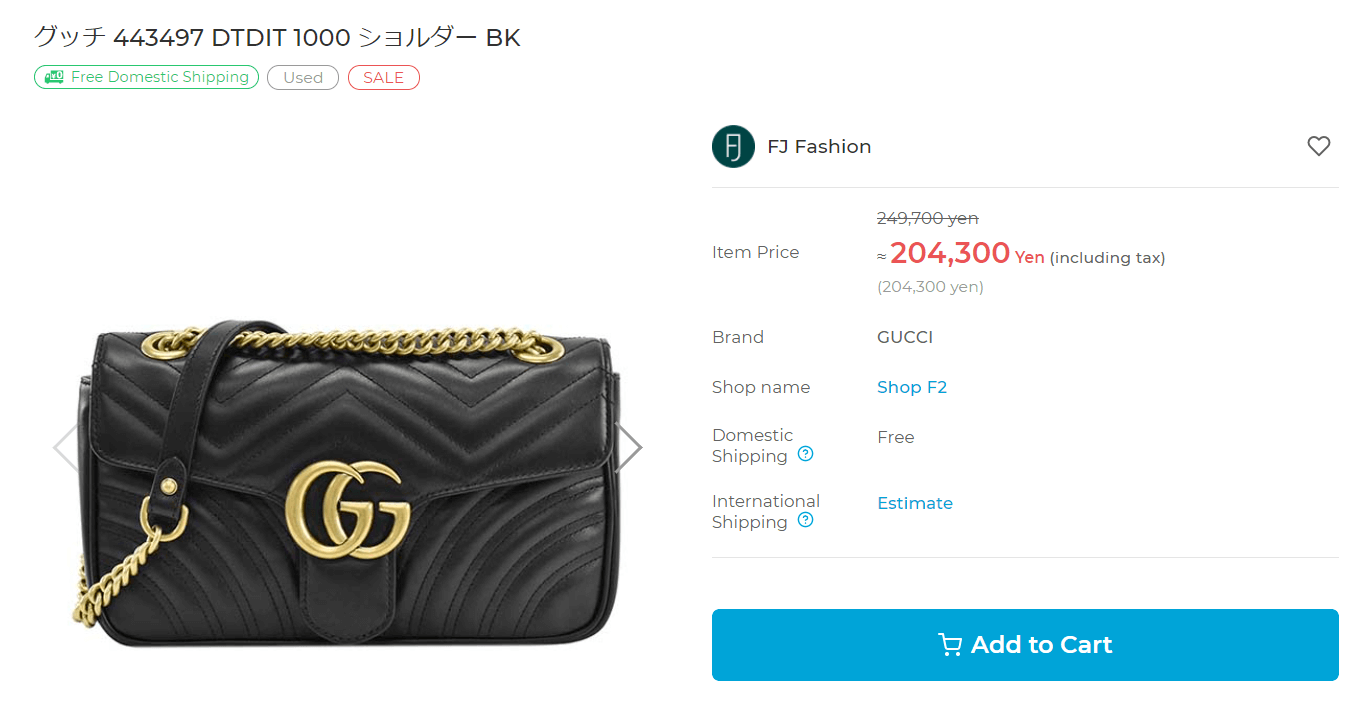 In this example, we're using a product listing for this beautiful black Gucci shoulder bag with the brand's iconic double G logo. Once you've gone through the FJ Fashion page and picked out the item/s you want to buy, you'll be greeted with a page that looks similar to this. If you like what you see, we suggest scrolling a little further below to the "Description" section for the item.
You can use the automatic Google Translate feature to read the product details in your desired language, so you check things like the dimensions and materials used. If you'd like, you can also click on the shop name to find other products being sold by that second-hand retailer.
3. Add items to your cart and pay for Charge 1.
Once you feel confident with your purchase, add the item/s to your shopping cart and pay for Charge 1.
4. Items arrive at our distribution center ready for shipment instructions.
When your items have arrived at our distribution center, our Customer Service team will ask for your shipment instructions. Items can be stored for free in our warehouse for up to 45 days, which you can take advantage of if you're ordering multiple items from us!
5. Pay for Charge 2.
After receiving your shipment instructions, we will calculate the shipping fees and send you a Charge 2 invoice.
6. Shipping.
Shipments are dispatched within 2 business days, excluding peak seasons and holidays so you can rest assured knowing you will receive your items speedily.
7. Arrival.
Your beautiful second-hand Gucci items just got delivered to you straight from Japan! Now you can think of all the different ways to style it with your outfits and congratulate yourself for getting a great deal!
So there you have it! Now you know how to order second-hand Gucci items from Japan. If you want to know more about FROM JAPAN and how our services work, you can visit our Usage Guide to familiarize yourself with us while you do your Gucci shopping. We hope you enjoy using FROM JAPAN!