Guide to Nike Air Jordans
Air Jordan is undeniably one of the most sought after brands worshipped by sneakerheads, basketball enthusiasts, and many professional basketball players. The brand's relatively short but still colorful history is interesting to learn about no matter which category of Air Jordan fan you fall under.
Today, we'll take a look at the history of Air Jordan, including the initial controversial bans the brand got. Lastly, we'll also introduce a few of the highest selling Air Jordan models and a good resource where you can find decently-priced Air Jordans to add to your collection.
The history of Air Jordans
Back in 1984, basketball Hall of Fame legend Michael Jordan wore the first ever pair of Air Jordans produced by Nike. The name was inspired by the nickname he gained from fans and the media, "Air Jordan", from the way he leapt up in the air when he did his signature slam dunks.
During this time, Michael Jordan was just starting out in what would later become his illustrious career playing for the Chicago Bulls. However, he had already been making waves in the collegiate basketball level and already had a following, which was what led to the NBA drafting him in 1984 and Nike seeing an opportunity to design sneakers specifically for Jordan. With this, the Air Jordan brand of sneakers were born.
Early controversies and hype surrounding the Air Jordans
The first few designs of the Air Jordans were labelled "Air Jordan 1". One of these early designs was the subject of much controversy after the NBA banned the shoes from being worn by Michael Jordan during his games.
Formally being sold as the Retro Air Jordan 1, and nicknamed the "Banned Air Jordan 1" (pictured on the left) due to the controversy, the red and black hi-top sneakers were strictly banned by the NBA Commission at the time due to rules about players' shoes needing to match the teams' uniforms and their teammates'.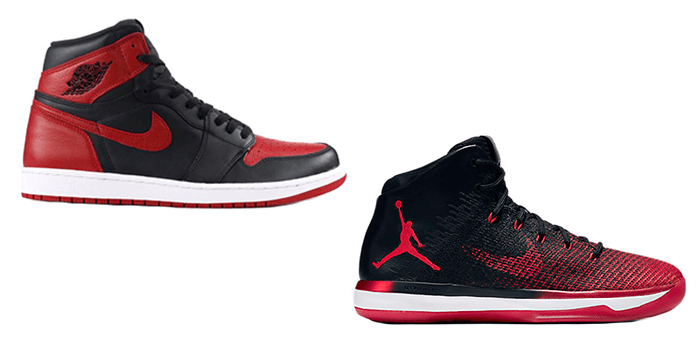 Despite this, Michael Jordan rebelled by continuing to wear these Air Jordans in the basketball court, and was reported to have been fined $5,000 each time he did so. Despite this rule being changed in the 2000s, the history of this particular model persists to this day, making it one of the most treasured models among fans of the brand. Nike has also made redesigned versions of this model (pictured on the right, "Jordan XXX1 Banned") that retain the signature red and black colors that made it gain its reputation in the first place.
This controversy along with Michael Jordan's rising popularity through other endorsements and media appearances outside of basketball made the Air Jordans an instant cult classic, with frenzied fans mobbing Nike stores to get the Air Jordans during this time.
Top 5 highest-selling Air Jordan models
Information based on amount of units sold between May 2020 to May 2021.
Since their initial release, the popularity of Air Jordans never really stopped. In fact, it could be said that the brand's popularity is even higher now than it was several years ago, thanks to the rise of the internet. Online stores have made the sneakers available all over the world and websites dedicated to sneakers and other sportswear put out all the latest information for modern-day sneakerheads to keep up with.
With this in mind, let's take a look at the Top 5 highest-selling Air Jordan models based on online sales, and see if there's any pair you own on this list (or if any of them catch your eye for those who don't). You might even recognize one of the models we've previously talked about before!
Air Jordan 1 Retro High Dark Mocha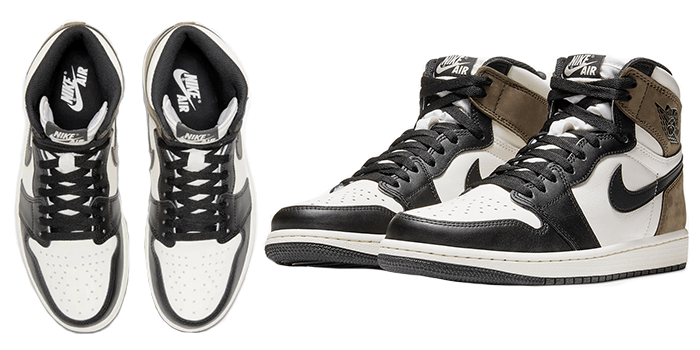 Air Jordan 1 Mid 'Banned' 2020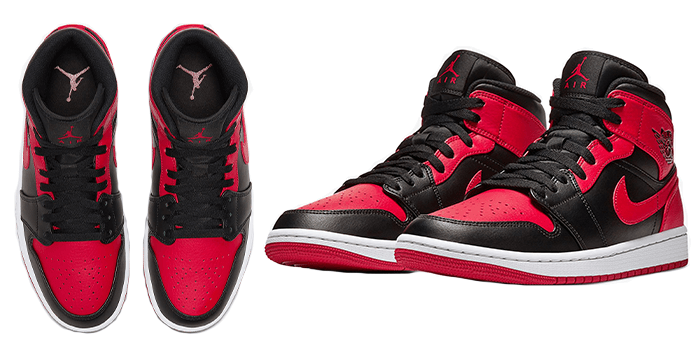 Air Jordan 1 Mid Light Smoke Grey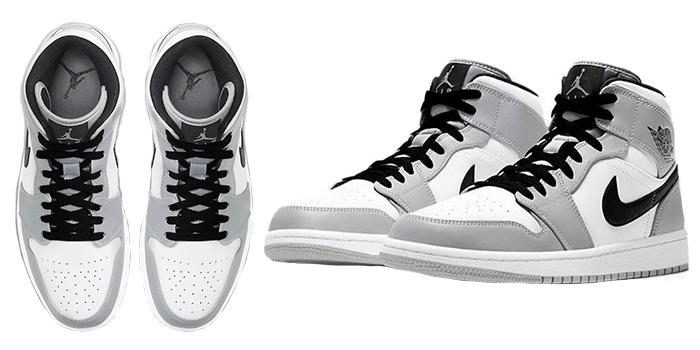 Air Jordan 1 Mid Chicago Toe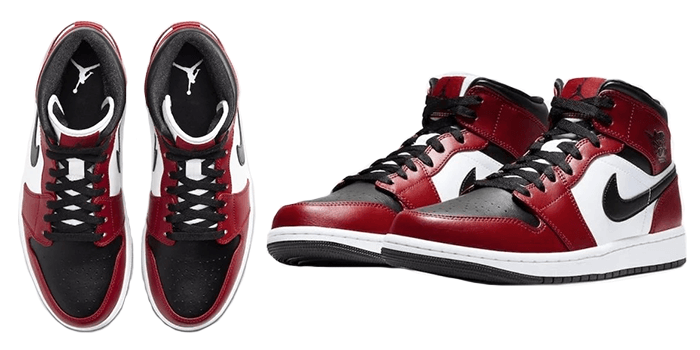 Air Jordan 1 Retro High Black Game Royal Toe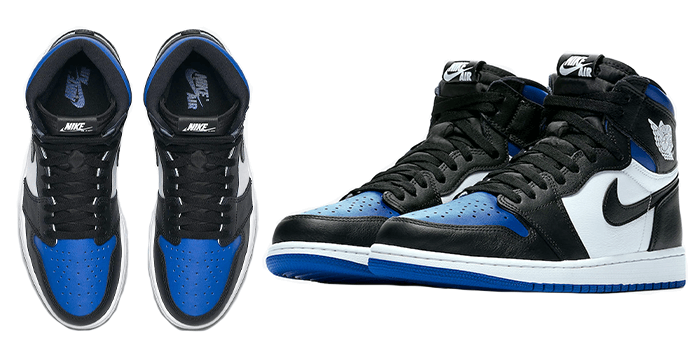 Buying Air Jordans
Due to the high demand for Air Jordans, you might come across several online stores or listings where secondhand Air Jordans at a much higher price than they were originally sold for, especially when it comes to the really popular models. And if you want a pair of your own or have a particular model you want to add to your collection, but everyone else is after it too, it might be frustrating to see that model sold out or sold for double or triple the price.
So today, we'd like to introduce to you a source for getting great quality secondhand Air Jordans for good prices: Japan!
Why should I buy Air Jordans from Japan?
Japan is a good source for sneakers and other high brand fashion items in general for a variety of reasons. First, compared to many other currencies across the world, the Japanese yen currently has a weak value, meaning if you're buying from outside of Japan, you can get more than your money's worth (literally!).
Next, secondhand stores in Japan are also meticulous when it comes to the quality of items that they sell. They're more likely to accept unused sneakers or sneakers in pristine condition because this high quality of products is what a lot of their customers expect from them. So if you buy from trusted secondhand stores in Japan, you can easily find great quality Air Jordans and honest images and descriptions of what you'll be getting.
How can I buy Air Jordans from Japan?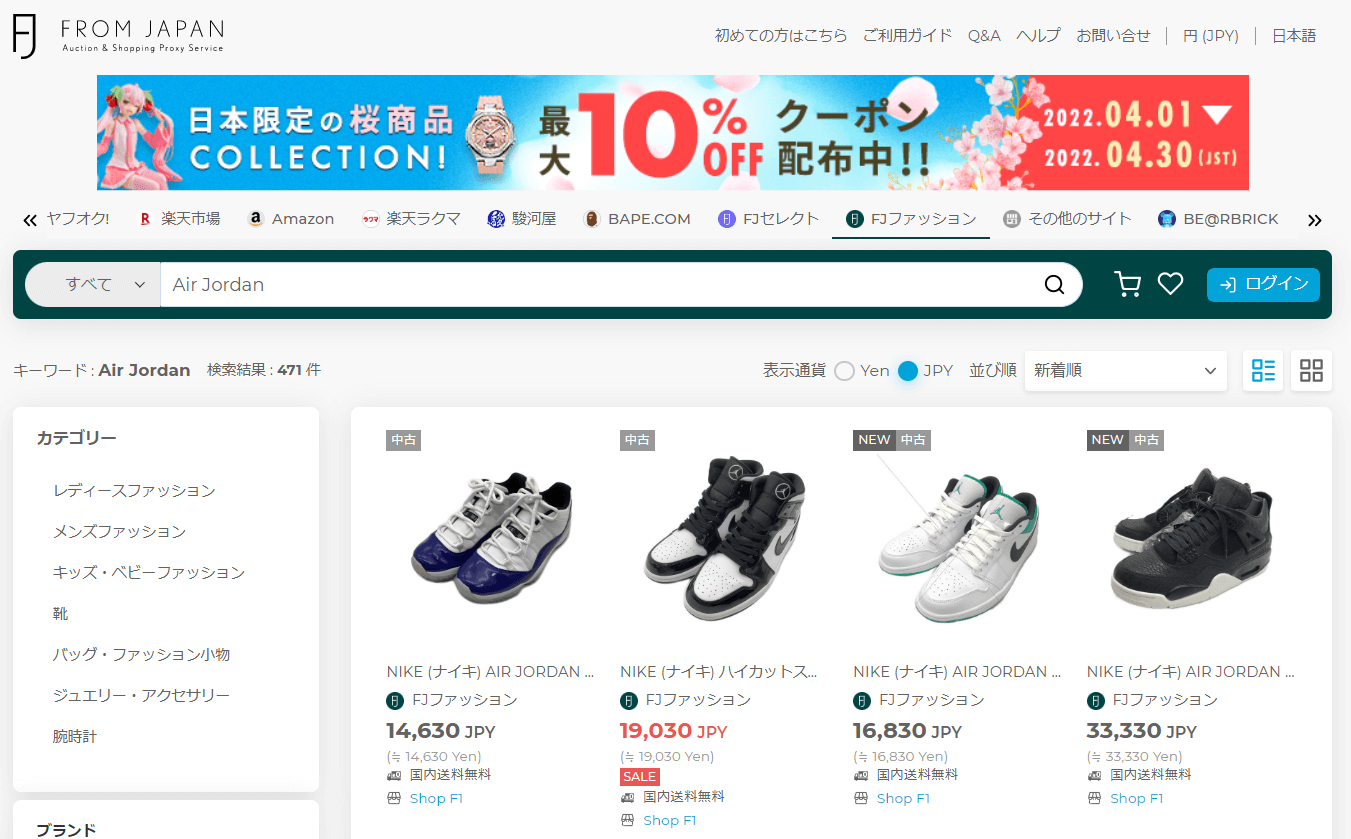 If you're now convinced that you want to get your next pair of Air Jordans from Japan, then you'll want to take a look at FJ Fashion.
FJ Fashion is the section of our website dedicated to luxury and high brand popular fashion items sourced from trusted secondhand stores in Japan. You can start going through the available Air Jordan models by simply typing in "Air Jordan" into the search bar, or by clicking the button below, which will take you to the Air Jordan search results page.
If you have a particular model in mind but no results turn up on the FJ Fashion page, you can also try inputting "Air Jordan + (model name)" on our main homepage, FROM JAPAN. However, some of the results here might require you to bid or might have third-party sellers' listings, but if you do the FJ Fashion route, it's much more unlikely for you to run into bad listings or fakes due to the good reputation of the sellers that appear there.
Why use FROM JAPAN?
FROM JAPAN combines years of experience with our powerful search engine and trusted sources to provide a wealth of incredible vintage fashion, bags and accessories. We open up your shopping experience to make items that would otherwise have only been exclusive to Japan available to you from anywhere in the world.
If you're new to our site and want to learn how FROM JAPAN works, our Usage Guide has all the information you need to know. Our Customer Service team is also available to help you out at any time during your shopping process.
We hope you enjoy your shopping with FROM JAPAN!