While the highball and chuhai have rightfully found their place among Japan's most popular happy hour drinks, it is the country's love for ice-cold draft beer that has been truly elevated to an art form. To share this unique culture with you, we've put together a list of Japanese beer glasses and foamers that can help bring Japan's passion for pilsners into your home bar.
Japanese Beer Glasses & Tumblers
Sugahara Glassworks Mt. Fuji Beer Glass

Sugahara Glassworks' Mt. Fuji Beer Glass is an artistic achievement of understated craftsmanship. Paying homage to Japan's iconic peak, the inverted shape is the result of simultaneously blowing, spinning, and molding molten glass by hand. The unique silhouette not only creates the appearance of Mt. Fuji, especially when topped with a "snowy" head of foam, but it also helps concentrate the complex aromas of your favorite craft beer—a fine piece by Sugahara that ensures every elevated pour comes with a majestic glimpse of Japan's tallest mountain.
Tsukiyono Kobo Beer Glasses

If your favorite brew is best enjoyed from a glass, then Tsukiyono Kobo's crystal-blown "beer dioramas" are sure to make every sip as pleasing to the eye as it is to the palate. Pour your favorite amber lager over the crystalline mountain peaks for a soothing sunset scene; or if you prefer the complexity of darker beers, we suggest choosing Tsukiyono Kobo's gold speckled glass—festooned with wispy fireflies that shine brightest when contrasted against the pitch-black color of an imperial stout.
Ukiyo-e Cat Beer Glasses

For beer drinkers with a penchant for pets or traditional Japanese prints, these ukiyo-e cat glasses are the perfect addition to your barware collection. Six feline illustrations printed on frosted glass are available in two distinct sets—whimsical portraits of Edo-period cats and calicos discreetly hidden within Japanese kanji for "catfish."
Edo Kiriko Beer Tumblers
Edo Kiriko Beer Tumblers feature a nearly 200-year-old Japanese tradition, where each cut is masterfully placed by hand to create overlaid kaleidoscopic patterns when held to the light. These glasses are slightly smaller than Western-style tumblers, making them perfect for sampling beer in refined style and moderation.
Nousaku Tin Beer Cups and Tumblers

While many craft beer aficionados swear by glass for a superior sip, Japanese people frequently turn to tin when serving beer at home. The natural properties of tin not only keep beverages cool, but highlight the pure flavor of the beer without the concern of an unappealing metallic aftertaste. Nousaku's Tin Beer Cups and Tumblers feature texturized surfaces to gently agitate more froth from your drink as you pour; and because tin is rust and oxidization resistant, these cups will maintain their luster even after years of use.
ONDOZONE Freezing Tumbler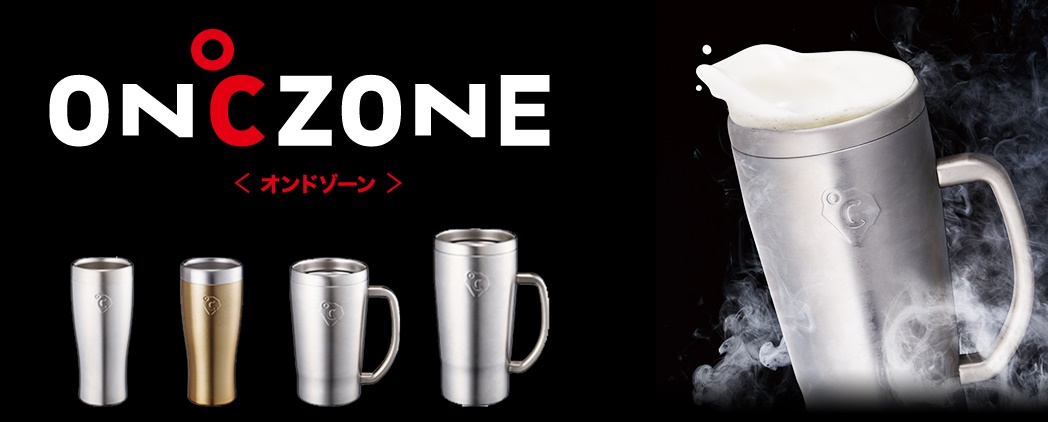 The only thing better than a cold beer is an ice-cold beer. The ONDOZONE Freezing Tumbler—a two-in-one cup/sheath combo—blends the natural insulation properties of tin with a touch of clever Japanese tech to create a handheld cooler by securing a thin layer of ice between the cup's inner and outer walls. Simply pour water into the tumbler's sheath, seal it with the connector, and store it upside down in the freezer for 12 hours (consider getting two if you always want to have one ready to go). The ONDOZONE's real appeal is that its unique insulation doesn't just make your beer cold, it lowers the temperature to below freezing within two minutes and keeps it there until you've savored every last drop.
Green House Beer Server Series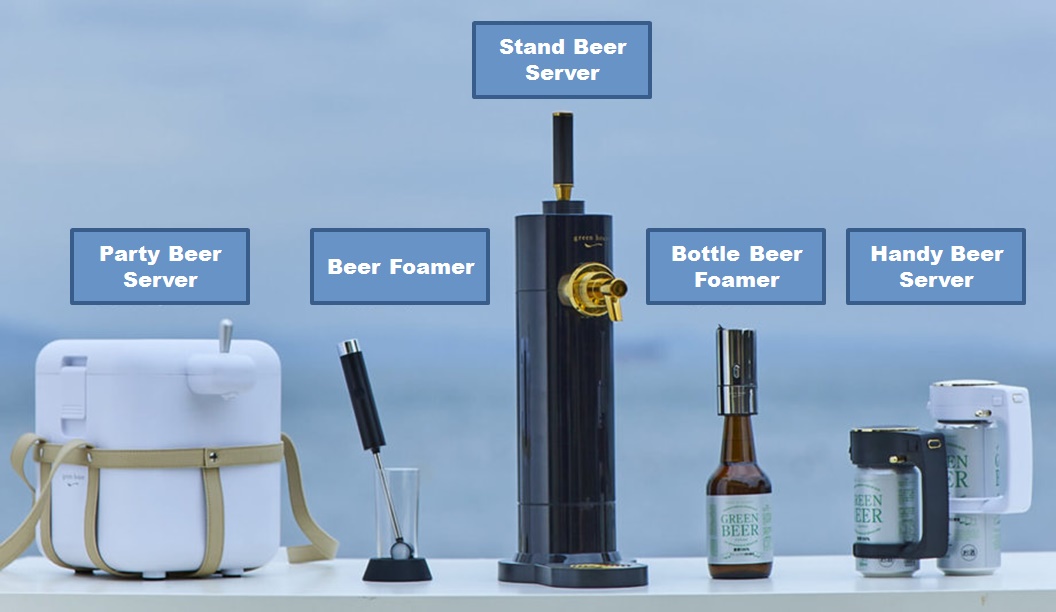 In Japan, the "perfect pour"—a 3:7 ratio of foam to beer—is desired not only for its aesthetic appeal, but also for the freshness that a healthy head implies. The Green House Beer Server Series features five ultrasonic products that ensure a thick head of froth, so you can get that just-poured presentation even when your pour isn't perfect.
Party Beer Server

You don't need to have a keg to have a "keg party." Green House's Party Beer Server guarantees freshly poured beer at your next outdoor event with as little as a six pack. To use, place either 355 ml or 500 ml cans of cold beer in the insulated cooler, insert the attached straws into each can opening, secure the lid, and activate the mini beerpull.
Beer Foamer

Do you like red eyes or shandygaffs? With Green House's Beer Foamer, expertly mixed beer cocktails are a breeze. Insert the stainless steel stick into your freshly poured drink, push the button, and watch the ultrasonic vibrations conjure a bubbly concoction in seconds.
Stand Beer Server

Green House's pub-style Stand Beer Server brings the Japanese izakaya experience to your home bar. Simply insert a 500 ml can into the server and gently tug the built in beerpull to bring perfectly foamy brew flowing forth.
Bottle Beer Foamer

A tasteful choice for those who prefer bottles over cans, Green House's Bottle Beer Foamer easily slides over any bottleneck for a secure fit. Flip the switch on this chic and shiny tech, and your friends will be amazed with every perfect pour.
Handy Beer Server

Like the Bottle Beer Foamer, the compact size of Green House's Handy Beer Server makes it an ideal addition for partygoers on the go. The device's head and arm support are designed to fit snugly around standard size cans, and a simple tip of the hand and press of the button will pour a frothy beverage into the next awaiting glass.
Portable Takara Tomy Sonic Hour

Green House isn't the only company to offer ultrasonic beer foamers. True to its name, the Portable Takara Tomy Sonic Hour features a compact design that's no bigger than your wallet. So, when it comes time to celebrate happy hour anywhere you may find yourself, pull the Sonic Hour out of your pocket, pour an ample serving of beer, press the device against the side of your glass and foam to your heart's content.
Japanese Beer Snacks

In Japan, it's common to share small side dishes and snacks with friends and family while enjoying a round of drinks. Apart from freshly boiled edamame, some of the most popular Japanese beer snacks are dried squid, wasabi snacks, and rice crackers — which perfectly complement the lighter lagers and ales that dominate the country's preferred taste for beer.
Where to Buy Japanese Beer Ware
If our list has given you a craving for the Japanese beer experience, but you can't get to Japan to try it in person, there's no need to cancel your happy hour! With FROM JAPAN, you can get all these glasses, gadgets, and more delivered right to your door.
Note: Due to international shipping restrictions, FROM JAPAN is not able to ship alcoholic beverages overseas.