Japan is well renowned for beautiful traditional buildings and shrines. Part of that old aesthetic is traditional Japanese fans and umbrellas. These fans and umbrellas are still seen and used to this day, especially in the cultural capital of Kyoto. However, the questions many have are what are they, where did they come from and when did people use them?
Japanese Umbrella Types : Wagasa, Bangasa & Higasa
On a wet day in any street in Japan, you'll see a horde of plastic umbrellas coming towards you. Umbrellas have always been a staple of Japan – thanks in part to the rainy season – but back in the Edo period and before, Japanese umbrellas were very different than they are today.
 Wagasa is a paper umbrella, a kind of Japanese parasol. Traditionally made from bamboo and paper, it was used not just for rain, but also for shade from the sun. Now it is used more for decoration.
Wagasa umbrellas were originally developed in China and made their first appearance in Japan during the Heian Period. These original Wagasa differed from the image we have of them today, resembling a hat and cape rather than a traditional flat dome. Japanese noblemen during the Edo period (1600-1868) made the umbrellas objects to lust over; they were marks of the upper class.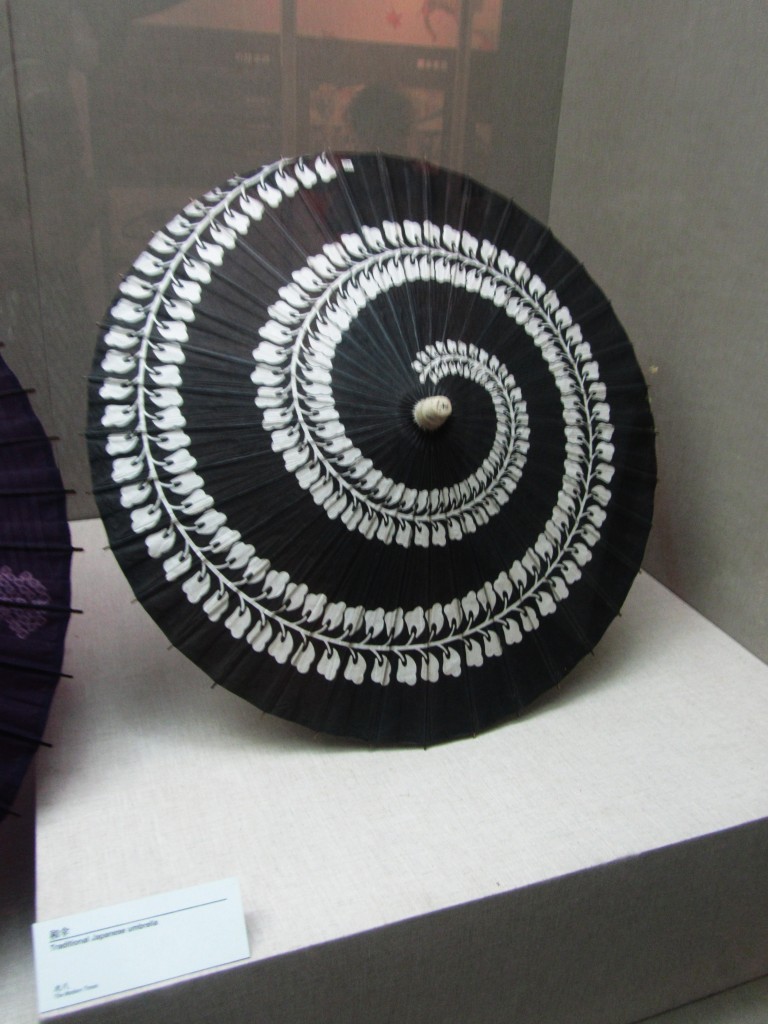 Traditional Wagasa were made from paper, bamboo and string. The paper was cured and coated with oil, making the paper waterproof and strong – sturdy enough to last 20 years! However, Wagasa parasols were not treated with oil, making them much more fragile.
Visually, there are some major differences between western umbrellas and Wagasa. The first is the amount of spokes. Whilst western umbrellas may have only 6 to 10 spokes, Wagasa boast anywhere from 30 to 70, making them much stronger. The string or leather handle, which  attaches to the top, is also different from the typical western handle. But the most striking difference is the fact that Wagasa are beautifully designed and adorned with bright colours.
There are some different types of Wagasa. For example, Bangasa are bigger and much thicker so men can use them more easily. Bangasa patterns are also more subdued, creating something less colourful and more formal. To counter that there are Janome Kasa. These are smaller and with less spokes, colours are also more varied and even flashy, making these more suited for women.
In the middle of the bright Wagasa and the more subtle Bangasa is the Higasa. Lighter than a Bangasa – but heavier than a Janome Kasa – the dome is flatter and used more as a parasol.
Japanese Fan Types: Uchiwa & Sensu
It's easy to think of a fan simply as the electric device in your office or bedroom. However, back before electric fans, people used hand fans; especially in Asia due to the summer humidity. There is two different types: Uchiwa and Sensu.
What is an Uchiwa?
An Uchiwa is a flat fan. With a frame made from bamboo, it tapers at the end into a thick handle. Attached to the frame is a paper coating (or in some designs, silk was a popular choice). The Uchiwa has many practical applications. Not only can you fan yourself elegantly to cool down on a humid day, but you can also use it in the kitchen to start or calm down a cooking fire.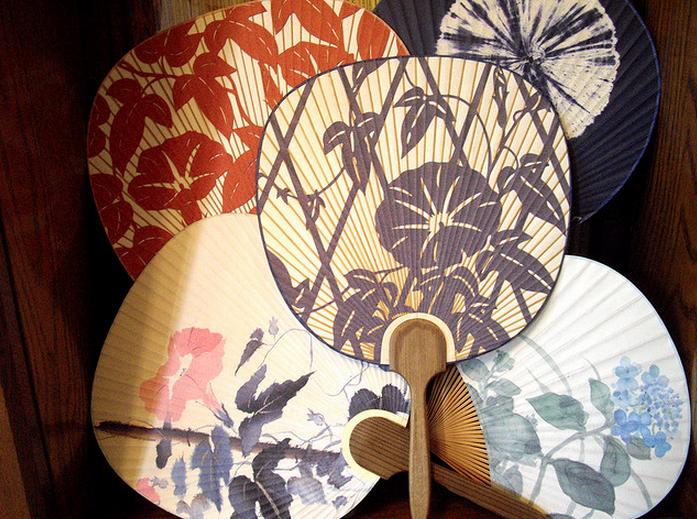 The huge draw of Uchiwa is the designs. Traditionally Uchiwa would show period artwork, such as streams, bamboo, fish or fireworks. Some prefectures would have Uchiwa designs based on their local sights, such as fireflies. Unlike Wagasa, Uchiwa are still popular today. Companies often produce modern versions made of plastic, but it's common to see traditional bamboo Uchiwa in the summer. Some music concerts also sell electronic Uchiwa that light up in the dark, a modern twist on something steeped in so much history.
The Japanese Sensu Fan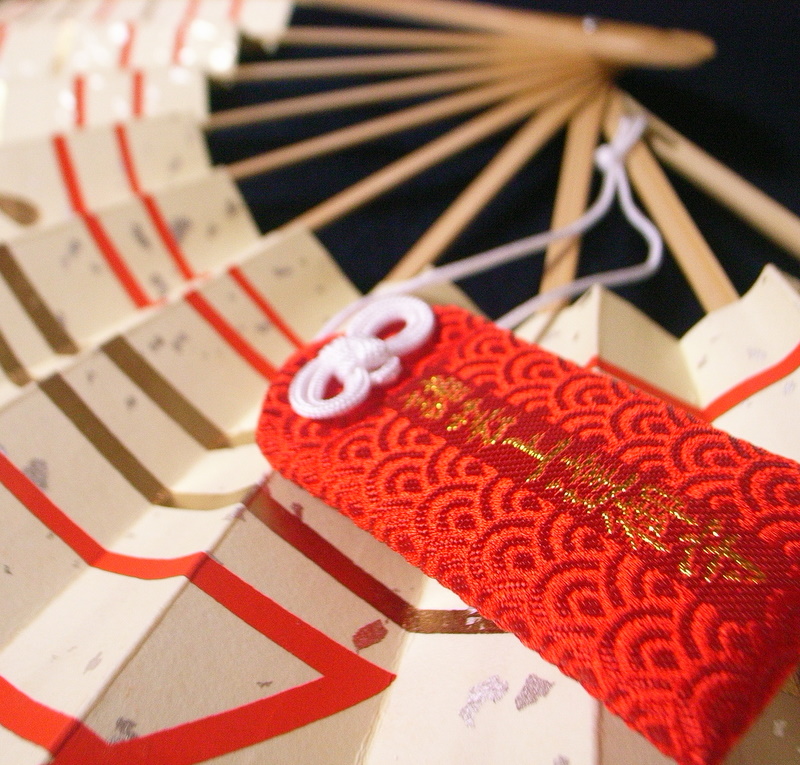 Whilst you might not recognize the name, you would recognize the form. Sensu is a fold up fan. Much like Uchiwa, the Sensu was originally created in China and was primarily designed for cooling. Made from bamboo and folded paper, the Sensu typically came with paintings adorned on the side, making it a beautiful piece. These too are still used to this day and are a popular export, with even shops outside of Japan selling traditional Sensu. With a flick of the wrist, the Sensu opens out, displaying the hidden painting inside. A trope of the Sensu was that women would use it to conceal their faces, perhaps provocatively. Whilst that's not exactly true, it is true that the Sensu is held close to the face, as to cool down your skin without making large arm movements – making it subtler than an Uchiwa.
Conclusion
Be it a Wagasa or traditional fans, these symbols of Edo Japan are beautiful to behold. If you're in Japan, then any of these fans or umbrellas would make a perfect keepsake to take home.  Due to their paper base, Wagasa are especially vulnerable and may not survive the flight. However, if you want a traditional keepsake from Japan, then Uchiwa or Sensu is a perfect choice. Since either one is both small and light enough to fit right inside your hand luggage, you'll be able to take a part of Japan's rich history back home with you. If you would like to own any of the products mentioned, search Wagasa & Bangasa or Uchiwa, Sensu on our site.