AKB48's latest DVD "Manatsu no Dome Tour – Madamada, Yaranakya Ikenai Koto ga Aru" (We still have many things to do) was released on December 18th, 2013. The whole AKB family consisting of AKB48, SKE48, NMB48 and HKT48 participated in this summer event that took place in Tokyo, Nagoya, Sapporo, Fukuoka and Osaka from July 20th to August 25th 2013.
This tour has been a hot topic since three popular AKB48 members – Itano Tomomi, Shinoda Mariko and Akimoto Sayaka – graduated from the group during the tour. The graduation ceremony documentaries were produced by three different music video directors who have produced AKB48 music videos in the past and each one added his own flavor to the video matching the girls' personalities.

Before the DVD was released the AKB48 management provided a huge photo gallery and Youtube videos for their fans which can be seen on the official AKB48 website. Those pictures are unpublished ones and aren't even included in the DVD and Blu-Ray. So be sure to check them out if you haven't done so yet.
Two different versions of the "Manatsu no Dome Tour" DVD and Blu-Ray are available. The Single Selection contains two DVDs featuring the live performances of the AKB48 singles plus a randomly selected photo.
The Special Box contains a whopping TEN DVDs that contain three AKB48 concerts plus bonus footage material, a Unit Disc of all the "unit songs" featuring members that usually can't be seen that often on stage, behind-the-scenes footage and making of videos as well as the graduation ceremonies of Itano Tomomi, Shinoda Mariko and Akimoto Sayaka. Furthermore a 132-page booklet and five random photos are included in this mega bundle.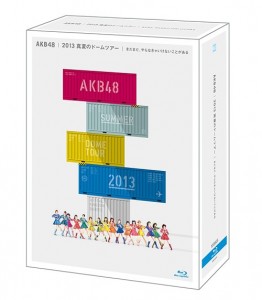 AKB48 2013 Manatsu no Dome Tour Box content:
Disc 1 & 2: Fukuoka Yafuoku! Dome on July 21st 2013 (incl. Mariko Shinoda's graduation ceremony)
Disc 3 & 4: Tokyo Dome on August 22nd 2013 (incl. Sayaka Akimoto's graduation ceremony)
Disc 5 & 6: Tokyo Dome on August 25th (incl. Tomomi Itano's graduation ceremony)
Disc 7 & 8: Unit Discs
Disc 9: Making-of and bonus footage
Disc 10: AKB48 Documentary
You can buy the DVD via FromJapan and get it shipped right to your doorstep!