Get 500 points you can use anywhere on FROM JAPAN for you and a friend!
How does it work?
If your friends sign up with FROM JAPAN and make a purchase, both you and your friends will be awarded 500 points each!
Plus, you can introduce more than one friend to FROM JAPAN and you'll get points each time! The more friends you introduce, the more points you can earn!
For example, if you introduce 5 friends who all make a purchase, your points total will be 500 x 5 = 2,500 points!
Refer your friends to FROM JAPAN using our links below!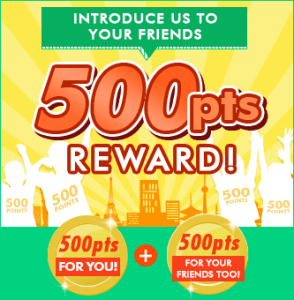 How to Refer a Friend
Step 1: Login to your FROM JAPAN account, then share your referral link via social media or email!
You can find your referral link from this page. Make sure you are logged in before accessing this link.
We've highlighted where you can find the URL on the Refer a Friend page in the image below. Simply send this link to your friend via e-mail or Social Media.
**Note: This link is unique to you so make sure to send your friends the correct link so that your referrals will be properly connected to your account.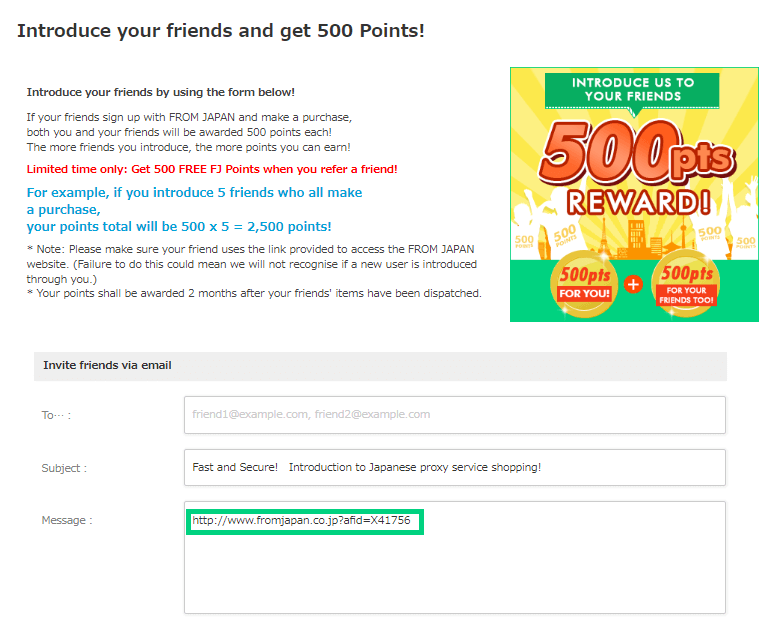 Step 2: Your friend signs up to FROM JAPAN.
You can also introduce more than one friend and you'll get an additional 500 points each time!
Step 3: Your friend makes a purchase on FROM JAPAN.
Step 4: Both you and your friend get 500 FJ Points!
And that's it! You have 500 points usable on any item on FROM JAPAN for you and your friend heading your way. (Please take note of the conditions below).
Please note
Please make sure your friend uses your referral link to access the FROM JAPAN website. (Failure to do this could mean we will not recognise if a new user is introduced through you.)
Your points shall be awarded 2 months after your friends' items have been dispatched.
What are FJ Points?
1 FJ Point is equivalent to 1 Japanese Yen, and can be used on our site as a form of payment.
Points may be added to your account due to campaigns or friend introductions.
You can find more information about FJ Points here under the Payment section.