Having redefined the superhero and shonen genres, One-Punch Man was one of 2015's hottest anime releases. Despite his supposedly "dull" and "forgettable" appearance, Saitama has managed to win the cheers of otaku around the world with his god-tier powers and trusty sidekick, Genos.
Fortunately, fans don't have to wait until the next anime season or OVA to get re-supercharged on One-Punch Man. In addition to the upcoming Nendroid figure of Saitama, there's a league of S-ranked One-Punch Man merchandise currently available. From One-Punch Man cosplay to iPhone cases, keychains and even an alarm clock, let's look at some knock-out One-Punch Man merch that any die-hard fan would fight to own!
One-Punch Man Framed Figures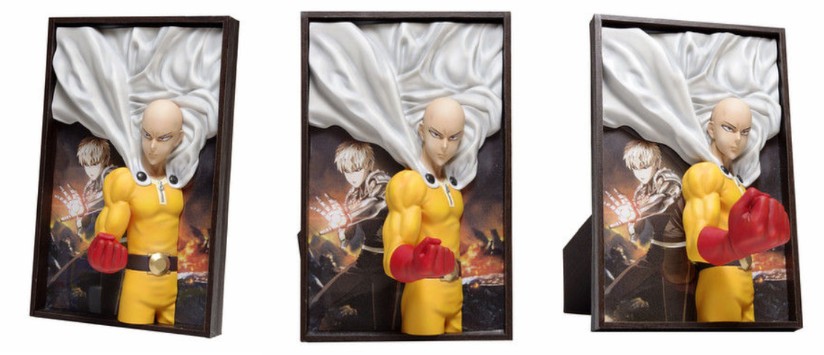 There aren't many anime figures of Saitama, Genos, and their superhero cohorts (yet!), but this One-Punch Man framed figure by Wave is currently one of the most unique collector's pieces of One-Punch Man merchandise available. Based on the original promotional artwork for the anime, Saitama extends from the frame as though prepared to one-punch his way into your home. Ideal for figure and artwork connoisseurs alike, this one-of-a-kind collector's piece can be displayed via a stand or hung on a wall like a picture frame.
One-Punch Man Soundtrack
One-Punch Man Rock out to the official soundtrack and relive your favorite One-Punch Man moments anytime, anywhere. Packed with 46 tracks, including the memorial OP song "The Hero!!" by JAM Project, character themes, and emotional scores; the official One-Punch Man soundtrack is an inclusive, all-in-one album covering every epic minute of the anime. It's the perfect jam to accompany your intense, Saitama-inspired workout routines.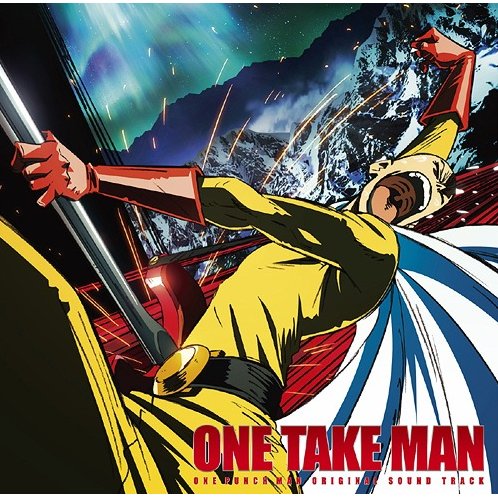 One-Punch Man iPhone 6 Cases
If there's one person who can protect your iPhone from bumps, scrapes, and falls, it's the invincible Saitama. Whether blissfully dull or determined, the one-punch superhero is destined to make your iPhone outrank the competition. These One-Punch Man iPhone cases come in soft silicone wraps and wallet-styled snaps.
One-Punch Man Keychains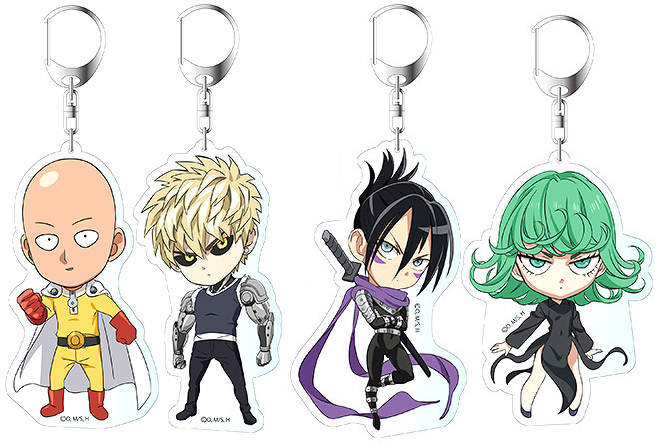 You know you want one—on your keyring, on your backpack, or on your belt-loop. Take your favorite superheroes on all your adventures like chibi-sized sidekicks. This set of four includes the student-sensei team: Saitama and Genos; rogue ninja, Speed-o'-Sound Sonic; and the top-ranking psychic, Tatsumaki. Choose your One-Punch Man keychains sidekick wisely. Remember, not all superheroes play well with others! You might have to separate Saitama and Sonic…
One-Punch Man Pens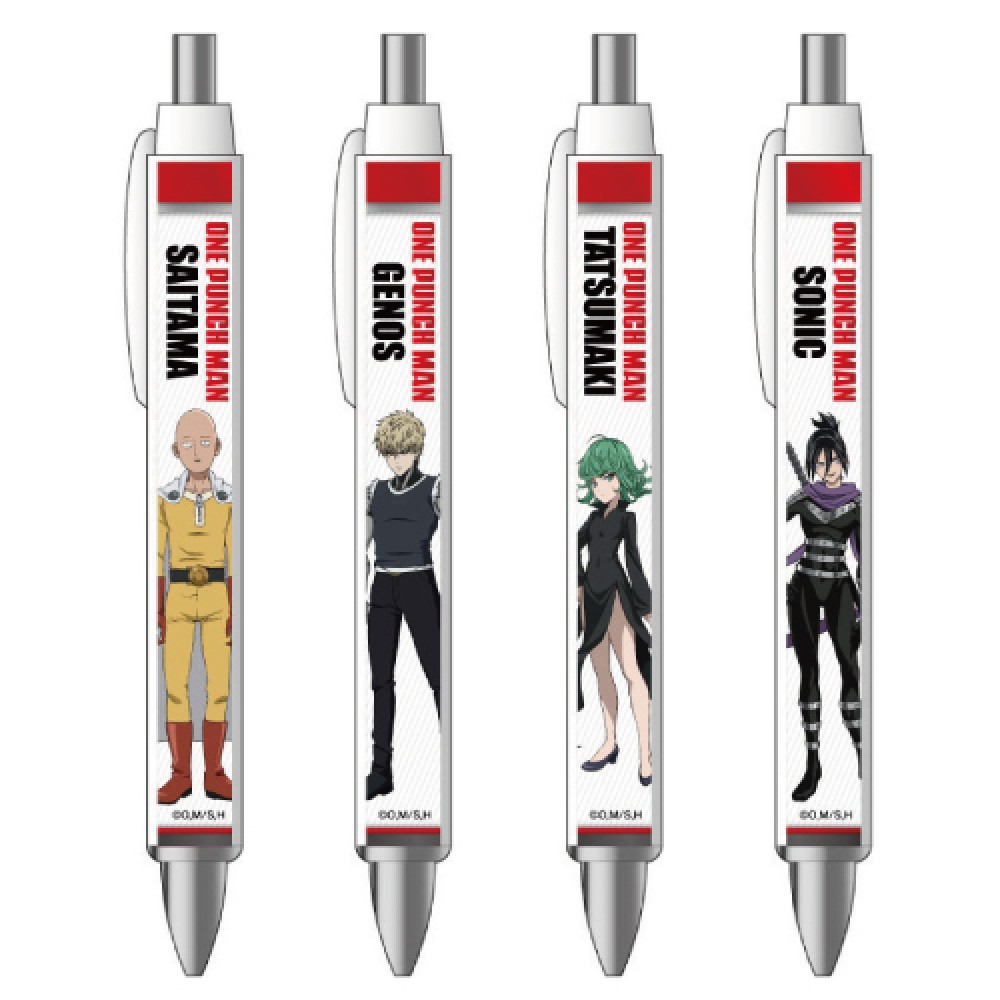 Genos always keeps a good pen and notebook handy for jotting down observations and wise words from his idol, Saitama. Whether you're taking notes in class or working on a haiku or fanfic, these One-Punch Man pens will ensure you always have a superhero on hand to commit your heroic thoughts to paper. Choose from among one of four fan-favorite characters, depending on your personality, mood, and style!
One-Punch Man Cosplay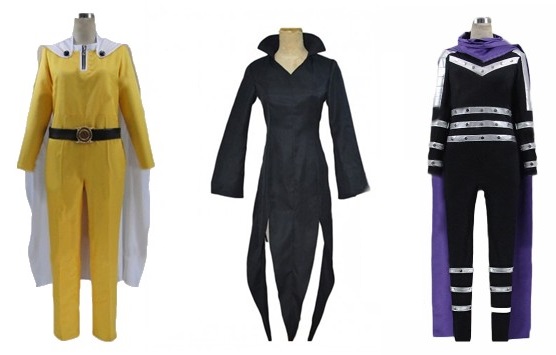 There's sure to be a league of One-Punch Man cosplayers at your favorite Con this year. Join in the roleplays, photoshoots, and fandom fun with a One-Punch Man cosplay of your own! If you're not skilled with a sewing machine or are running short on preparation time, there are several quality costumes pre-made for your perusal and purchase—from Saitama to Sonic.
One-Punch Man Tee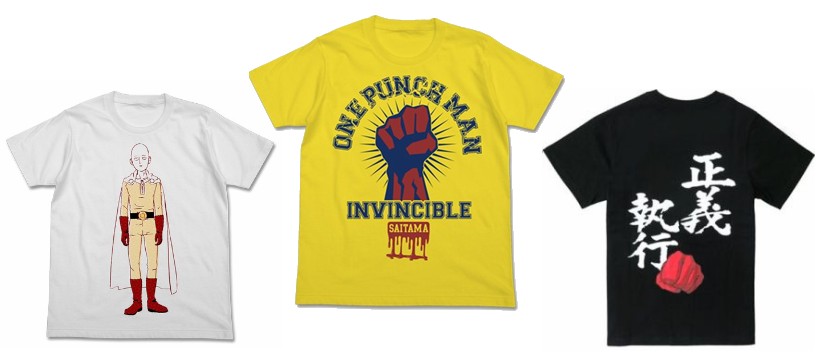 Move over MARVEL and DC! If you're on Team Saitama, then wearing a One-Punch Man Tee is the perfect way to show it. Whether you're hanging around at a Con or being studious at college, you'll always have a reminder of your favorite anime series with you. Besides, T-shirts are a great way to meet other fans of One-Punch Man without having to ask them directly! Just wait and see who compliments your shirt and you'll have made an instant otaku friend.
One-Punch Man Cups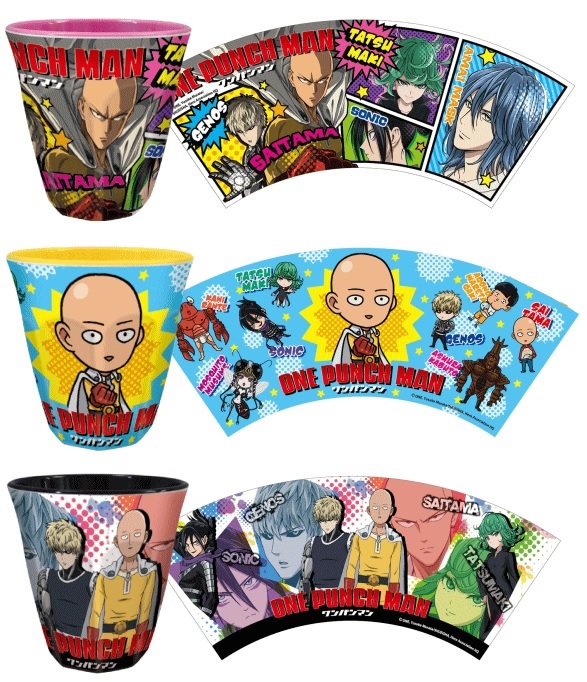 Saitama loves a good beverage alongside his oden and udon noodles, and with his bald mug on your… er… mug, you can supercharge your favorite drinks with one-punch power. This set of three One-Punch Man Cups is perfect for sharing among friends, so be sure to invite them over for a satisfying drink and maybe even a bowl of udon, too!
One-Punch Man Alarm Clock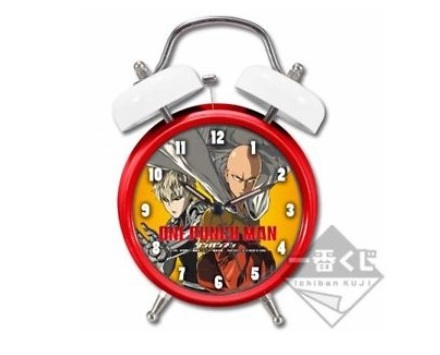 Saitama may live in a small rental apartment, but his trusty alarm clock is one item he can't survive without—we even see it at the end of every episode! Now, you can wake up feeling like a hero—and ready for intense training—with an old-fashioned One-Punch Man alarm clock to ring in each new day with a bang.

One-Punch Man Paper Clips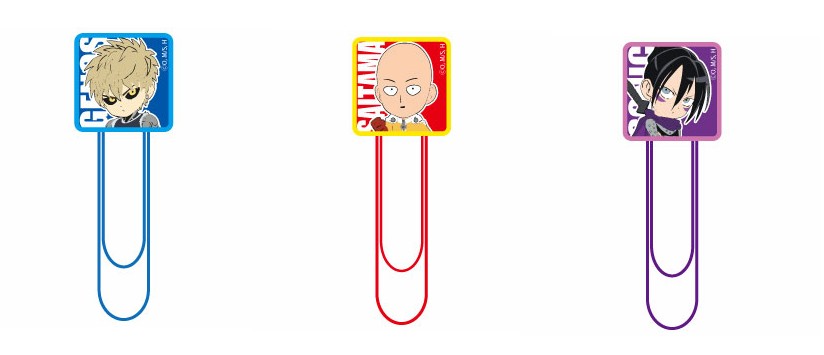 One-Punch Man merchandise is so diverse that you can replace even the most practical and mundane household items with a likeness of Saitama, Genos, or Sonic. These One-Punch Man paperclips may be small, but they're strong enough to hold your most important documents together, save your place in that amazing manga you've been reading, or even hitchhike on your belt loop or backpack. Each clip features a different chibi-fied superhero—or villain, in Sonic's case.
Where to Buy One-Punch Man Merchandise
Just as Saitama always expects to get a great deal from his local supermarket, you can expect to get great deals on a variety of rare One-Punch Man merchandise and figures at FROMJAPAN—the proxy and auction service that delivers all the way from Japan, straight to your doorstep. The stupendous popularity of this anime means that One-Punch Man merchandise is selling out as fast as Sonic's speed, so be sure to order and pre-order your favorite collectibles before your competitors KO them all!