Despite ending its serialization in 1995, Dragon Ball continues to hold the #2 spot in best-selling manga… almost twenty years after its completion.
Carrying on the franchise's legacy are its many anime adaptations—Dragon Ball, Dragon Ball Z, Dragon Ball GT, and Dragon Ball Kai—along with a variety of action figures that have continued to be released throughout the series' span.
With literally hundreds of Dragon Ball figurines on the market, let's take a look at some of the most rare, limited, and expensive ones available that are most worthy of a true collector's cabinet.
#8 Mekke Dragon Ball Selection Volume 5 Diorama – Super Saiyan Goku and Porunga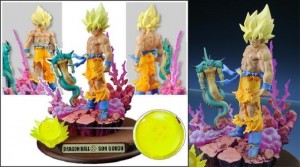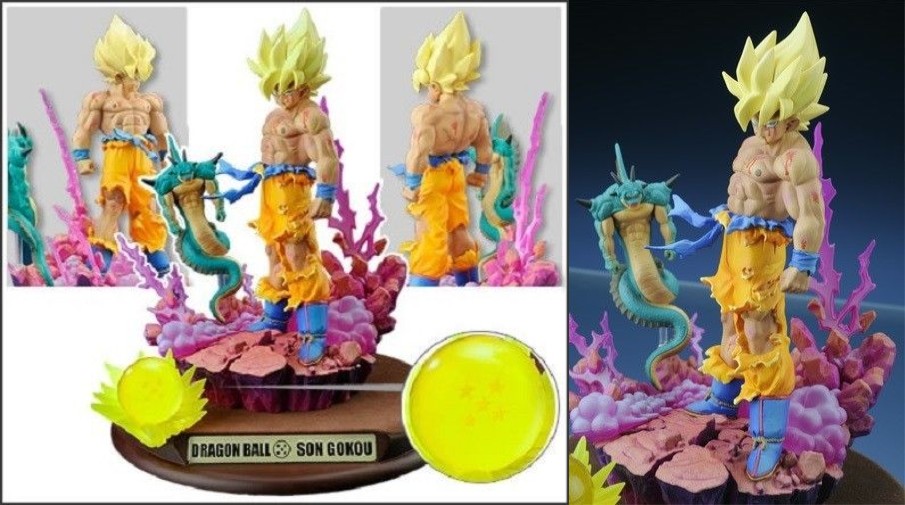 Depicting battle-damaged Goku in his Super Saiyan form, along with the dragon Porunga, this limited edition statue is 5th in a series of dioramas produced by Mekke. The bright orange colors of the five-star Dragon Ball and Goku's Super Saiyan form contrast beautifully with the deep purples of the cracked base and spewing fumes. A plate on the front of the base reads "Dragon Ball Son Gokou," giving this diorama an exclusive collector's flair. The piece's rarity demands an equally high price, with some sellers asking as much as $1,400.00 for it.
#7 ZEEM Diorama Model – Great Ape Vegeta and Yajirobe Tail Cut Version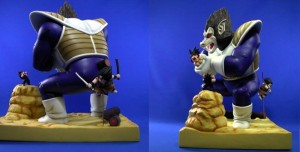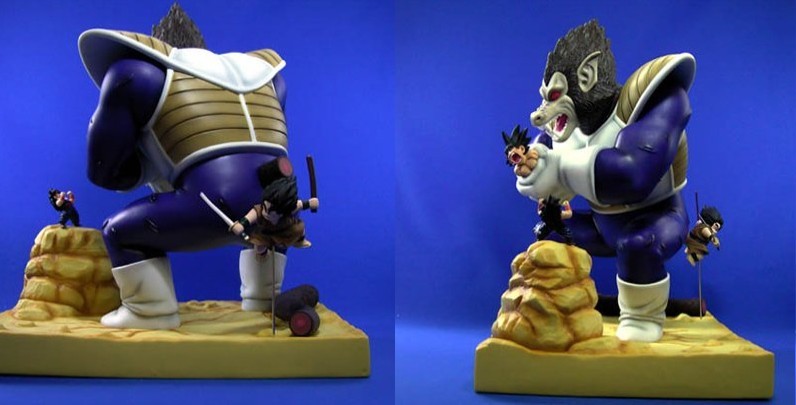 Released as an exclusive at the Japan Super Festival and Hobby Con in 2009, this dramatic diorama captures the moment that Yajirobe slices off Vegeta's tail in mid-air. The statue features Great Ape Vegeta, Goku, Gohan, and Yajirobe, and stands twelve inches tall. At only 300 pieces world-wide, however, it's a rare item that can sell for as much as $900.
#6 Banpresto Ichiban Kuji – Shenron Gold and Silver Version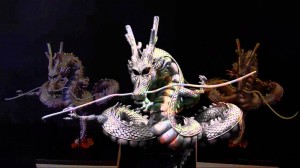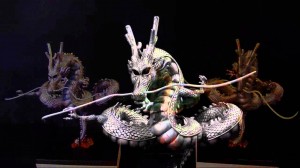 No collection of Dragon Ball figurines can be complete without the "Eternal Dragon" Shenron the Dragon God. These gold and silver Shenron statues by Banpresto were released in limited quantities of one hundred each; in addition, they could only be won through the Ichiban Kuji—a lottery for special edition figures from Banpresto. At twelve inches tall, Shenron is portrayed soaring majestically above the Dragon Balls. While the regular version is more affordable, the gold and silver Shenron collectables by Banpresto are much more highly prized (and priced) at $400-$600.
#5 Banpresto Tokyo Toy Festival – King Cold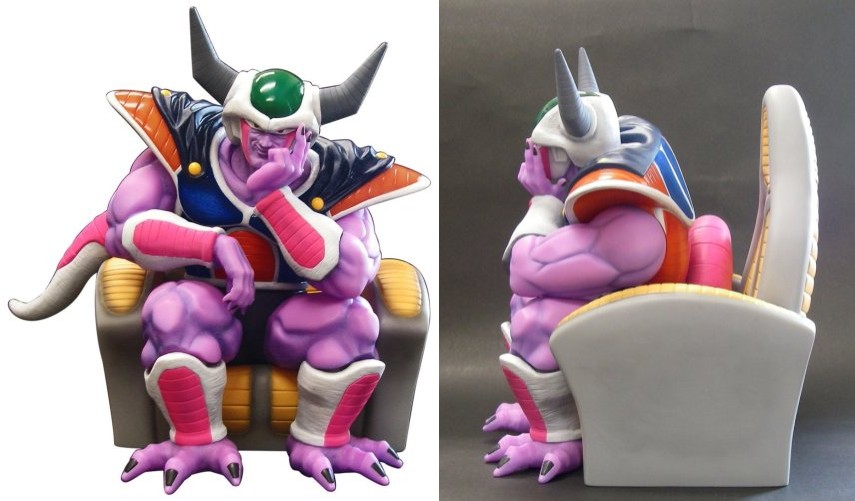 Limited to only 500 pieces, and available only at the 2008 Tokyo Toy Festival, this statue of King Cold towers over other figures at thirteen inches tall. Cold can be displayed on or off of his throne and is sculpted from soft vinyl.
#4 ZEEM Diorama Model – Great Ape Vegeta and Goku: Genki Dama, Arlia, Black, and White Versions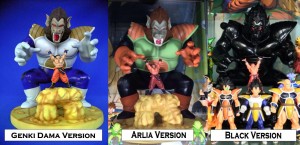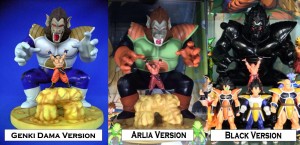 As one of the most limited pieces ever released for the Dragon Ball series, this diorama depicting Great Ape Vegeta and battle-worn Goku (in position to create the Spirit Bomb) is a must-have for collectors. The diorama was released in four different versions—the Genki Dama, or Spirit Bomb, version (the regular version distributed in mass quantities), the Arlia version (limited to fifty), the Black version (limited to twenty), and the white version (limited to ten). While the black and white versions are the most rare of the four, the Arlia version is also considerably difficult to find (and pricy, too).
#3 Banpresto Ichiban Kuji – Angel Goku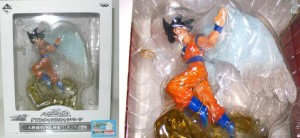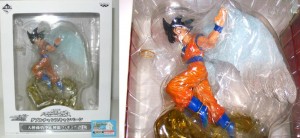 Based on the cover art for the Dragon Ball manga chapter "Finale," this figurine is a must-own for both serious collectors and fans of Akira Toriyama's original artwork. Limited to 100 pieces, and given away (like the Shenron statue) only to those who entered the Ichiban Kuji monthly lottery, this unique statue portrays Goku with angel wings and a halo, soaring above the dragon Shenron.
#2 Bandai Super Battle Collection 3-Pack – Super Saiyan Goku, Vegeta, and Trunks


Originally released in 1992 to commemorate the advent of the 7th Dragon Ball movie, this 3-pack is one of the most popular Bandai items among serious collectors. Not only does the set contain all three characters in their Super Saiyan forms, but it also contains the only figurine replication of Super Saiyan Trunks wearing his Capsule Corp. jacket. This 3-pack is a Summer Toei Animation Fair limited version and can sell for up to $1,200 in mint condition.
#1 Bandai Full Action Pose – Goku Yardrat Variant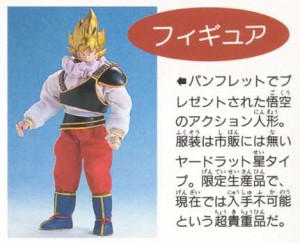 Considered the rarest of all Dragon Ball figures, the Goku Yardrat Variant Full Action Pose figure by Bandai is a legendary collector's item. The figure was given out to attendants at one of the Dragon Ball films at a select theater in Japan. As a result, only an unknown, limited number exist in the world—none of which have ever been photographed and circulated online. If not for a scan and article from the Daizenshuu, a book published by Toei Animation, which discussed the figure's rarity, many would consider this figure a mere myth. Even today, some doubt the distributed existence of the Goku Yardrat figure, while others believe all distributions of it were destroyed. Whatever the truth, the Goku Yardrat Full Action Pose figure is considered the rarest Dragon Ball figure of all time and the ultimate prize that any fan could own.
8 of the Rarest Dragon Ball Figures of All Time
Whether you're a fan of classic Dragon Ball, or a newcomer who's jumped on board with Dragon Ball Kai, it's never too late to begin seeking out and collecting the rarest Dragon Ball figurines to add to your collection. While these figurines represent the most expensive and limited ones available, an assortment of other, more affordable merchandise exists for your purchasing pleasure. However, if rare pieces are your goal, be sure to save up your Zeni and purchase these exclusive items online. While you're browsing the web for select figurines, don't forget to check out the FROM JAPAN store and its variety of Dragon Ball merchandise and action figures.