G-Shock watches are perfect for rough-and-tumble play and activity-filled days. They're scratch resistant, water resistant, and shock resistant—in other words: childproof. Combine this rugged functionality with a wide range of fun and colorful designs that match your kid's budding fashion sense and you can see why there's no better brand to consider than Casio's G-Shock. Since not all models are suitable for smaller wrists, we've put together this list of 10 G-Shock watches for kids that will keep your child coming home for dinner on time for years to come.
Kids G-Shock S Series Watches
The G-Shock S Series was designed with the needs of the fairer sex in mind; and as such, the watches are smaller than many of G-Shock's standard models, making them quite suitable for a child's wrist, too.
G-Shock S Series GMA-S120MF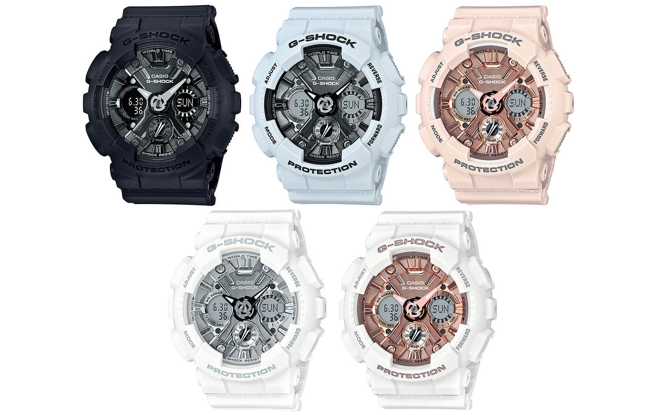 Dimensions: 49.0 x 45.9 x 15.8 mm / 55 g
With its metallic dial and neutral color palette, the G-Shock GMA-S120MF can easily coordinate with anything in your kid's wardrobe, from "Sunday best" to summer swimwear. And be sure to leave any worries at the poolside. This model features a 200-meter depth rating, so there's no need to worry about your kid breaking the watch even when doing a cannonball into the deep end. Another useful feature is the watch's five customizable alarms, which can be easily inputted to keep your ever-wandering youth on schedule.
G-Shock S Series GMDS6900SM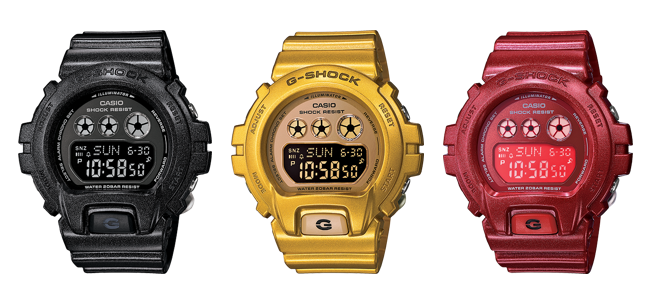 Dimensions: 48.8 x 46.0 x 12.7 mm / 48 g
Available in classic black, gold, and burgundy colors, the G-Shock GMDS6900SM is equipped with advanced precision technology that includes world times for 48 international cities, perfect for kids who regularly travel across time zones, and a backlight with afterglow, which means your child will never have an excuse for breaking curfew ever again. The watch also features a 1/100th stopwatch, three multi-function alarms, and a 200-meter depth rating.
G-Shock S Series GMDS6900CF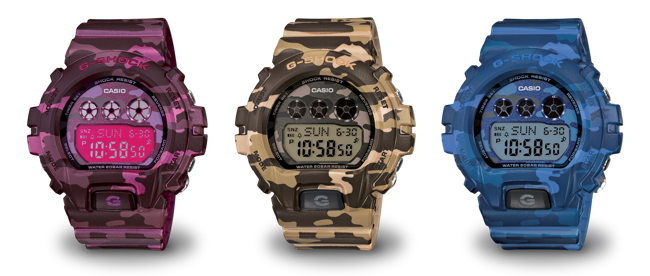 Dimensions: 48.8 x 46.0 x 12.7 mm / 48 g
If the black, gold, and burgundy color selection of the GMDS6900SM model is a little too "boring" for your child's budding fashion sense, the camouflage pattern of the G-Shock GMDS6900CF—available in playful pink, woodland green, and cool blue—is colorful enough to make your little outdoor adventurer stand out from the rest of the kids while still offering all of the cool G-Shock tech available in the solid color model.
Kids G-Shock Mini Watches
G-Shock Mini watches are essentially classic G-Shock models that have been reduced in size by 30 percent while keeping all of the original model's features. Because the Mini Series was the forerunner of the current S Series, the models below have been discontinued. But don't worry; you can still find them available online through e-commerce and auction sites.
G-Shock Mini GMN-550-1CJR & GMN-550-1BJR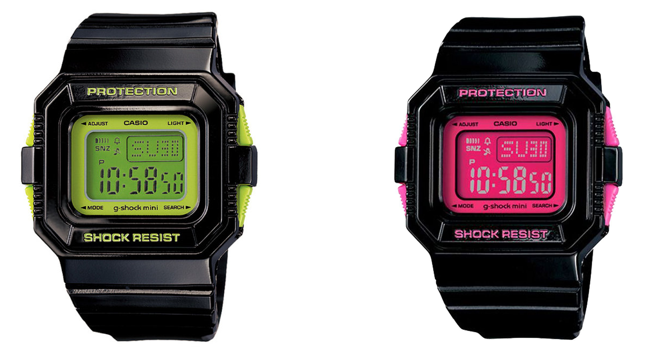 Dimensions: 43.1 x 41.6 x 12.9 mm / 41 g
Casio's design team deserves kudos for combining vibrant neon colors with one of their brand's most beloved timepieces (the DW-550) to create the G-Shock GMN-550 model—a simple, durable watch that's not only fun for kids but also satisfies any parent's penchant for '80s nostalgia. Within its retro square casing is an uncomplicated digital display as well as essential G-Shock features like a timer and stopwatch. And with a 10 ATM water rating (the equivalent of about a 100-meter depth), the GMN-550 can handle nearly any childhood activity that comes its way.
G-Shock Mini GMN-691-7BJF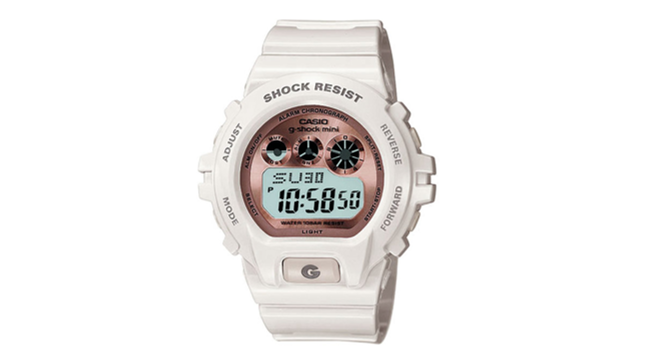 Dimensions: 44.3 x 42.0 x 14.4 mm / 39 g
It's likely your pop culture-loving kid has seen one of his or her favorite celebrities rocking a G-Shock at some point. This GMN-691-7BJF took the spotlight in 2010 when popstar Rihanna wore it in her "Rude Boy" music video—and for good reason. Its sleek pink metallic dial and striking white band and casing make a statement that fashion needn't be upstaged by functionality. Of course, you get both with this G-Shock Mini, including the LED backlight with afterglow, perfect for optimal visibility in all lighting conditions—from movie theaters to teen idol concerts.
Kids Baby-G Watches
Baby-G, a sister brand of G-Shock, offers the same shock resistant and water resistant features as its "big brother" but in a much smaller size.
Baby-G BGA-240L
Dimensions: 46.4 x 42.6 x 15.3 mm / 41 g
The bright two-tone color options of the Baby-G BGA-240L offer a simple, yet eye-catching design that's fit for fashion-forward adults and free-spirited kids alike. The bi-color markings feature prominently on all parts of the watch from the band and buttons to the analog hands; and as one of only three watches on our list featuring both analog and digital displays, it's a great choice for kids who are learning how to tell time.
Baby-G BGD-500 20th Anniversary Series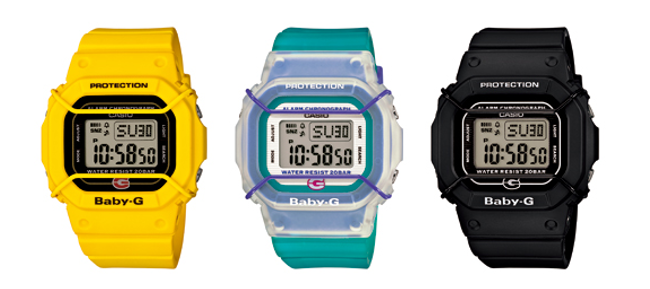 Dimensions: 44.7 x 40.0 x 12.5 mm / 44 g
Available in three colors—striking yellow, turquoise blue, and classic black—the Baby-G BDG-500 was released in 2014 to commemorate the 20th anniversary of the first Baby-G. Its casing and wire protector are modeled after the DW-520, and just like the G-Shock Mini GMN-550 (the retro pink and green model shown above), this square watch offers a different shape of Baby-G than the popular circular design the brand is known for today.
Also, it's important to note that G-Shock has a dedicated community of collectors, so this anniversary model is often found at a much higher price point than many other watches included on this list. However, limited edition G-Shocks often keep their value over time, so you could also think of this watch as an investment in your child's future.
Other Kid-friendly G-Shocks
Not all of G-Shock's standard adult models are too large for your kid's wrist. Here are three budget-friendly picks that are suitable for preteens on up.
G-Shock DW9052-1V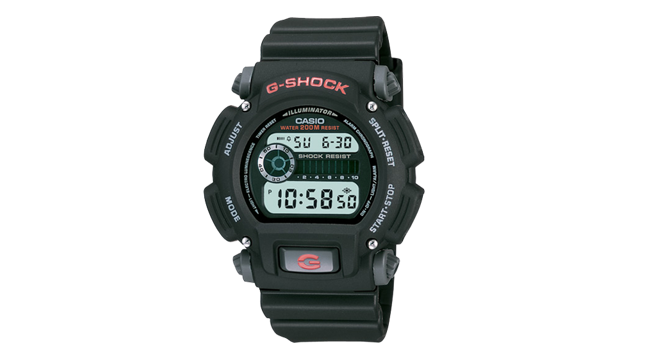 Dimensions: 48.5 x 43.0 x 14.7 mm / 59 g
The G-Shock DW9052-1V is one of the most affordable G-Shocks on the market; and while its price may surprise you, what's more shocking is that it still includes all of the bells and whistles of its more expensive counterparts, including a 24-hour stopwatch, countdown timer, daily alarm, and EL backlight, as well as a 200-meter depth rating and G-Shock's famous shock resistance. Throw in a sporty black resin band and your kid will finally have a watch that can keep up with his or her active lifestyle.
G-Shock G100-1BV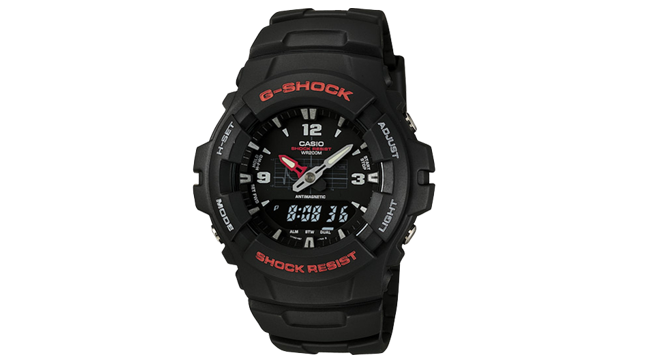 Dimensions: 49.6 x 47.8 x 15.7 mm / 59 g
If your preteen only needs one watch, make it the G-Shock G100-1BV. This everyday model features a classic utilitarian design that fits well with any occasion or apparel, from casual to formal. Among its many features are both analog and digital displays, shock resistance, a 200-meter depth rating, an EL backlight, and magnetic resistance, which prevents magnetic fields from interfering with the gear mechanism that controls the watch's hour and minute hands.
G-Shock G-2900F-1V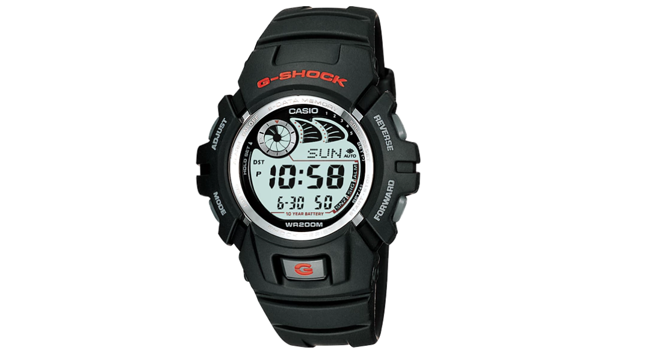 Dimensions: 52.4 x 45.9 x 16.5 mm / 58 g
The G-Shock G-2900F-1V is the largest model of those featured on our list, but the upside to this slightly bulkier size is the watch's 10-year estimated battery life. Not only will this watch see your kid through every school exam, sports event, and field trip, but it will keep him or her on time well into college! It boasts all of the classic G-Shock features, as well as the popular passcode-protected E-data memory feature for storing up to 40 essential pieces of data (e.g., email addresses, phone numbers, credit card numbers, etc.), an auto-calendar available through the year 2039, and other handy functions for daily life, school, and play.
The Best Place to Buy G-Shock Watches for Kids? Japan!
Whether your kid is made of "snakes & snails" or "sugar & spice," G-Shock has a wide range of models that can comfortably fit his or her small wrist. Add in G-Shock's unmatched durability and classic designs that wear well even into adulthood, and there really is no reason to consider any other brand.
If you're looking to buy a G-Shock watch for your kid, we suggest going directly to the source—Japan! By using a shopping and proxy service like FROM JAPAN, you can search thousands of popular G-Shock listings from Japan's biggest online shops and have your order shipped direct to your door. Simply click the blue "FROM JAPAN" buttons above for any of the watches featured on our list or paste in the G-Shock model number in the search field FROM JAPAN. And while you're at it, be sure to pick up a G-Shock watch for yourself by looking through our list of popular G-Shock models.