Guide to OffMall by HardOff
If you're a fan of secondhand fashion or getting luxury fashion for a fraction of the cost, then Japan can be a great source for that. Secondhand stores in Japan are known for being upfront with the quality of their items, because for them, credibility and trust from their customers is everything.
One of the biggest and most popular chains of secondhand stores in Japan is called HardOff. And although it might have an unusual name, these stores can be found everywhere in Japan which goes to show how established they are. Their online store is called OffMall, and they not only deal with fashion, but also a wide variety of items such as cameras and other electronics, instruments, and games.
Today, we'll be focusing on the fashion category for OffMall, which you can learn more about by reading on!
Categories of secondhand fashion items on OffMall
Fashion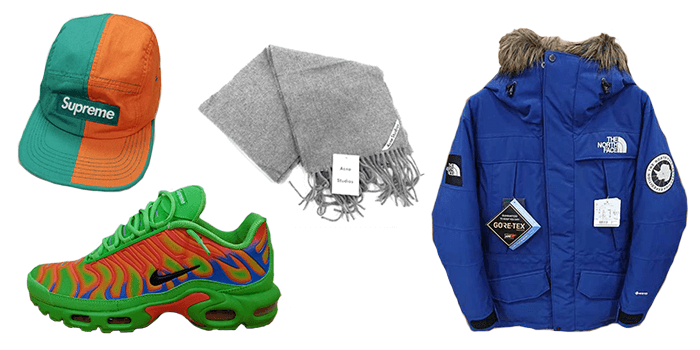 For this category, we're talking about general fashion items that can include everything from scarves and hats to shoes, tops, pants, and jackets. The good thing about OffMall is that since it's a Japanese secondhand store, they carry not only popular brands from around the world like Nike and Supreme, but they also have items from Japanese brands like Visvim and Comme Des Garcons.
You can see a few examples of what you'll find on OffMall through the image we included above, which are from actual listings from the site.
Brand Bags/Wallets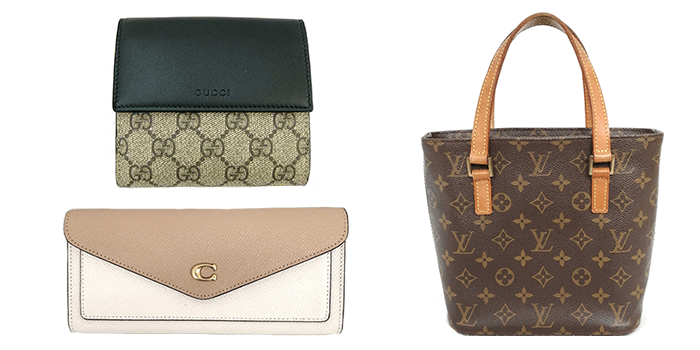 Of course, one of the most sought after items in any secondhand store are the luxury bags and wallets. OffMall has as many brands as you could think of, including items from the top brands in the luxury fashion industry like Louis Vuitton and Gucci.
As you can see from the images we included from OffMall listings, hey also have all shapes and sizes, from small coin purses to big luxury travel bags. It's also an added advantage that they also have multiple clear images of the product on their listings, including photos of the inside of the product, so it's easy to tell what you're going to get.
Watches & Jewelry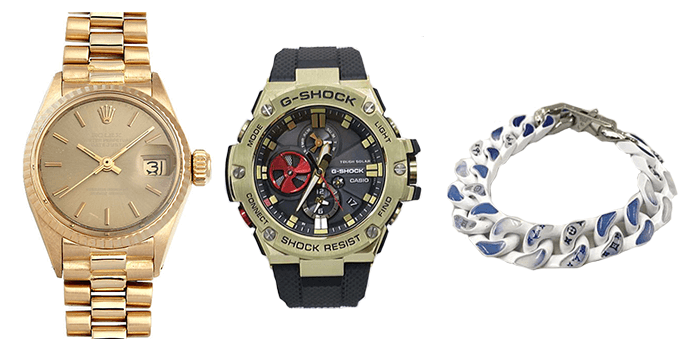 Last but not the least, we have the watches and jewelry category. Similar to the brand bags and wallets category, you can find a wide variety of brands listed here, including the most popular high end brands such as Rolex.
How to purchase OffMall's secondhand items from anywhere in the world using FROM JAPAN
Step 1. Browse OffMall's online store to find the secondhand item you want.
As we mentioned earlier, there are three main categories for OffMall's fashion section. You can start by searching for a specific brand through the OffMall website, or you can also head straight to the category pages if you don't have a brand in mind: Fashion, Brand Bags & Wallets, Watches & Jewelry
Guide to OffMall's Item Quality Rank
Once you start browsing, you're going to encounter symbols of letters inside different colored boxes, like the ones next to the price in the image we included below.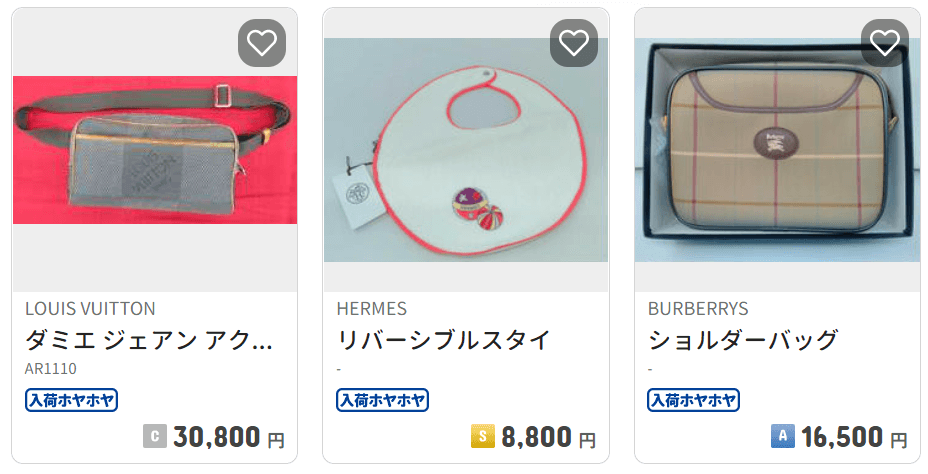 These symbols indicate the quality of the item as judged by the staff who specialize in scrutinizing all of the items that go through their stores. We've included a quick guide below to what each of the letters mean. In addition, OffMall is also good with including detailed photos showing various angles of the item, so you can judge the item condition that way too.
N – the highest quality of item. For brand new or unopened items.
S – opened but same quality as a brand new item.
A – great quality item with a few signs of use.
B – good quality item with some scratches and signs of daily use
C – many scratches or stains with signs of wear and tear
D – used for many years with lots of damage
When searching for a specific brand, you can also filter the results based on the quality. On the left-hand side of the site, if you scroll down you will see 商品ランク with a small arrow. Clicking on the arrow will take you to the item filters, and you can check the symbol for the item quality that you want to find.
In some rare cases, they might not be able to determine the brand of a certain product but will still list it on their site. So instead of seeing the brand name, you will see 不明 (Unidentified) written on the page.
Step 2. Check the item's details.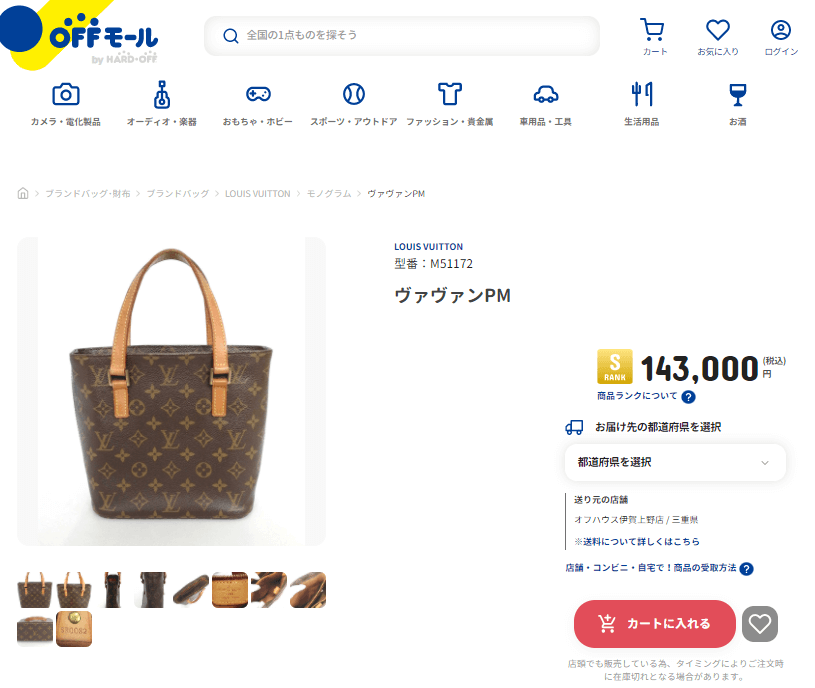 For this example, we'll use this lovely S-Rank Louis Vuitton bag. Aside from the price (which you will see in Japanese yen on the right hand side), you can also take a look at the item details if you scroll down to the 商品詳細 ("Product Details") portion. Feel free to use an automatic translation website or app to translate the details written here into English. You can see the size listed in centimeters, and at the bottom, there will often be notes written by the OffMall staff about the item's condition.
Once you're happy with what you see, we can move on to the next step.
Step 3. Create an account with FROM JAPAN and then copy and paste the URL of the item page into FROM JAPAN's search bar.

Since OffMall doesn't ship overseas, if you've found an item you like, you will need to use a proxy shopping service that will get your item to you. FROM JAPAN does just that — we're trusted by thousands of customers and have years of experience in the business. We also have unique perks like free storage of items for up to 45 days (useful when you want to order multiple items!) and regular discounts and campaigns.
If you want to use our service to purchase items from OffMall, all you have to do is copy-and-paste into our search bar the URL for the product page of the item you want to get, as we've demonstrated in the image above. Lastly, if you didn't find the item you were looking for through OffMall, we also have the FJ Fashion section of our site which you can use to look through more items from a wide variety of brands.
Step 4. Hit search and complete the order form.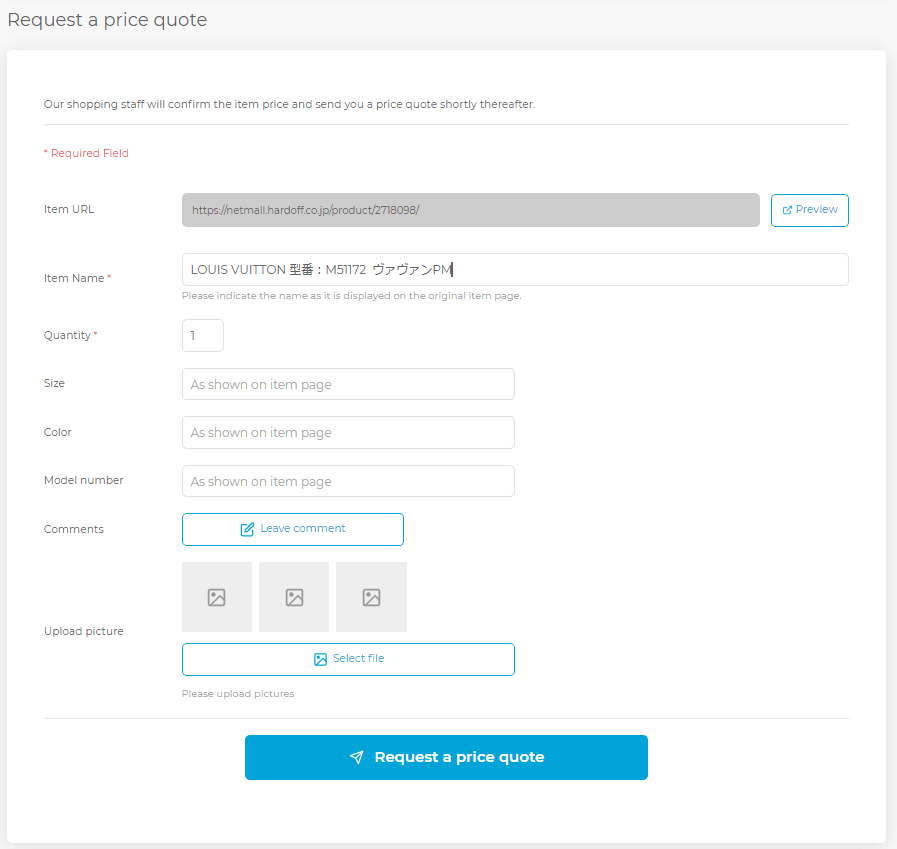 Clicking on the search button will take you to our price quote request form where you will have to fill in the details of your order. We've attached an example of a completed form above. Make sure to copy and paste the Japanese version of the item name listed on OffMall's site.
Step 5. Products arrive at our distribution center, ready for shipment instructions
When your items have arrived at our distribution center, you will be asked by our Customer Service team to provide shipment instructions on how you want to receive your items.
Step 6. Pay for Charge 2.
After receiving your shipment instructions, we will send the Charge 2 invoice which includes the cost of domestic and international shipping, as well as our Product Protection Plan, which serves as insurance for added safety to your items.
Step 6. Shipping.
Once you pay for Charge 2, we dispatch your item within two business days. This excludes holidays and peak seasons.
Step 7. Arrival of your orders.
And just like that, you've successfully scored some secondhand fashion items from Japan. We hope you enjoyed your shopping with us!
If you're interested in more secondhand shopping in Japan, then check out our rundown of the best places to buy pre-loved fashion in Japan and our step-by-step guide for how to buy from 2nd Street!