All information is accurate as of time of publication.
What is Komehyo?
Komehyo is one of Japan's best-known and most trusted retailers of secondhand luxury goods. The retailer was founded 40 years ago in Nagoya and now has over 50 shops across Japan dealing in all manner of secondhand luxury items – everything from Birkin bags to Rolex watches. Komehyo are famed for their excellent customer service and employ expert buyers to assure the authenticity of each and every item they purchase to be resold. Japanese consumers are known to take great care of their items, meaning that many secondhand items in Japan are in near-perfect condition.
Komehyo also has an online shop that is updated almost daily with new items – however it does not ship outside of Japan or accept non-Japanese payment methods.This is where you'll need the help of a proxy shopping service like FROM JAPAN in order to get your hands on some of Komehyo's secondhand luxury bargains. Read on and see how easy it is to buy from Komehyo with FROM JAPAN!
How to buy from Komehyo
Step 1. Go to Komehyo Online Store's official website.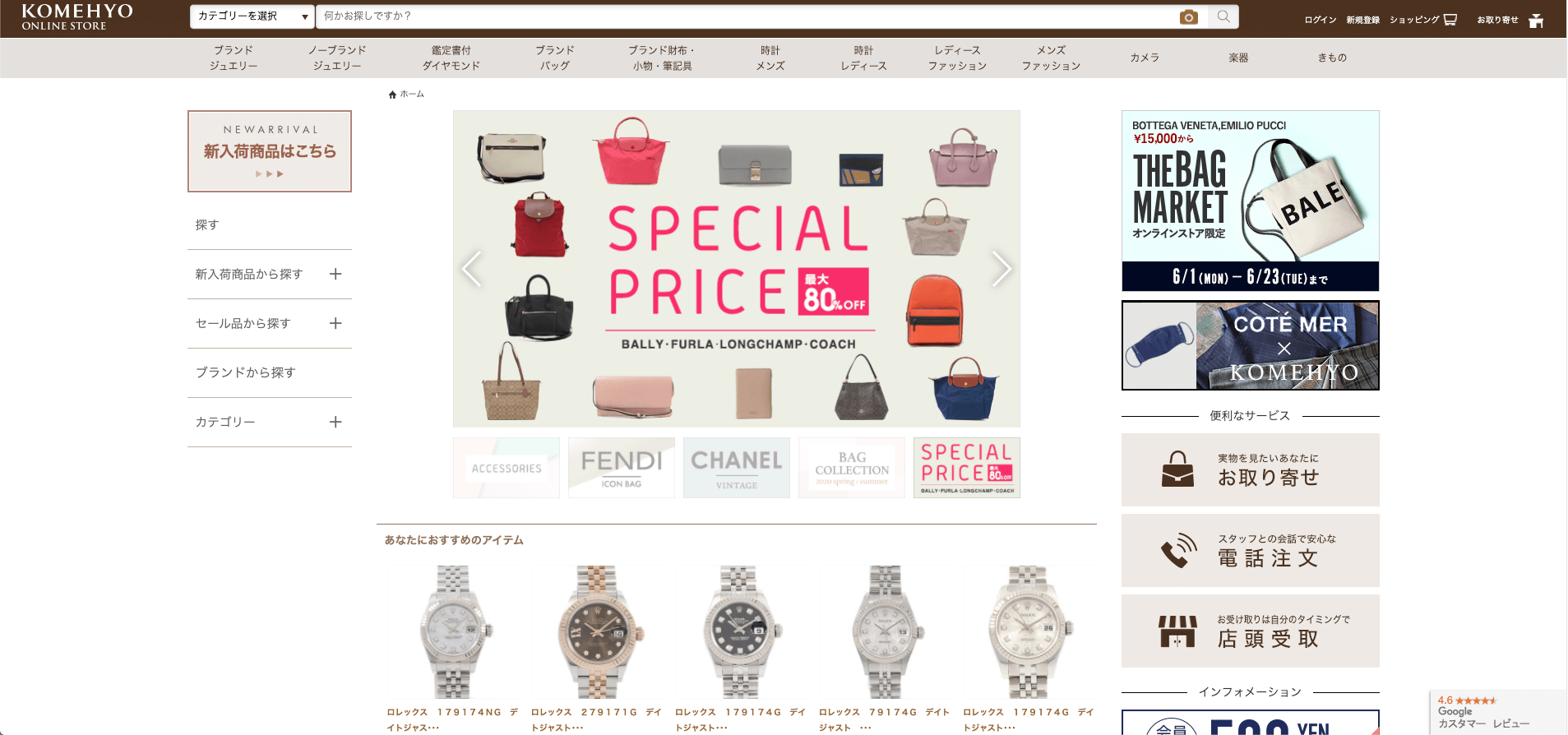 Once you reach Komehyo's official online store, you can get started on your luxury shopping!
You may have noticed that there's no option to change the language on Komehyo's site. You can run Komehyo through Google Translate in order to get a basic understanding of the site, but we recommend contacting our multilingual Customer Service team with questions about a particular item.
Step 2. Get searching!
There are several ways you can begin your search on Komehyo's online store. If you know the Japanese for a particular item or the product number, you can use the search bar at the top of the page. You can also search by uploading an image by clicking on the camera icon on the search bar.

Underneath you the search bar you can find a list of categories, which translate as follows:
ブランドジュエリー – Branded jewelry
ノンブランドジュエリー Non-branded jewelry
鑑定書付ダイヤモンド- Certified diamond jewelry
ブランドバッグ– Branded bags
ブランド財布・小物・筆記具 – Branded wallets, accessories and writing materials
時計メンズ – Men's watches
時計レディーズ – Women's watches
レディーズファッション – Women's fashion
メンズファッション – Men's fashion
カメラ – Cameras
楽器 – Musical instruments
きもの– Kimono
If you're still struggling to find the item you are looking for, then you can also contact our multilingual Customer Service team who can try to help you find it.
Step 3. Check the item details.
Before making your Komehyo order with FROM JAPAN, we strongly recommend that you check the item page to confirm the item details. This step is especially important in the case of Komehyo, as all their items are pre-owned.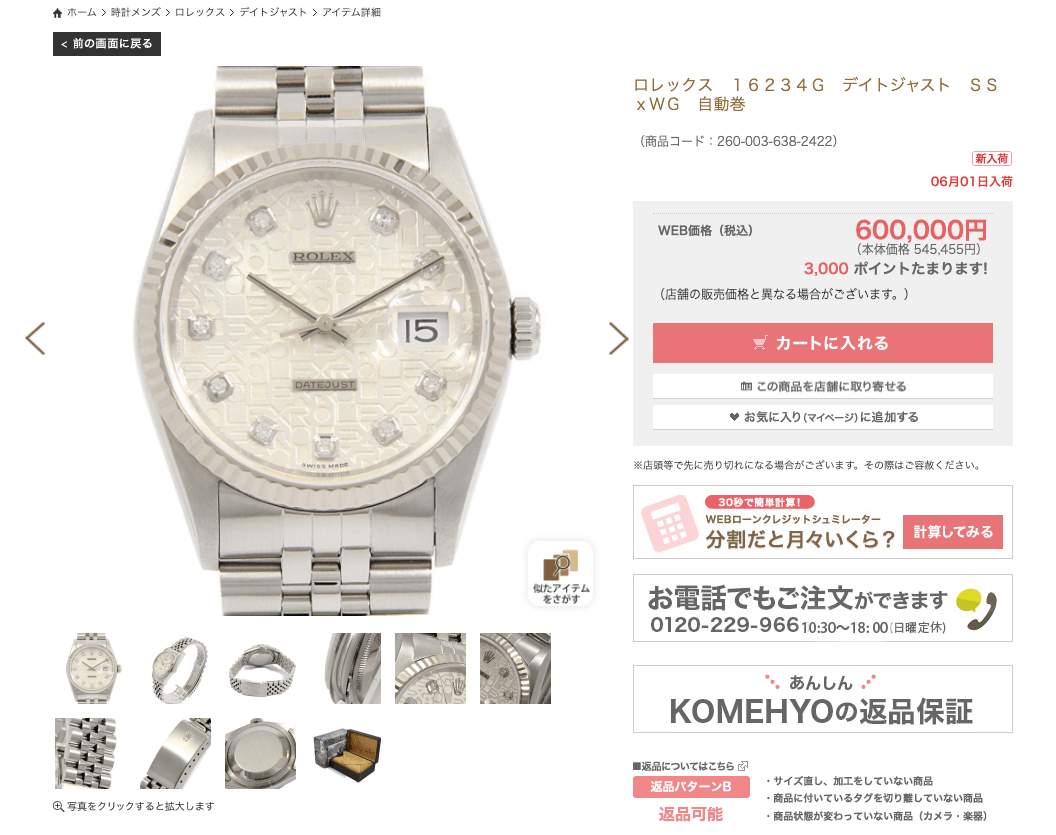 On the item page you can see the price of this item is 600,0000 yen (including tax). Komehyo uploads high-resolution photos of each item from a variety of angles, so you can see the details of the item clearly. By clicking on the icon in the corner of the photo, a list of similar products will be displayed at the bottom of the screen.
By scrolling down, you will be able to see further information about the item, as pictured below: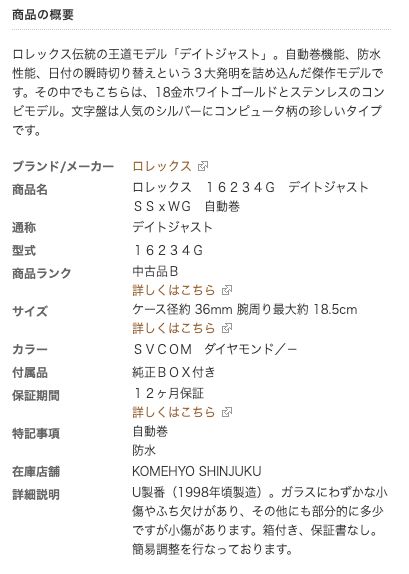 Here you can find details about the brand and manufacturer (ブランド・メーカー), the brand name (商品名), and other useful information. As Komehyo deals in pre-owned items, the listing will always describe the condition of the item. Komehyo uses a condition ranking system that goes as follows:
中古品A (Pre-owned A) – Excellent condition with little signs of wear.

中古品B (Pre-owned B) – Good condition with some signs of wear.

中古品C (Pre-owned C) – Fair condition with obvious signs of wear.
You can find more specific information pertaining to a certain item's condition next to the 詳細説明 (detailed explanation) heading.
If you have any questions about a certain item, don't hesitate to contact our Customer Service team.
Step 4. Create an account with FROM JAPAN and copy and paste the item page URL into FROM JAPAN's search bar.
Once you've checked all the item details, it's time to add it to your FROM JAPAN order! All you need to do is copy and paste the URL of the item page into FROM JAPAN's search bar like in the picture below:

Step 4. Hit search and complete the price quote request form.
After hitting enter, you will be taken to our price quote request form where you can fill out the details of your order. Here's an example of a completed form: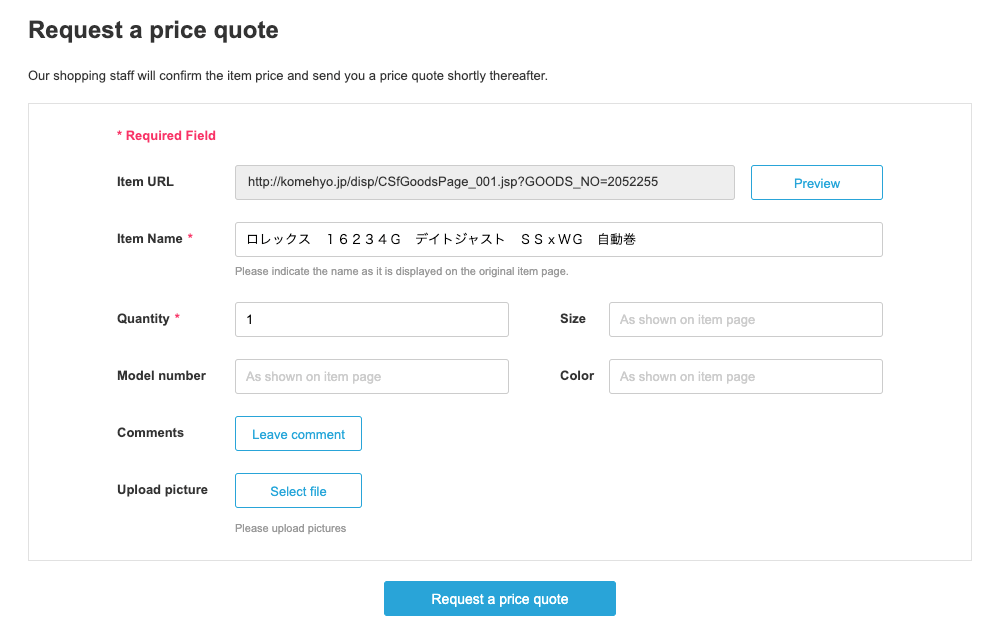 You should write the item name exactly as it appears on the site and provide the desired quantity of the item. Please note that as Komehyo deals with secondhand items, there is usually only one unit per item in stock at any given time. You can also leave us a comment with any extra information you would like us to know in the comment field. Don't forget to double-check all of the item details before sending it to us!
Once we've processed your price quote request, our Shopping Team will send an invoice for the cost of the item. If you are planning to buy multiple items from Komehyo, then you will need to request a separate price quote for each unique item.
Once all of your invoices have arrived and you have paid Charge 1, your items will be ordered and sent to our distribution center. After all of your items have arrived at our warehouse, we will wait for your shipment instructions regarding what items you would like shipped together and your preferred shipping method. At this point, you will be sent to the Charge 2 payment page. Charge 2 includes international and domestic shipping fees, as well as the fee for the Product Protection Plan. Komehyo charges a flat shipping fee of 500 yen (including tax) on all orders.
And then all you have to do is wait for your Komehyo items to arrive at your door! Before buying from Komehyo with FROM JAPAN we recommend that you check out our usage guide for more details about our process and fee structure. If you have any more questions about how to use our service, get in contact with our Customer Service team. Happy shopping on Komehyo!
Disclaimer: Please note that some shipping companies do not ship fine jewelry. Please check FROM JAPAN's list of restricted items and your own country's import restrictions before you order with FROM JAPAN.